Narendra Modi's answers to Rajdeep Sardesai(Mp3,Video)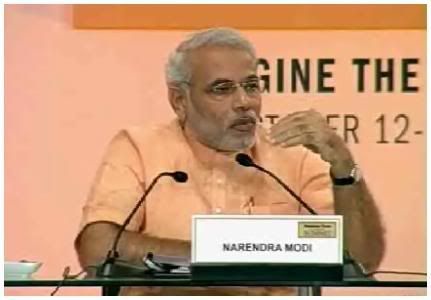 This talk is in Hindi/English
Short Edited Talk
Download this
New Delhi, DeshGujarat
Rajdeep Sardesai is symbol of obsession that some people have in their mind about 2002's Godhra and post Godhra riots. Such obsess people can not forget Godhra episode and continue to revisit 2002 by talking, discussing, worrying about it. Even in 2007 Friday 12th of October, Rajdeep and brigade can not discuss anything else but Godhra. They can not think anything beyond this about Gujarat. In Hindustan Times Leadership Conclave, Rajdeep talked to Narendra Modi and asked him several questions on same old tune 'Godhra and else'. So how Narendrabhai reacted to these questions, listen to this short talk yourself. In this talk the last question was from North India's famous Hindi newspaper Punjab Kesri's Mr. Mina. Modi answered him very well too.
Longer Talk with Full Discussion

Download this
Link:Watch Video Stream of Narendra Modi's session: His Speech, Discussion with Rajdeep and with Audience: CLICK HERE
Instruction:Through mouse, please put your cursor on DAY 1, then get mouse cursor on PRE LAUNCH SESSION then go to NARENDRA MODI, then click over it and wait for some time, web streaming will start soon. If things dont work out in mozila firefox then please try different browser, say internet explorer.
Or watch in Google Video at one go
For Full Screen Option Click Here

Or watch whole thing in total 50 minutes, 5 parts Videos