Near Death Experience While Covering Asaram Clashes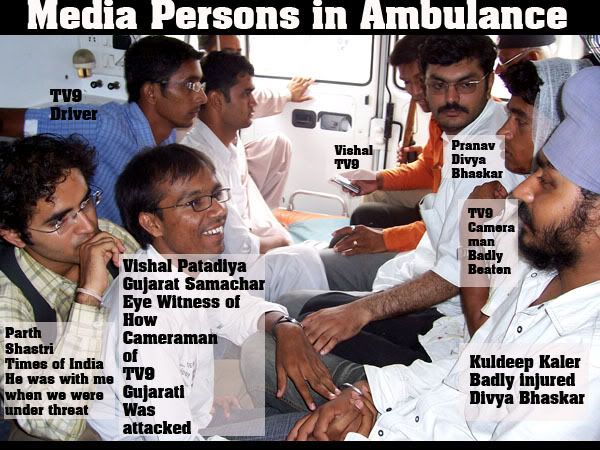 18th July, 2008 7:00 P.M.
Dear Readers, friends, well wishers and Visitors to this site,
I had near death experience today while covering a clash between pro-Asaram and anti-Asaram mobs on Motera road, Ahmedabad. I feel lucky enough that I have not suffered any injury but my some colleague reporters: TV9 Gujarati's camera person, Divya Bhaskar's Kuldeep Kaler, Aaj Tak's Gopi Ghanghar and her camera person, Times Now's camera person Maujidan Gadhvi are injured while covering Asaram ashram issue today.
Once I come out of mental stigma and tiredness, I will narrate the whole incidence. I have captured some exclusive videos putting my life in danger and have clicked some photographs too. I will put them on this page soon. My 5000 Rs. mobile phone gifted by my father was rudely thrown and broken by Asaram supporter when I was under attack and tried to call police using that phone. They snatched my I-card too, and my vehicle is still at Asaram Ashram gate, I along with some injured and some feared reporters could only escape from the Asaram ashram today afternoon in 108 ambulance, after getting armed police protection.
Thank You,
Jay Gujarat
Yours
Reporter JP
http://DeshGujarat.Com
****


19th of July, 2008, 12.00 A.M.

Alright, with three of my colleague reporters I dared to go to the main gate of Asaram ashram tonight to take my vehicle back. I have my vehicle back in intact condition. But I will have to manage without mobile phone and a sim-card for next few days.

O.K. here I am putting some exclusive photos of Asaram supporters riding on vehicles to go to the fight with sticks in their hands. Don't get shock while seeing at these pictures. This is of course not Bihar but our own Gujarat. However I can certainly say that most of these men in pictures are not from Gujarat.

Well, Everything in Asaram ashram was normal till noon. Situation became tense from ashram side when, surrounding Sabarmati and Motera residents who are known for their anti-Asaram stand started harassing, stopping and abusing devotees of Asaram on the roads. Devotees were coming from out of Ahmedabad in auto rickshaws. Sabarmati and Motera people prevented rickshaws to go ahead. They even burnt vehicles of Asaram devotees. They pelted stones too on Asaram supporters vehicles. They compelled every devotee to speak abusing words about Asaram Bapu. They started beating visitors to Asaram ashram on the occassion of Guru Poornima.

After morning Asaram ashram's sadhaks decided to fight back with the blessings of Asaram Bapu himself from mike. Trucks, jeeps from ashram were ready and sadhaks rushed with sticks in their hands to fight surrounding area people to make an area around ashram more safer and to create buffer protective zone. These clicks show the atmosphere at that time. I clicked these photographs from the top of the building. This was very risky because if even one Asaram supporter had seen me, whole mob surely would had been come to harm me. They hated media like anything and I was visibly a media person.( I was kidnapped then after but was freed)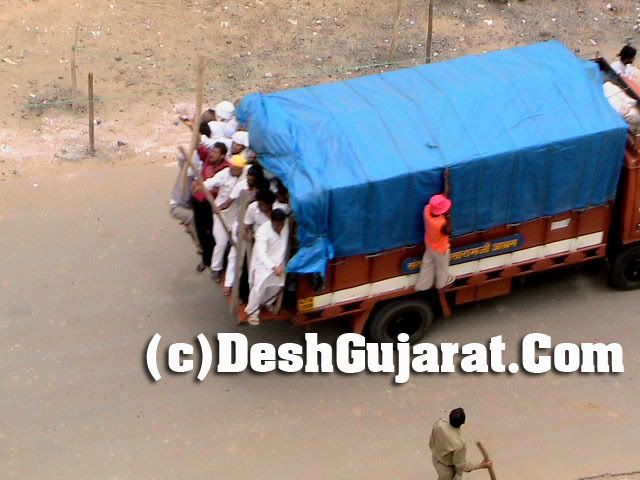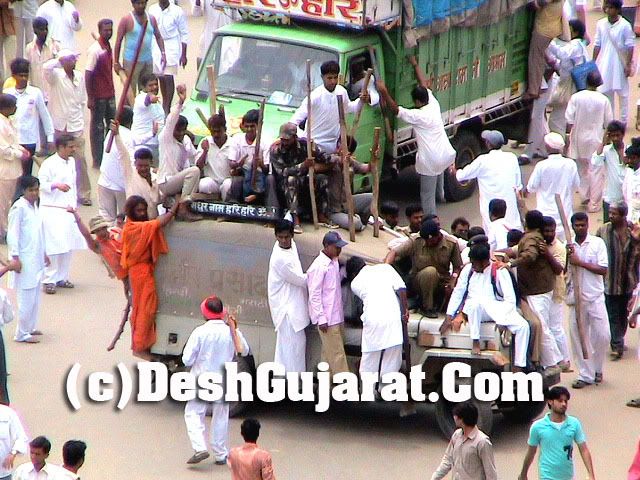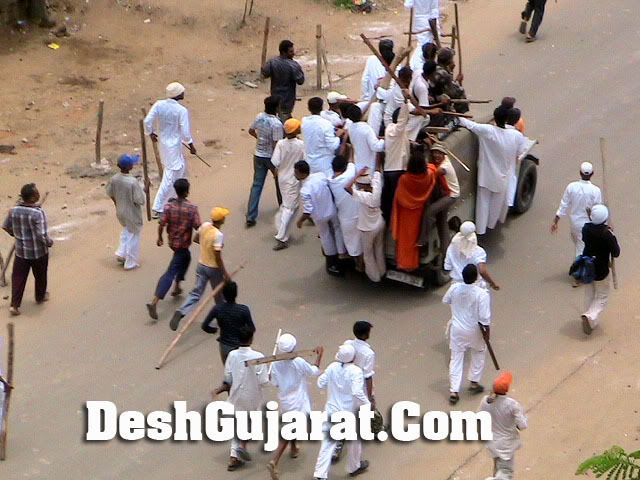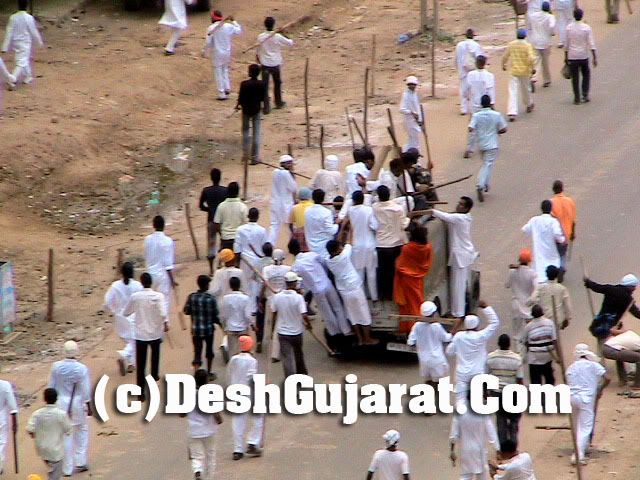 Rest … I will write tomorrow. May be I upload an exclusive video that I captured with high risk also to share with you tomorrow here on the same page.

-JP

***

19th July 9.00 A.M.

It's a morning and my name is there mentioned in Divya Bhaskar's coverage of journalists under attack. This is the link http://www.divyabhaskar.co.in/2008/07/19/0807190159_supporter_aasharam.html
Lot's of phone calls are coming on my land line number. Some people are visiting in person too to inquire about my well-being. I am perfectly ok without a scratch thats what I am replying them. Some ladies relatives whom I rarely meet once in five years called and advised me not to venture like this in journalism. I hate such advices. I always take care of myself while in field. I have covered Swadhyay parivar issue, Godhra riots aggressively being in the field in the past without a scratch. I take care of myself always. I will surely try to upload my captured video today itself.

O.K. now here I am uploading some pictures from the Gurupoornima's morning situation when there was complete peace in the Ashram and everything was on smooth run.

Do you know why lakhs of devotees come to visit Asaram on Guru Poornima? Well, in Asaram sect most of the followers don't take food or water without 'darshan' of Asaram bapu on 'Poonam' or full moon night. So wherever Asaram bapu is on full moon day, his thousands of followers go there and only after seeing Asaram bapu they consume food or water. Guru Poornima is year's biggest full moon day for 'Guru'. So, therefore lakhs of followers and disciples come to Asaram ashram in Ahmedabad from all over the India. Asaram had organized Guru poornima at 7 places this time. Before real Guru poornima he travelled to Nagpur, Pune, Jaipur, Delhi and Indore to give Guru poornima darshan. In couple of places he had to organize two Guru poornima gatherings in one city.

-JP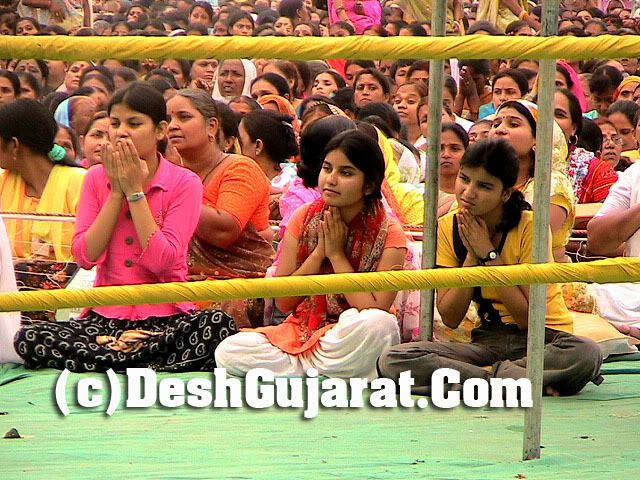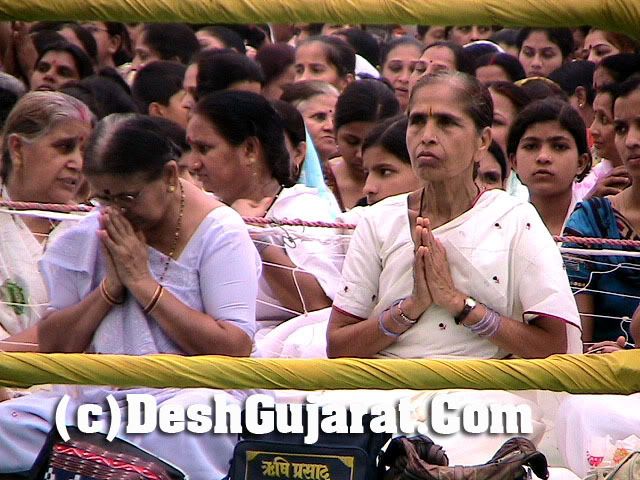 ***

20th July 12.13 A.M. 2008

Here is an exclusive video of how Asaram Bapu's sadhaks fought back and responded to Sabarmati and Motera area's youths who earlier had pelted stones on Asaram ashram and it's vehicles, broken and torched cars and buses of followers who were going to Asaram ashram for Guru Poornima.

Asaram's sadhaks gathered in ashram's vehicles and ran towards residential areas on Motera road with sticks in their hand and violence in their mind. However police reached at the spot in minutes and prevented Asaram Bapu's sadhaks from going ahead.Police soon limited Asaram's followers presence to Asaram ashram road and prevented them to go beyond that road. Asaram sadhaks also followed and obeyed this as they too wanted to do something only symbolic and quick to show their presence of strength to the opponents.

Capturing this video was high risk. Cameras could be broken, physical injuries could happen. Thanks God nothing like that happened. Only kidnapping happened( I was freed), bag with camera was taken for some minutes and mobile phone was broken so that I could not contact police and soon. From amazing amounts of troubles this video has passed from the spot to your eyes only because of our courageous commitment for journalism.

Video was captured from atop the building at the cross junction of Asaram ashram and Motera road. What you will be able to watch in this video is listed here:

1. Firefighter vehicles and police vans running on the road
2. A car with broken windows on Asaram bapu ashram road because of stones throwing by Sabarmati-Motera village youths
3. Asaram bapu's sadhaks on the jeep, in the trucks with sticks in their hands
4. Asaram bapu's sadhaks walking and running towards Motera road with sticks in their hands
5. On Motera road, Asaram bapu's sadhaks entering into the residential society for attack
6. Asaram bapu's sadhaks ransacking ob van of Network 18 parked in a street
7. Police making Asaram bapu's sadhaks on run
8. Police beating one Asaram bapu sadhak
9. Hard talks between Asaram bapu's sadhaks and police

Wait for the player