Protest rally held against the arrest of Swami Asimanand
December 22, 2010
Protest rally held against the arrest of Swami Asimanand
Surat, 22 December, 2010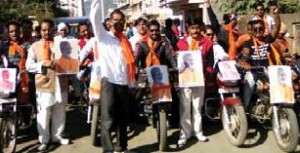 A protest rally was held in south Gujarat's Tapi and Dang districts on Tuesday, protesting Swami Asimanand's arrest by the central investigating agency.
The rally kicked off at Songadh's Gayatri mandir. About 50 vehicles, full with tribal youths, joined the rally. Youths shouted slogans against central government for 'framing' Swami Asimanand under 'fake charges'.
The rally ended at Shri Shabaridham Ashram of Swami Asimanand.
Also read:We just can't forget Swami Asimanand's work in Dang