India's Port of calling: Role of Palate, Place and People: A potent recipe to cook FDI
July 02, 2012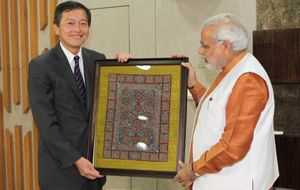 By Somindu.S.(Follow me on twitter @SominduS)
Ahmedabad, 2 July 2012
When I humbly embarked upon writing this series, never did I think I will come this far. All thanks to messages, comments, suggestions which made me ponder and rethink again. In my second article (Two states Different Approach to FDI), I had mentioned it would be interesting to see Gujarat in the mirror of TamilNadu. I tried to dwell upon points which normally get overlooked but are very obvious to one of the most important stakeholders of economic growth- The Foreign Direct Investors.
Having analyzed the historical backdrop of economic growth, nature of industry, importance of eco-system of these two leading states, it's time to look at soft infrastructure.
How to Lure a CXO
Let me take you on a hypothetical ride with a CEO or senior executive of global company who has been mandated with investment decision. Let's assume you are one and are at Chennai. The day typically starts with meeting Govt officials. As you jump in your car at every bump or sudden brakes, you wonder, is this the right place in invest? The Govt. official will give you a rosy investment picture as if you are the only one missing boat while your mind is still trying to be at terms with the fact that does this official not know his infrastructure is in extremely pathetic shape? In between you will get anxious that in spite of all the cripples may be after all this is all not bad place, but somehow the attitude of the govt official will make you wonder and feel like finding truth by yourself. Again you are on bumpy ride before; you are in few established Industrial estates to see existing factories. You figure out that in your investment plan you have to budget for the extra facility of power backups and water harvesting. While you see neat and clean shop floors and disciplined labours, moment you come out, you are again fraught with nightmare of traffic and non-existence of roads. Next day before you leave sightseeing is also planned.
Just 50 KM down Chennai there is UNESCO world Heritage site of Mahabalipuram. The weather normally is harsh and it tires down visitors unless it is fag evening. It is no running away from Chennai's harsh hot and sultry weather even on weekends. Momentarily you do get mesmerized by the wonderful stone carvings from 7th century but heat takes it own toll and you feel fatigued.
Moment when the Penny drops and FDI swells
However just adjacent to the coast there is Radisson Blue property. This sprawling resort hotel has a charm of its own due to its proximity to Bay of Bengal beach facing bay bungalows, poolside villas and aura of tranquility, as you walk through them, your mental fatigue starts waning. One of its restaurants – The Wharf, located right on the shore, offers a breathtaking view and beautiful ocean breeze. The natural sounds of the ocean, makes you relaxed instantly. The serene but musical movements of waves just have magical effect. The breeze cools you down and with few beers you feel in holidays at Mediterranean. The catch of the day (the fresh fish from ocean) is usually served with Naan, Black Daal and other international cuisine at not so expensive rate. You joyfully start contemplating your experience in Chennai, while chaos on roads, with discipline in factory is fighting in your mind, the serene beauty of mischievous water, cool breeze, stupendous food and chilled beer makes you forget the difficulties of Chennai and mind starts counting positives. So what if there are power cuts, its everywhere in India. The roads are chaotic but we can change the shift. By this time you have already made your mind.
Even though it may look stupid, but quite a lot if not always decisions are taken keeping in view human comfort of relaxation as a prime reason. It is all the more important if you are planning to make a strategic decision to put up factory which could be integrated with global supply chain.
To have an urbanized lifestyle is a bare minimum requirement to attract FDI. This has been proven in the cases of East Asian growth model and that's what grossly missing in Gujarat's case. Efforts are being made to correct this. GIFT city I thought was the right step in that direction ironically there was an article in ToI "Whose GIFT is anyway" ridiculing the whole reason for GIFT. I wish so called MSM journalist who have wonderful understanding of Progressive Gujarat widen their views and look beyond seeking some instant gratifications. Anyways, let us move on to Chennai saga.
The most unlikely FDI Ambassadors
If you dribble down the history of Chennai in 90s, it was still a big village. Unlike swanky skyscrapers of current Gurgaon or urbanised landscape of Mumbai or Westernized pub culture of Bangalore, there was hardly anything for foreign expats in Chennai. To imbibe new technologies human interactions is a must. Expats did not prefer to come to Chennai to stay longer, Indian companies had to send their people abroad but there were limitations in terms of knowledge transfer. The companies will have to bear tremendous HR costs in terms of "Hardship incentives". Persuading expats to be stationed in Chennai was challenge as there were very few spots of Oasis where expats could feel relaxed.
That Oasis however played their role perfectly. "DAHLIA" on Busy Street of Nungambakkam is the oldest running Japanese restaurant outside Delhi in India. The owner came to Chennai for export of Tuna fish and decided to settle down. The Japanese gentleman and his partner persisted till now. It made sure any Japanese investor came to town went back happily and those stationed in Chennai found it as a place to unnerve their tiredness over Japanese music and Japanese TV program. It also attracted expat Indians who had exposures to wonderful fish delicacies such as Sushis and Shashimis. TN also had prohibition like Gujarat and Dahlia also faced difficulties, but they made sure they remained authentic, even by walking fine line. The rule of Global business is to be consistent and they followed it to the T. The sheer authenticity of this restaurant made it a must visit place for many expats.
Probably more decision on investing in Chennai happened in this humble restaurant over chilled beer and Raw fish then in Industries department of TamilNadu. I don't think that Dhalia owners intended to contribute in this count, but their adherence to quality and consistency played surely an insignificant role. Located in dingy complex on road, Chennai's investment history has lot to thank this restaurant. The shop is humble but the contribution to attracting FDI is huge and considerable.
When will Ahmedabad get its own DAHLIA is a question worth asking? Forget about alcohols, Gujarat does not have any good international cuisine restaurant worth its salt. If you have to invite guest over three days, you struggle to find where to feed or entertain.
Besides Dahlia and Wharf, there are many specialty authentic global cuisine restaurants in Chennai such as Akasaka, Arirang, Yamamoto and few more Chinese and Authentic Korean cuisine not to mention amazing Italian in Hyatt. Chennai has solved problem of Palate. When will Gujarat learn?
1200 years back when Parsis descended to Gujarat's shore, the far-sighted King Jadav Rana not only welcomed his guests but respected their culture and tradition. And in a very rare and magnanimous gesture he agreed the conditions of Parsis that they will be allowed to build their holy place and that no non-Parsi should enter that area.
May be a time has to come to be little more sympathetic and magnanimous to foreigner's cause too. If Gujarat has to take a leap further, making urban Gujarat thriving with best of the world is indeed a need of an hour. If Govt has to give Viability Gap Funding (VGF) for hospitality and restaurants serving authentic food, it would still be worth an investment which can return in multi fold.
When Subject plays their role: Tale of transformation at grassroots
The Biodiversity thrives not only because of just one kind of large tree. The tree requires water body, birds to help re-germinate seeds. Could place grow without people? Many readers have commented on TN's superior human resource angle. I would like to draw attention to one another angle of human efforts to build brand Chennai.
AOTS stands for Association of Overseas Technical Scholarship. The 1959 program of Japanese Scholarship invites engineers and technicians from developing countries to Japan for training. Besides rigorous on the job training they are also groomed on the TQM and other important cultural aspects. Globally there is countless AOTS Alumnus. None impressed me more than their Chennai chapter. Led by passionate leader, they have built many Japanese sympathizers among common citizens. While the objective of returning alumni is to spread their learning, the Chennai chapter has done this in force multiplying manner. The leader and his team have helped translate tones of Japanese Quality control documents in to Tamil. They would also volunteer to help any company who wants their employees to learn about Japan, Japanese or Japanese ways on quality. Humble man is still available to teach and share his experience with Japan. And there are many like him. Both his prodigy as well as people doing similar thing, is great service to thriving manufacturing industry in Chennai. The force multipliers like him only augment and compliment efforts of passionate entrepreneurs and ultimately are responsible for building brand Chennai.
Since 1970, Gujarat University and Otemon University of Japan are having uninterrupted student exchange program. The oldest and longest running program between two nations. The legacy notwithstanding, Gujarat has yet to produce a tiny bit of Chennai counterparts. Or it is in the making. Only time will tell.
The idea of bringing above point was to put a mirror in front of citizens that it is not only Govt's job but citizens also have to play their role. As I write I learn Gujarat CM and his team are on their way to Japan on the invitation of Japanese Government. In the midst of high profile MoUs and meeting of senior leadership, I hope some agenda is spent on building soft infrastructure for the state.
Will be traveling for a month, and hopefully will try to write next in the series. Tentative title on "King of Governence v/s order of chaos". Do come back to share, comment and participate.
Entire series:
Part 1:India's port of calling: Credible Gujarat and Diligent TamilNadu
Part 2:Two ports, different paths: How to attract FDI
Part 3:India's port of Calling: Importance of prolific ecosystem and lessons for Gujarat
Part 4:Tale of Two Industries: Lessons for Processed Gujarat from Discrete TamilNadu
Part 5:India's Port of calling: Role of Palate, Place and People: A potent recipe to cook FDI