Japanese Asahi Newspaper on Vibrant Gujarat and Narendra Modi
February 18, 2013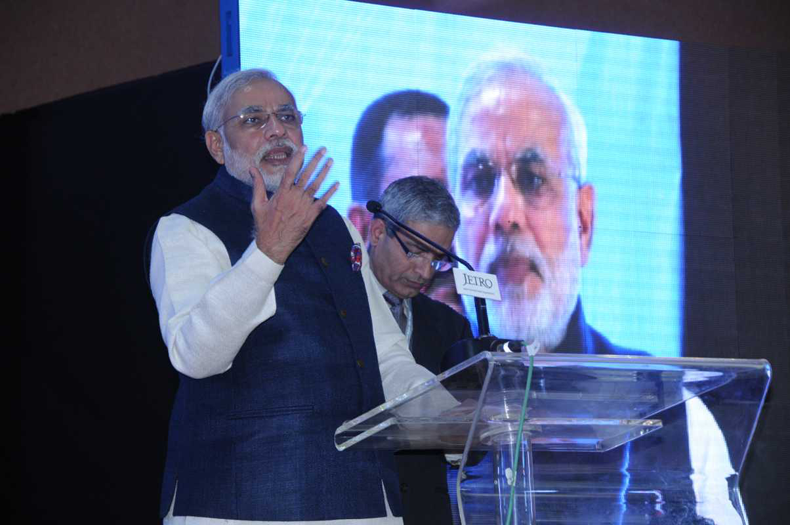 The cottage Industry:
With endorsement pouring in from all corners of world for Narendra Modi, it seems there are new entrants to the already thriving anti-Gujarat cottage industry. Sometimes you feel a frog in a well would know more than some of the so called experts. But when bounty is big as rumored, everything is on sale. Personally I like them, as they provide enough laughs. When 2002 did not help them, the focus lately is moved on "But Gujarat was always great.." argument and more recently fashion is to put on "Mal-nutritious Glasses" while discussing Gujarat. I will come to it later.
Once I am done laughing with those articles, I feel pity for them. Most of them seem clumsy garlands of words on the coffin of logic. Unfortunately, many in India and world no longer buy their argument. Last month, Asahi Newspaper of Japan (the center of left paper with popular among intellectuals) wrote about Narendra Modi. The scribe had attended Vibrant Gujarat and had firsthand account of interviewing many stakeholders.
Before I go to article, let me share something very interesting trivia with you. There are close to 5000 Japanese people living in India. It is very ironical that the kids from Japan, who stay with their parents in India, end up learning new words like Teiden, Shunden and Touden. The words are almost dead or obsolete in Japan but once in while they come up in competitive exams in Middle and senior school. If you are wondering what they mean? TeiDen is Power-cut, ShunDen is Power-tripping and TouDen is Power-theft. Power-less India is a common complain you will hear at every Indo-Japan forum. Previously Nikkei BP another leading business magazine did an article on Gujarat. The scribes were thrilled to find that in India there is a place, where you can enjoy un-melted ice creams. Hence Asahi, Japan's leading newspaper decided to do an article on India and especially Gujarat, the headlines screamed like this.
"Zero Power-cut" A huge inducible factor for Industry at India's Gujarat.
Let me present the gist briefly. The article is in Japanese and luckily people in Japan don't get to read some of our cottage industry writers to remind them how miserable and backward they could be by not knowing English.
Original Article Link:
http://digital.asahi.com/articles/TKY201301190477.html?ref=comkiji_txt_end
—————————–Article Translation Start———————————-
"Zero Powe-rcut" A Huge inducible factor for Industry at India's Gujarat.
For global companies looking to invest in Indian Market, state of Gujarat in Western India is capturing their imagination. Power-full state provides excellent industrial infrastructure, indeed a rarity in India.
It's the personality of Narendra Modi the leader and his relentless sparkish zeal to promote his state that makes Gujarat stand out. At the inaugural session of Vibrant Gujarat on 11-Jan-2013, this is what Mr. Lowell Paddock CEO of GM, India had to say. "It's very rare to use power in India without interruption; State government also helps in maintaining healthy labor-management relationship". Hailed as Vibrant Gujarat, the biannual summit in its 6th version has grown into India's biggest global investment summit. The event this year saw participation of around 58,000 delegates from more than 120 countries and regions. The investment proposals numbered around 17,719 has a potential to generate employment for 373,000 people.
India's largest car manufacturer, Suzuki, Ford of US and Peugeot from France are in the midst of creating manufacturing facilities in state. The present Indian Auto clusters are located either in north around Delhi/NCR or in south around TamilNadu. However one sr. management of Japanese Auto giant confided that, "In future Gujarat will produce one out of three cars produced in India"
Led by Hitachi, Currently there are only handfuls of big names from Japan present in state. However Gujarat is creating Exclusive Japanese Industrial park. The total area will be 600 Hectares and is open for locators from this month. As per the FICCI data, Gujarat was second with 131 FDI proposals after Maharashtra (which hosts India's largest Commercial city, Mumbai). In value terms Gujarat stood third with 202 Billion Rupees.
Eradicating Power-theft, creating fund for Infrastructure
At the outskirts of Ahmedabad, Yazaki's Car wire harnessing factory since 2010 has close to 200 employees working diligently on assembly line. The Factory head Mr. Jain had this to share. "We have once in few months, only 5 to 10 minutes of power stoppage, and never once experienced longer power-cut than that". Power-cut in India is an everyday occurrence. Having your own Fuel guzzling power generators is a precondition for running factory in India, but Gujarat is exception. According to Japan external Trade Research Organization (JETRO), Factories in Gujarat save whooping 30% to 50% of cost only in the power front itself.
"Eradicate Power-Cut" was the mission Narendra Modi embarked in 2001, soon after he took over rein as Chief Minister. Power theft by hanging wire on official HT line was common site. Modi formed a special police cell to crackdown on power thefts and spared no offenders. Grid separation was another initiative to stop power pilferage, especially stopping people from diverting cheap power for domestic use. All these saved enough capital to be reinvested in Power infrastructure.
Using PPP model and involving private capital, state hastened development of robust logistics infrastructure, especially ports and roads. In the words of Hitachi India CEO Mr. Iino "Every Business Trip to Gujarat keeps me pleasantly surprised, Roads Expand." Companies that are looking to establish exports market to UAE or Africa, Gujarat's location with port facing Arabian Sea is very enticing option.
Transparency and speed in the Govt. approval process is another big advantage in favor of Gujarat. In India, government approval process is linked to the "political mood". Compounded by Corruption at administration level, delay in approval process is extremely common. Contrary to national trend, a Flag reading "No red-tape but red-carpet" hoisted by Narendra Modi has deep rooted penetration in Gujarat's administration. According to Japanese business sources, the harassment from regulators a (common complain across India), does not exist in Gujarat.
Quick and decisive top leadership
Tata Nano's factory relocation to Gujarat was one event that catapulted Narendra Modi in big limelight. Tata's plan to build Nano factory in West Bengal were derailed by local farmer's resistance. 2008 October, as then chairman of Tata Group Mr. Ratan Tata announced giving up their plans for West Bengal; he got an SMS on his mobile from Mr. Narendra Modi reading "Swagatam". Within few days, Tata announced their plan for Gujarat, highlighting the speed and commitment of top leadership.
The article mentions Gujarat riots issue along with US Visa denial and also adds that in next year election Narendra Modi is one of the strongest candidates for PM's post.
——————————-End-of-Article———————————————–
Argument of Malnutrition:
While reading this article, I was instantly reminded of conversation on 12th Jan morning at Ahmadabad with head of one Japanese conglomerate narrating. The person was one of the delegates for Vibrant and was overwhelmed by the day's proceedings. He switched on TV at night to check how the event is received in India. The discussion topic was "Is Gujarat really vibrant?" Five minutes in the show and the gentleman from Japan (even with his poor English) concluded that he has just discovered the most biased anchor ever. He had seen many debates in many democracies, but none where the anchors would blatantly take sides. After he realized the truth, he found the program very "humorous". Malnutrition was the flavor on the panel and when someone in favor of Gujarat tried to counter it by saying look at the infrastructure of state, the typical panelist on payroll, pounced back "But Kids cannot eat Roads". According to Japanese guest, this was the tipping point, he could not stop laughing. After he was done with entertaining himself by "Seriously Humorous" show, he quietly noted in his trip report "Particular Indian TV Channel is biased and should not be trusted for credible news".
He did take a note of Malnutrition as a serious issue. And what he told on serious note was more important. "The only way India is going to eradicate Malnutrition and many underdeveloped parameters are not by denying Gujarat model but by adopting it". What Sardar Patel had said and what other Asian countries achieved through a single policy. "Create wealth before distributing". Nehruvian policies of distribution even before creation have done India enough harm. It is time to learn from other successful models, for Indians did not descend from Mars. If anyone saw Red in this statement, I approve their secular credentials.
Oh and yes, there was passing remark in the end in this article about so called dent on image. Only problem with the cottage industry that thrives on 2002, is they don't know that we are in 2013 and world is looking at India of 2020. The article of Asahi amply proves the same.
SominduS can be reached at http://twitter.com/SominduS