'Hate Modi' politicians answered well by 'Love Modi' people in Kerala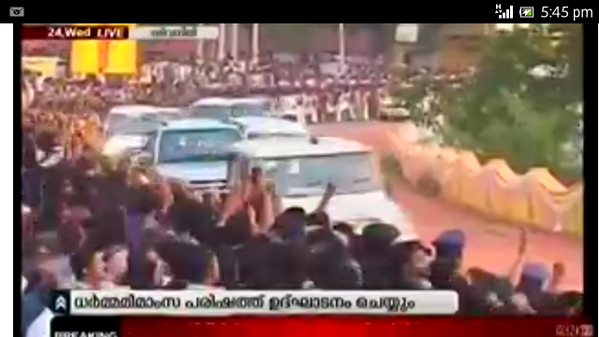 A photo shared frequently online during Modi's Kerala speech


Ahmedabad, 24 April 2013
Communist and Congress politicians in Kerala had crossed all limits of hate towards Narendra Modi before his visit. Leaders of these parties refused to attend Sivagiri mutt event, because Modi was invited there. However the people of Kerala answered these leaders well by rushing to the roads to watch and welcome Gujarat Chief Minister Narendra Modi.
Modi received rousing welcome at Thiruvananthapuram airport. When he arrived at Sivagiri mutt, both sides of road were occupied by thousands of common people who were standing there to have a glimpse of Modi. Modi had to come out of his car to wave hand at large number of people standing there to watch him.
At Sivagiri mutt, Modi started his speech with a brief note about the number of people gathered there. Modi told the people, "I can see large number of people gathered here. Even the tent is not so big to accommodate you all, but my heart is big enough."
Modi's speech was shown live by almost all Malyali news channels, along with some national news channels.
Modi's speech was in Hindi, but a volunteer was translating his speech in Malyali after every paragraph. Most part of Modi's speech revolved around Narayan Guru's works. However Modi didn't miss to talk about political untouchability. He said due to efforts of Narayan Guru and others, social untoucbability decreased in our society, but in political fraternity, it's increasing.
One of the swamis of mutt in his speech had asked Mr. Modi to give land to Sivagiri mutt in Gujarat for mutt activities. Modi in his speech welcomed mutt to do their works in Gujarat in response.
Whenever Modi mentioned ABVP or RSS in his speech, there was good response from the audience. This showed that good number of RSS workers were there in the audience.
At the end of his speech, Modi thanked the people of Kerala for a great welcome. Modi mentioned how people in large number gathered to welcome him during his visit.