Main agenda of 2014 polls would be knitted around the fulfillment of hopes and dreams of youths:Modi at CII function in Mumbai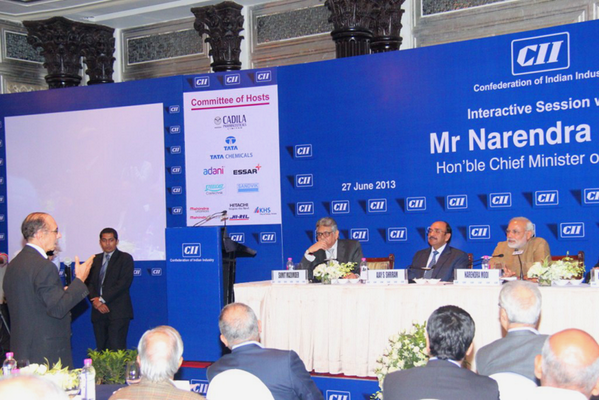 Mumbai, 27 June, 2013
Addressing to industry leaders at a national conference held under the aegis Confederation Indian Industries (CII) today at Mumbai Gujarat Chief Minister Narendra Modi stressed upon the urgent need of creating an atmosphere of faith in the country by deliverance of stable administration and sustainable policies which proves instrumental in fulfilling the dreams of youths. Mr. Modi was speaking on the challenges and opportunities in making India a powerful country.
"Though the youths undoubtedly possess mettle required for country's growth, there is a feeling of unrest circulating among them today. We must awake their inner strength and provide them with development opportunities", Mr. Modi said.
He said the main agenda of 2014 loksabha elections would be knitted around the fulfillment of hopes and dreams of youths. "Our youths don't want stand before the world with their heads down. One who will fulfill their dreams will win the election", he added.
The Chief Minister stressed on the need of imparting skill development training to the youths since the youths comprise 65% of India's population. Speaking about Gujarat's efforts in this direction Mr. Modi said the state has set up a network of Kaushalya Vardhan Kendra (KVK) which imparts training in about 976 skills useful in man's life. The KVK project has also bagged the Prime Minister's award for excellence in public administration. The state has also initiated in setting up of a Skill University.
He said that India's corporate world is showing concern for the environment and the interests of the society which is a good sign for the country's future. "Collective deliberation will show us right direction for making India powerful", he added.
Speaking about the need of providing equal development opportunities to the downtrodden people of the country he said, "we must accept that people of some casts have not received due opportunities owing to a particular social setup of our country. "If we create abundance of resources and make sure that nobody's rights are snatched, we will be able to infuse a fresh vigour and create a stress-free society", he added.
He also stressed on implementing the recommendations of Sarkariya commission and Punchi committee. "India will never become powerful until the states become powerful. Centre-State relationship must be viewed under the light of our federal and democratic values. Those sitting in Centre should not act as big brother but as colleagues of the states", he added.
There has to be a country-wide network and a logical formula for the financial management of the states for the implementation of GST. Interests of manufacturing sector should not be ignored. Nor me neither my party is against GST, he said.
He said that good governance and development should go hand in hand. Gujarat has broken this illusion that elections can not be won on development agenda.
Declining of the value of rupee is also decreasing the central government's credit. Who will trust us if we lose our credit? he questioned.
Mr. Modi also gave outlines of Gujarat's model of water management through micro-irrigation and urban waste management model. He spoke zero level man-days loss in Gujarat and suggested that 'labour laws' has to be a State's subject.
On the occasion, CII President Mr. Gopalkrishnan welcomed the Chief Minister and said his leadership has earned global prestige for Gujarat.