Australian High Commissioner Patrick Suckling visits Modi(Video)
August 16, 2013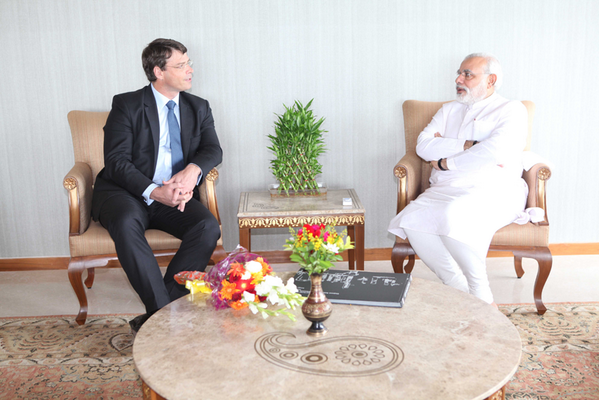 Gandhinagar, 16 August 2013
Australia's High Commissioner at India Mr. Patrick Suckling paid courtesy visit to Gujarat Chief Minister Narendra Modi today and expressed keenness in expanding ties between Australia and Gujarat.
Mr. Patrick said that India has been on the top in Australia's foreign policy owing to smooth relations and parallels between both the countries. Developing relations with Gujarat has been on the top priority since last ten years, he said.
He elaborately discussed about the possible ties between both the regions in different sectors such as education, sports, agriculture, dairy technology, water management and infrastructural facilities, among others. The Chief Minister discussed with him about extending benefits of Australia's best practices in quality education to Gujarat, vocational courses that can be launched by Australia in India and about joining hands in the sectors such as energy technology, water management, agriculture and dairy processing.
Mr. Patrick Suckling also made academic level discussions with Mr. Modi on the issues such as present state of global economy, structure of foreign policy in the context of socio-economic change, good governance and development.
The Chief Minister invited Mr. Patrcik Suckling to Vibrant Gujarat Global Agro Tech Summit and Exhibition which is scheduled in coming September and to the Vibrant Gujarat Global Investors' Summit in 2015. The Australian High Commissioner also invited Mr. Modi to visit Australia.
Chief Secretary Dr. Varesh Sinha, Additional Chief Secretary to Industry Maheshwar Sahu and Additional Principal Secretary to Chief Minister A.K.Sharma was also present on the occasion.