Changes to be made in original agreement between Gujarat and Maruti Suzuki
June 04, 2014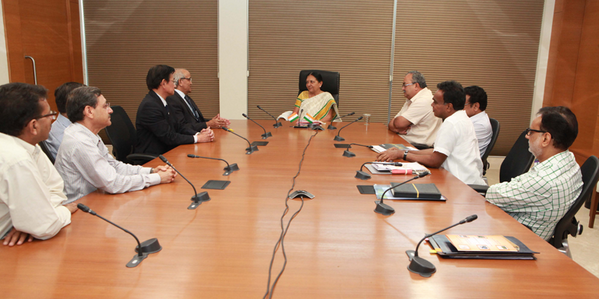 Gandhinagar, 4 June, 2014
Maruti Suzuki India Limited head RC Bhargawa and Mr. Kenichi Ayukawa, MD and CEO of company met Gujarat Chief Minister Anandiben Patel, Finance Minister Saurabh Patel and top officials of Gujarat government today in Gandhinagar. The main meeting went on for forty minutes.
Minister Saurabh Patel said: Advisers of state government and Maruti Suzuki will make some small/major changes to earlier agreement between the company and the state government. Discussions held today were about providing in-principal background to the process of changes in agreement.
Bhargawa said: The Gujarat project will start in first half of year 2017. The company is committed to Rs. 4,000 crore investment, but when Modi is there in power, company's investment may go up even beyond earlier estimated figure of Rs. 4,000 crore. Bhargawa described his meeting with the CM and Finance Minister as courtesy call.
While speaking to reporters at Ahmedabad Management Association(AMA) Bhargawa said that earlier State Support Agreement(SSA) was signed with the Government of Gujarat keeping single company in mind, but later on there are some changes and a subsidiary unit has been set up for Gujarat plant. This fresh development will need some changes in SSA. To avoid any legal question arising in future, the experts and legal advisers will study the SSA and recommend changes. Bhargawa said he personally doesn't believe that need to sign a new SSA will arise, but ultimately the experts and legal advisers will suggest what has to be done. Bhagrawa said this will not make any impact on company's plan to start production at car manufacturing plant in Gujarat in first half of 2017.
Note: Both Maruti and state government state that no changes are proposed so far as incentives are concerned.
Bhargawa admires Modi's decision:
While speaking at Ahmedabad Management Association in an award function, Bhargawa admired Prime Minister Narendra Modi's decision to abolish the group of ministers and empowered group of ministers. He described this as first right step taken by new Prime Minister. GoMs were just about passing the bucks and talks. It was about evading responsibility. The first remarkable decision by new Prime Minister will bring accountability.