Osamu Suzuki meets Anandiben Patel
September 05, 2014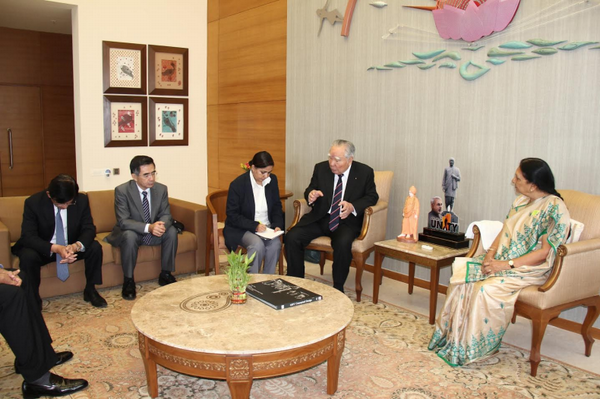 Gandhinagar, 5 September 2014
Chairman of Suzuki Motors, Osamu Suzuki today met Gujarat Chief Minister Anandiben Patel in capital Gandhinagar. Suzuki briefed Chief Minister about the recent successful tour of Prime Minister Narendra Modi to Japan.
Chief Minister invited Mr. Suzuki to witnessed and join Vibrant Gujarat summit 2015. Suzuki Chairman reciprocated the same and assured his attendance in the event with delegation.
Ahead of Suzuki's visit to proposed Maruti car manufacturing plant in Hansalpur, 8 officers of company visited the site of proposed plant on Thursday.
Background: It should be mentioned that Maruti Suzuki on Thursday had announced that its Gujarat plant will be operational by year 2017.
"All the investments would be made by SMC. This arrangement will strengthen Maruti Suzuki as the profit does not come from manufacturing cars. It comes from selling cars and the right models, with the competition intensifying in the market," RC Bhargava, chairman, Maruti Suzuki said during his address at the company's 33rd annual general meeting (AGM).
According to Bhargava, the new car manufacturing plant will be financed by Suzuki Motor Corporation (SMC).
"Maruti Suzuki will use its cash for investing in marketing and sales, expanding network and making right models," he said. The Indian company is the biggest subsidiary of SMC both in terms of profits and turnover. Currently, it has a cash reserves of around Rs 8,000 crore ($1.3 billion).
In the current fiscal, the company said it expects sales volume to grow by the double digits. Sales have expanded by 16 percent in the first five months. The company further said that it will now pay royalty to SMC in Indian rupees to get insulated from currency fluctuations.
The company further said that it has been working on a sports utility vehicle (SUV), a compact SUV and a light commercial vehicle.
Official note issued by Chief Minister's office
World motor industry's giant M/s Suzuki Motor's Chairman Mr. Osamu Suzuki today paid a courtesy visit to Gujarat Chief Minister Smt. Anandiben Patel.
During their meeting, the Chief Minister extended a formal invitation to Mr. Suzuki to attend the forthcoming mega investment event 'Vibrant Gujarat Global Investors' Summit-2015 to be held in January-2015.
Giving a positive response to that Mr. Suzuki told Smt. Patel that a high level delegation will participate in the Vibrant Gujarat event.
Mr. Suzuki had also briefed the Chief Minister about the success of recent visit of Indian Prime Minister Mr. Narendra Modi to Japan.
Both leaders also made deliberation over the Suzuki Motor's plant.
Chief Secretary Dr. Varesh Sinha and Additional Chief Secretary (Finance) Dr. Hashmukh Adhiya were also present at the meeting.