Prime Minister dedicates Digital Village Akodara (Sabarkantha, Gujarat)
January 02, 2015
Mumbai
Prime Minister Shri Narendra Modi today dedicated digital village Akodara through digital inauguration in Mumbai. Akodara village is part of Sabarkantha district of north Gujarat. It has been developed as digital village by ICICI bank.
Speaking in a function at Mumbai, ICICI Chairman and Managing Director Chanda Kochar said, "India has over 6 lakh villages. Mahatma Gandhi had said that soul of India is in its villages. We have converted one village to digital."
Kochar further said, "Prime Minister Narendra Modi has articulated importance of four 'D'. Our concept of Akodara is based on three 'C'. They are Cashless, Connected and Comprehensive."
"Cashless because we have created a fully cashless eco-system. In this village, shops, mandi, cooperative society, milk producer group have been facilitated for cashless transactions. Connected, because we have provided high speed broadband connectivity through wi-fi tower. We have installed terminals to display prices of agriculture produce. We have also opened a website and Facebook page of village. And comprehensive because we have digitized school curriculum, installed school management software, smart devices, audio-video content, tele medicine, digital boards and skill development training for girls", Kochar said.
A video film on Akodara initiative was shown during the function. The village according to a film has been made totally cashless by creating fully cashless eco-system. While every adult villager has bank account and ATM card, each village shop, mandi, cooperative society has been given system for card transaction. If people need cash during emergency, they have ATM booths. Due to card based transactions, they don't need to keep cash at home. Also, they don't need to keep accounts of spending.
People do transaction through even mobile phone and not card at times. Wi fi tower, pension on mobile, rates of agriculture produce on digital sign board,
smart boards in classrooms, digital content in aanganwadi, learning modules on tablets for children, skill center for girls where they learn office administration and vocational skills to stand on their feet are other initiatives.
India has over 6 lakh villages. Mahatma Gandhi had said that soul of India is in its villages. We have converted one village digital. It is Akodara village in Sabarkantha district of Gujarat. Some villagers of Akodara are here in this function in Mumbai, but more villagers are there in Akodara itself watching this function through video conference.
Kochar said, "our aim is to show that technology can eliminate barriers between rural and urban areas and the concept of rurban is achievable through technology."
Prime Minister briefly met those coming from Akodara village to attend this function in Mumbai.
Speaking at a function, Maharashtra Chief Minister Devendra Fadnavis said that Maharashtra will soon announce a digital policy. He said the main problem is about laying the optical network, a new policy will help this task.
Prime Minister in his speech said that a village is not ready to wait too long. Aspirations in village are same as urban areas. Rural development is an opportunity to give boost to Indian GDP. We can set up a big power station of economy in this area.
He said the digital village initiative will become model for other areas. He recalled how Akodara had first animal hostel in Gujarat and how 20% production increase was witnessed due to animal hostel.
He said there should be a competition among bank on their contribution to maximum cashless transaction. This will also be helpful against black money. A bank can become agent of social transformation.
PM's remarks at dedication of ICICI's Digital Village to the Nation
Taking forward his 'Swachh Bharat' campaign, Prime Minister Narendra Modi today asked banks to help create one lakh 'Swachhta Entrepreneurs' in a year by financing cleanliness and waste management ventures.
Asking banks to become 'agents of social transformation', Modi said the banks need to take up social causes and adopt a charter for the nation's development.
The Prime Minister launched a 'Swachh Bharat' initiative on October 2, 2014 and exhorted everyone in the country to fulfil Mahatma Gandhi's vision of Clean India.
"Can we create Swachhta Entrepreneurs? There is immense scope in solid waste management and water treatment," he said, while speaking at a function to celebrate 60 years of ICICI group.
"Within the financial sector, can we develop a new sector and give it a priority and can banks create one lakh Swachhta Entrepreneurs with the help of bank finance?
"Solid waste management and waste water treatment is a big business. We can create such entrepreneurs by training and giving finance to our youth. This can be a sustainable in the long-term," he said.
The Prime Minister said banks give funds for infrastructure and they can also give finance to small people to make them entrepreneurs in such sectors.
He said that banks providing support to such entrepreneurs will help make the 'Swachh Bharat' vision a sustainable reality.
Modi also dedicated an 'ICICI Digital Village' to the nation, which has been developed by the country's largest private sector bank by adopting Akodara village in Gujarat.
He said that the village chosen by ICICI Bank as a digital village has a cattle hostel, which had contributed immensely to improving incomes and cleanliness in the village.
He said more and more villages across India would adopt this model soon and rural development could emerge as a powerhouse of economic development for the country.
Modi had started Gujarat's first animal hostel in 2011, when he was the Chief Minister of the state, in this village in Sabarkantha district of Gujarat.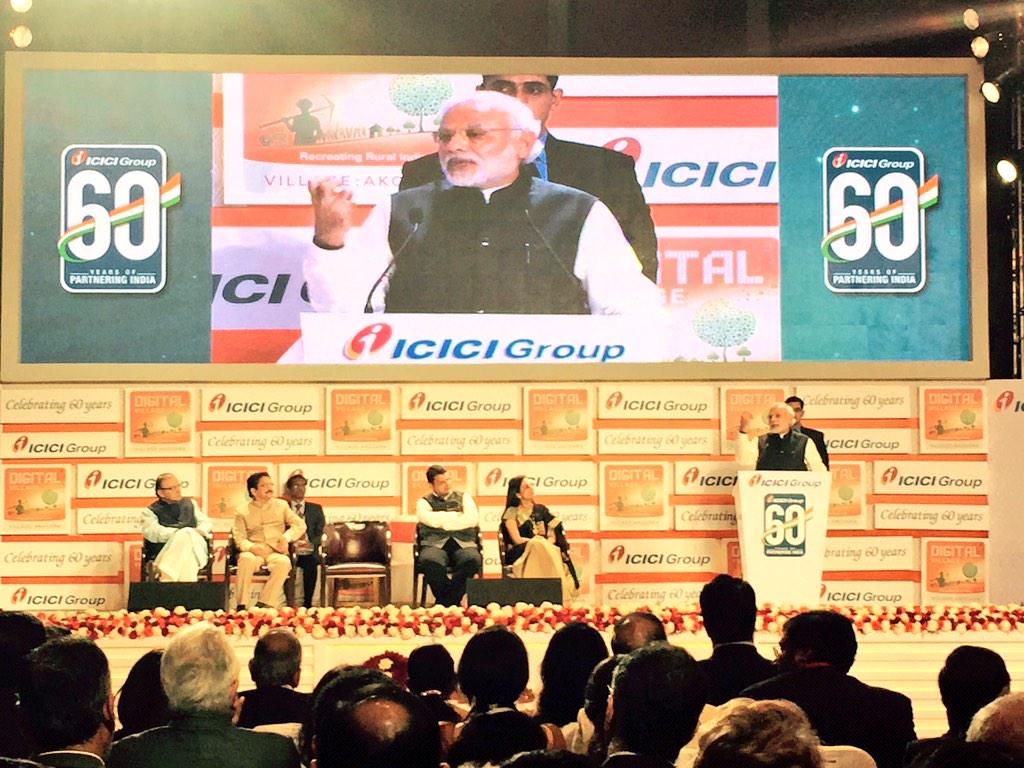 © Copyright DeshGujarat. All rights reserved. Republication or redistribution of any DeshGujarat content, including by framing or similar means, is expressly prohibited without their prior written consent.