Non-Hindus will need to take permission for darshan at Somnath Mandir
June 03, 2015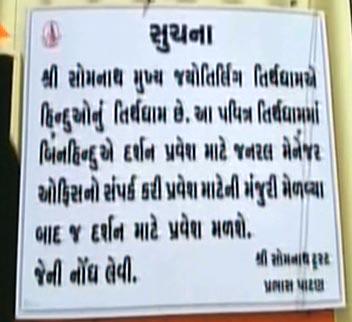 Shri Somnath
Shri Somnath Trust has put a sign board outside the entry point of Shri Somnath Mandir issuing instruction that non-Hindus will need to take permission for darshan at Mandir.
A new sign board put by Shri Somnath Trust reads: "Shri Somnath main Jyotirlinga pilgrim place is sacred pilgrim place of Hindus. It should be noted that Non-Hindus will be allowed to enter for darshan in this sacred pilgrim place only after they contact and take permission from General Manager office – Shri Somnath Trust, Prabhas Patan."
According to General Manager Shri Vijaysinh Chavda, this is common practice at all important pilgrim places of Hindus(at Jagannath Mandir in Puri, non-Hindus are strictly not allowed to enter the main temple).
A statement issued by Trustee Pravin K Laheri(former Chief Secretary, Gujarat):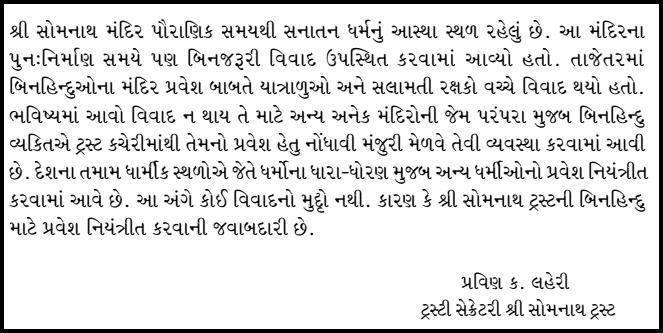 Somnath Temple has been a temple for the Sanatan Dharma belief since historical times. Even during the reconstruction of this temple, there was unnecessary controversy that erupted. Recently, due to the entry of non-Hndus in the temple, there has been a dispute between travelers and security personnel. To avoid such disputes in the future, similar to the customary procedure in several other temples, non-Hindus wishing to visit Somnath temple will be required to state the purpose of their visit and obtain permission of the trust. Throughought the country, several religious places belonging to several religions often have procedures in place to regulate the entry of people belonging to other religions. This is not a matter of controversy because it is the responsibility of the Somnath Trust to regulate the entry of non-Hindus.
Shri PK Laheri to Indian Express
"We had recieved several complaints through letters and emails from Hindu pilgrims about the presence of non-Hindus on temple premises. Security personnel also used to be in dilemma about the presence of non-Hindus…Through these notices, we have merely clarified the position. Security personnel keep on changing and therefore all of them may not be aware of the rules. But now they will know that this is the rule. Therefore, those who come for non-religious purposes will have to seek permission. Permission would be granted on the spot if the trust finds the reason for the visit to be genuine. To get permission, a non-Hindu visitor will hae to give his name and address and we will maintain a record. Earlier, we never maintained such records."
To The Times of India
"There were several representations from devotees that many foreigners and non-Hindu tourists don't know about the rituals and unknowingly hurt their sentiments. Recently, a visitor who did not know about the Lord Ganesh was ridiculing the idol in the temple which resulted in arguments with other devotees. If non-Hindus inform the office, separate arrangements will be made for them and they will be given guidance."
To PTI
"Notice was put up after some people represented that entry needs to be regulated. I have put up that notice.Locals have noticed that non-Hindus are trying to enter and there were some issues from security-guards whether they should be allowed or not. We have decided to regulate it as per our old tradition.Security reasons are always there. Somebody said a woman with Burqa (veil worn by Muslim women) was allowed while she was trying to enter. That raised the suspicion on whether non-Hindus should be checked whether they should be allowed to go and whether something will happen."
To DNA
The notice was simply to regulate those visiting the temple out of curiosity, not for devotees who come to pray. Such visitors will have to take due permission before entering. Also, they will be accompanied by our security staff while touring the temple."
– DeshGujarat