Gujarat tops 'Ease of Doing Business' index in World Bank report of states
September 14, 2015
Ahmedabad
World Bank today announced Ease of Doing Business ranking for Indian states.
Gujarat emerged as number 1 state in ease of doing business with 71.14%, followed by Andhra Pradesh on number 2, Jharkhand on 3rd position, Chhattisgarh 5, Madhya Pradesh 6, Rajasthan 7, Odisha 8, Maharashtra 9, Karnataka 10, Uttar Pradesh 11.
Meghalaya, Nagaland, Arunachal Pradesh are lowest scorers in State East of Doing Business Rankings.
The World Bank said much more is needed to be done at state level to achieve Prime Minister's vision.
The World Bank had conducted study of all Indian states on parameters like development and performance in various sectors.
States were judged on implementation of 98-point action plan. States were judged on setting up of business, allotment of land, taxation, construction permits, environmental nod etc compliance.
State's implementation status must be 75% and above to attain 'Leaders' status. None state has achieved this status. 9 states with implementation status of 25-50% have attained 'Acceleration Required' status. 7 states with implementation status between 50-75% have attained aspiring leaders status.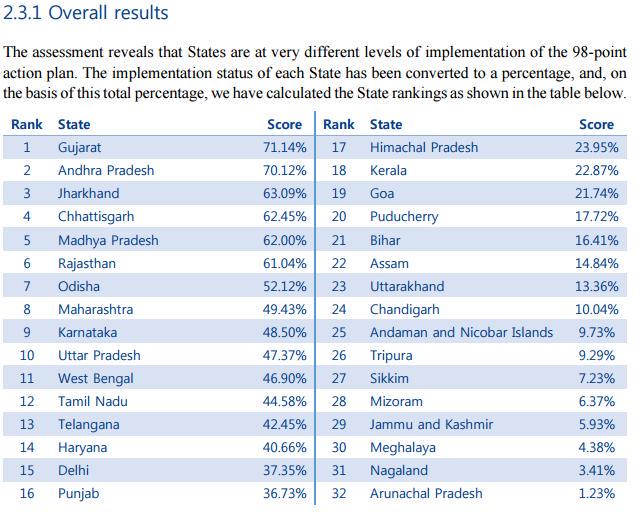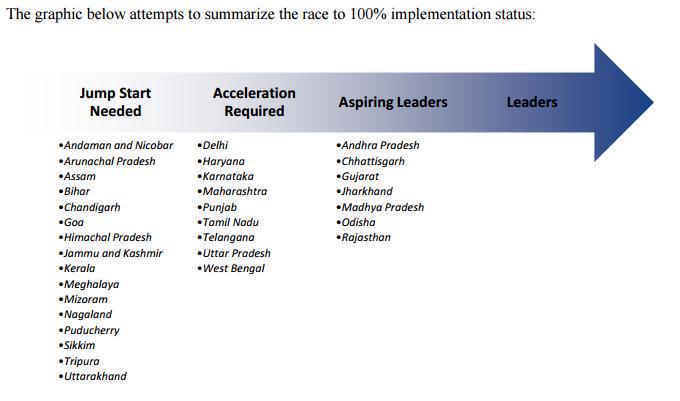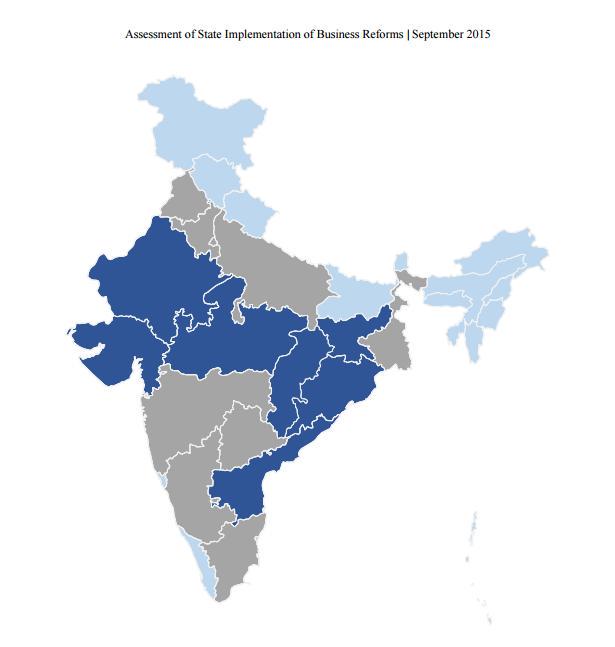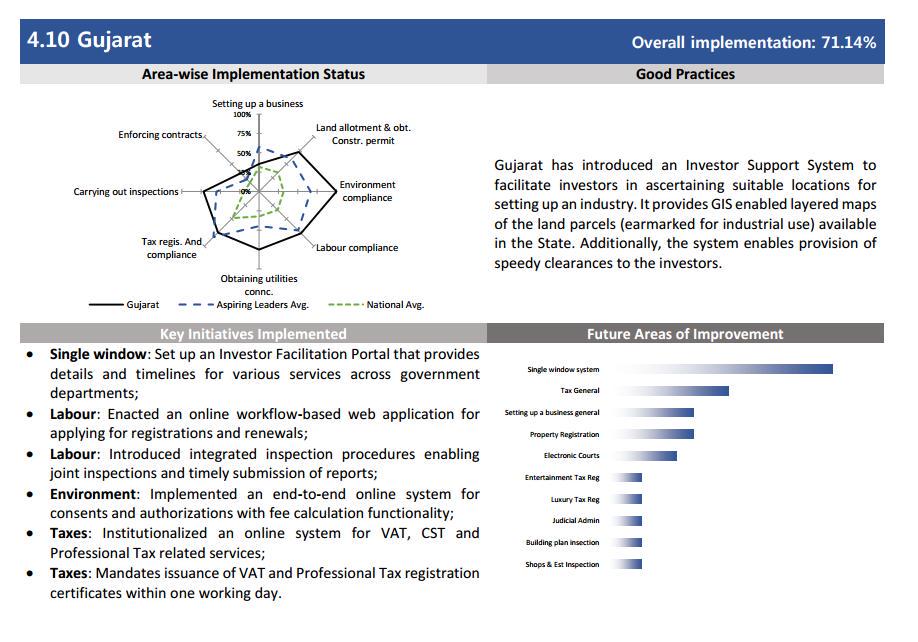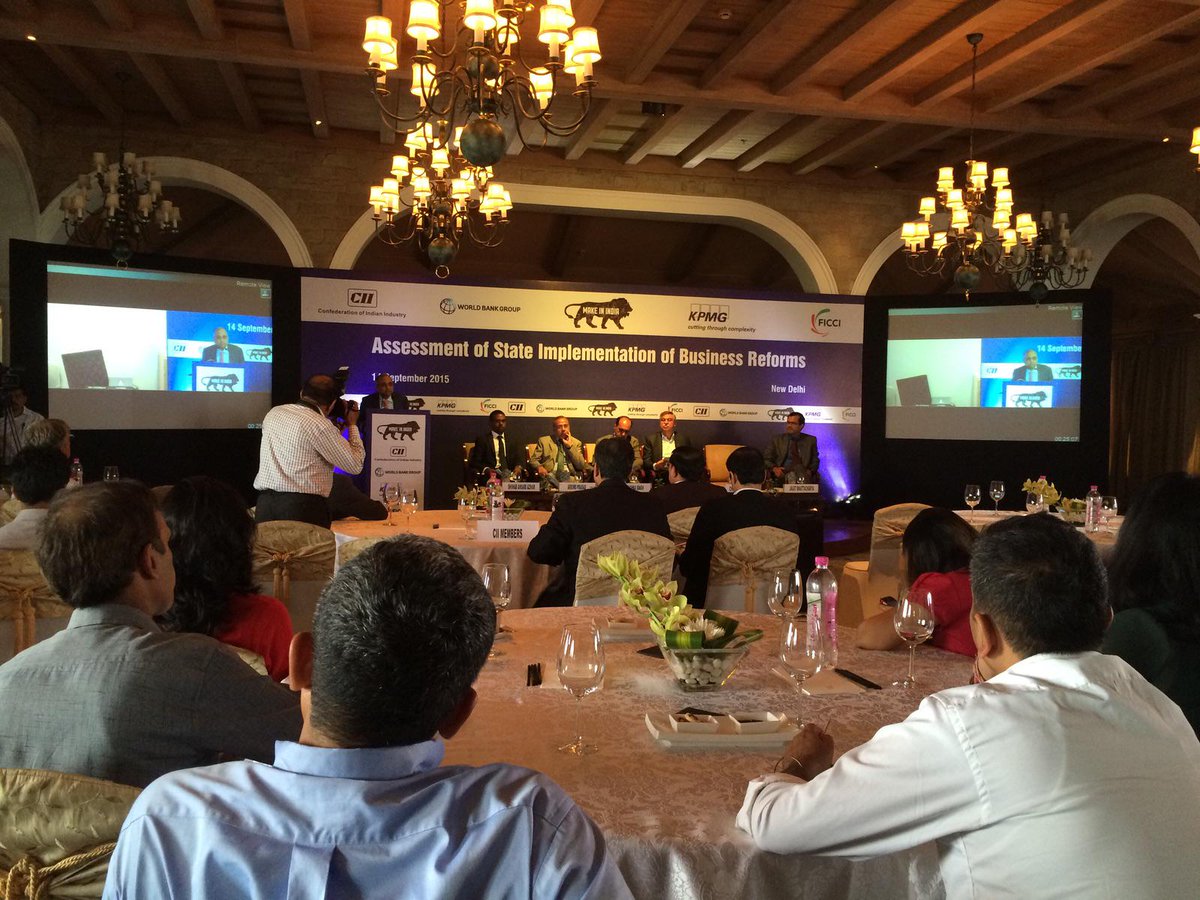 Top State
Setting up biz: Punjab
Land allotment, construction: MP
Environment compliance: Gujarat
Lab laws compliance: Jharkhand
Full report can be accessed here
– DeshGujarat
Gujarat easiest place to do business in India: World Bank
New Delhi
BJP-ruled Gujarat is the best place in the country to do business, says the World Bank's ranking on ease of doing business in states, a list that has the party-ruled states occupying four of the top five slots.
Andhra Pradesh, ruled by BJP-ally TDP, is the second best state, followed by Jharkhand, Chhattisgarh, Madhya Pradesh and Rajasthan – all having BJP governments.
These rankings were provided in the report titled 'Assessment of State Implementation of Business Reforms' which was prepared by World Bank in association with the Department of Industrial Policy and Promotion (DIPP), KPMG, CII and Ficci.
The exercise is aimed at promoting competition among states with a view to improve business climate to attract domestic as well as foreign investments.
The move would also help in improving India's overall ranking in the global Doing Business Study. India has been placed at 142nd position among 182 nations.
Overall, World Bank said India is a difficult place to do business and concerted action and reforms are needed on several fronts to improve its ranking in the global 'Doing Business Index'.
"The assessment recognises the fact that most states have already embarked on ambitious reform programmes or expanded their ongoing reform efforts," Additional Secretary in DIPP, Shatrughna Singh said.
The ranking of 32 states and union territories was based on eight specified parameters which include setting up of business, allotment of land, labour reforms and procedure for environmental clearance.
The parameters also include infrastructure, procedure for registration for tax purposes and inspections for compliance of various norms.
At the bottom of the ladder in the index were Mizoram, Jammu and Kashmir, Meghalaya, Nagaland and Arunachal Pradesh.
"What this report does very well is to provide a roadmap for states serious about improving their business environment and creating jobs," World Bank country director Onno Ruhl said.
Among major states, West Bengal occupied the 11th slot, Tamil Nadu (12th), Haryana (14th), Delhi (15th), Punjab (16th), Himachal Pradesh (17th), Kerala (18th), Goa (19th), Bihar (21st) and Assam (22nd).
Pitching for further ease of doing business, Ruhl said a disproportionately high regulatory burden is borne by businesses in India today.
Besides, DIPP Additional Secretary Shatrughna Singh said the preparation of this report is just a tiny part of the gigantic effort that "we need to make in unwinding a maze of procedures, rules, regulations and laws that we have put in place in India."
"… we need to vigorously pursue reforms in the future," he added.
The assessment, the first-of-its-kind, has been conducted to take stock of reforms implemented by states in the period January 1 to June 30 based on the 98-point action plan for business reforms agreed between DIPP and the state and union territory governments on December 29, 2014.
According to the report, Andhra Pradesh, Chhattisgarh, Gujarat, Jharkhand, Madhya Pradesh, Odisha and Rajasthan have implemented over 50 per cent of the 98 point action plan business reforms studied in the assessment.
No state has implemented 75 per cent or more of the proposed reforms, an official statement said.
The assessment has identified good practices on different parameters.
For example, Punjab leads in the area of 'Setting up a Business', as it features an online single window system for registrations and licences that cover most of the regulatory services in the country.
Maharashtra, followed by Gujarat and Madhya Pradesh, was ranked highest in 'Obtaining Infrastructure Related Utilities', with clearly defined timelines for electricity, water and sewage connections.
Across the country, the report said, states have made good progress in general tax reforms like mandating e-registration for VAT and CST, allowing online payment and filing of returns for various state taxes, providing e-filing support through service centres and helplines.
PTI