Swamy for PM's intervention for day-to-day hearing in Ayodhya case
January 13, 2016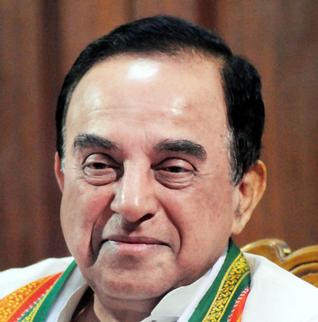 New Delhi
BJP leader Subramanian Swamy today sought Prime Minister Narendra Modi's intervention in seeking day-to-day hearing of the Ram Janmabhoomi issue in Supreme Court to enable an early verdict and start of Ram Temple construction at Ayodhya by the year end.
He also said that he will try and meet leaders of Muslim community including Asaduddin Owaisi and Samajwadi Party supremo Mulayam Singh Yadav as part of efforts to find an amicable solution to the issue.
Addressing a press conference, Swamy said there is need to create awakening among people on the Ram temple issue, for which seminars will be organised across the country to explain the legal and historical aspects of the temple.
Citing Owaisi's request that the petitioners in the Ram Janmabhoomi issue and Muslim leaders want day-to-day hearing of the petitions challenging the Allahabad High Court verdict, Swamy said he has written to the Prime Minister today urging him to direct the law officers to seek a day-to-day hearing of the petitions in the Supreme Court.
Asked if any plans have been chalked out for early construction of Ram temple, he said it will only come up after the Supreme Court verdict and after mutual consensus among Hindu and Muslim leaders.
"The moment the court verdict is out, we will start work on Ram temple construction. We want to start the construction work before this year end. We will talk to Muslim leaders and find an early solution. I am confident that Mulayam Singh Yadav, who is a believer of Hanuman, and BSP leader Mayawati will both agree for an amicable solution," he said.
To a question on whether the BJP was on the same page with him on the issue, he said construction of Ram Temple is mentioned in the party's election manifesto.
On the violence in Malda in West Bengal, Swamy said the Home Minister should exercise his powers under Article 256 and give directions to the Mamata government that it is not performing its duty as per the Constitution.
Asked if the government should be dismissed, he said, "the Centre should first seek its explanation."
"I feel with the Prime Minister's advice, the Home Minister should write to the West Bengal government," he said.
Swamy also said there was no use talking to the elected government in Pakistan as it was a "dumb government" and the real government there were of ISI, Taliban and Military. PTI