Anti – India slogans: JNU student union president arrested
February 12, 2016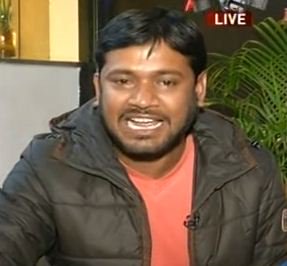 New Delhi
Jawarlal Nehru University(JNU) students union president and left-wing student group AISF leader Kanhaiya Kumar was arrested today in connection with a case of sedition and criminal conspiracy over holding of an event at the institute against hanging of Parliament attack convict terrorist Afzal Guru.
'Bharat ki barbadi tak jung rahengi jung rahengi', 'Bharat ke tukde honge insha allah', 'India go back' were some of the slogans chanted in this pro-terrorist event.
The case was registered yesterday under Section of 124 A (sedition) and 120B (criminal conspiracy) of IPC against unknown persons at Vasant Kunj (North) Police station following complaints by BJP MP Maheish Girri and ABVP.
"Kanhaiya Kumar has been arrested in connection with the case," a senior police official said.
Two policemen in plain clothes came to the JNU campus today and picked up Kumar for questioning. He was later arrested, sources said.
A group of students on Tuesday held an event on the JNU campus and allegedly shouted slogans against the hanging of Parliament attack convict Afzal Guru in 2013.
The event occurred despite varsity administration having cancelled the permission following a complaint by ABVP members, who termed the activity as "anti-national".
The JNU administration has already instituted a "disciplinary" enquiry as to how the event took place despite withdrawal of permission and said it will wait for the probe report before taking any further action.