Modhwadia alleges cops took bribe in liquor party case involving son, PSI transferred
May 09, 2016

Ahmedabad
Former president of Gujarat Congress Arjun Modhwadia today alleged that police took Rs 4 lakh in liquor party raid case and also demanded additional sum of Rs 6 lakh as bribe. Modhwadia's son Parth was one of the 25 persons caught by police in liquor party raid from Ashawari tower in Satellite area of Ahmedabad.
Modhwadia said, "my son Parth called me in the night that a party he was attending was raided by police and they are being taken to police station. He also said that they were told by police that they will undergo test and those not found drunk would be made free. Parth told me that he had not consumed alcohol. I told him let you undergo test then, and you will be made free."
"Then in the morning when I reached Somnath. I got phone call from Parth at around 7.30 am. He told me that he underwent blood test and his report was negative, but he was made accused as one of those partner in crime. I was also informed that Rs 5 lakh bribe was taken and additional sum of Rs 6 lakh was demanded. I tried to call police officials but they could not be rached. At around 9.00 am I spoke to police officer Vidhi Chaudhary. She said the sum of Rs 6 lakh if has been demanded should not be paid."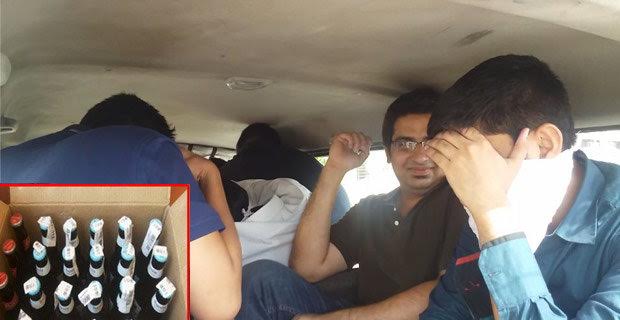 Modhwadia said he is ardent supporter of prohibition policy and once in a year he also march in rural Porbandar to propagate prohibition.
The state Home Minister Shri Rajni Patel however said Arjun Modhawia's son Parth Modhwadia's report has been positive( means he had consumed alcohol in that party actually). Police officials also said that Parth's report was positive contrary to Arjun Modhwadia's claim.
In an audio clip that has gone viral after Modhwadia shared it, a woman police sub inspector Jadeja is heard as talking to a person that ladies in that party were not to be taken to police station because two ladies were pregnant, of whom one had big stomach while other two had small kids. Rs 2 lakh sum was talked about for ladies and Rs 2 lakh for early bail to other accused. Thus Rs 4 lakh sum was talked about and mediator were police men. There was no talk about additional sum of Rs 6 lakh ever.
This woman Police Sub Inspector of Detection Staff( D.Staff) C.B. Jadeja has been transferred to headquarters to prevent her from impacting the probe. Joint Commissioner of Police JK Bhatt said if any cop is guilty, he/she would face strict action. He said an audio clip will also be probed. Passport of all accused will be impounded. Congress person who called woman PSI to offer bribe will also be probed. Police will seek call details of all accused. Police claimed Modhwadia's son was smelling like he had consumed liquor and result of test he underwent was positive.
Modhwadia claims that the party in flat was organized by Varun Jain whose father Manoj Jain has liquor permit and therefore beer stock was there in his house. My son Parth reached venue at around 12.00 at the time of cake cutting. PSI Jadeja and two constable rushed to the place just after that and recovered the stock of beer. They also asked women, children and senior citizens all to come to police station. When Varun's mother told them that the stock of beer was procured under permit and only those who were drunk should be taken to police station, the PSI didn't listen to her and asked women to come to police station. A middle man Kuntal Shah who is in relation with Jain family contacted through police middleman(vahivatdar) and decided to pay Rs 11 lakh bribe. Rs 5 lakh sum was paid through Kuntal Shah. Woman PSI has admitted the sum of Rs 4 lakh in leaked audio clip. Rest 6 lakh sum was to be paid by morning. Parth's primary medical report in Sola hospital was negative but he was made accused for his involvement in party.
– DeshGujarat