Rupala set to get elected unopposed for Rajya Sabha
June 01, 2016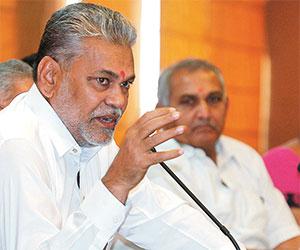 Gandhinagar
As Congress party refused to field its candidate, BJP candidate Parshottam Rupala is all set to be declared victorius in Rajya Sabha seat by-poll today.
The last date of making nominations was 31st May. Other than Rupala, the other nomination was filed only by BJP leader K.C. Patel as dummy candidate.
Rupala's form will go under scrutiny today. The last date of withdrawal of candidature is 3rd June, but K.C. Patel will withdraw the nomination before that and thus Rupala will be declared victorious unopposed.
This will be Rupala's second entry to Rajya Sabha. Many BJP leaders believe he can be made union minister by Prime Minister Narendra Modi with whom Rupala enjoys good terms. Years ago, it was Modi's decision to send Rupala to Rajya Sabha replacing Keshubhai Patel.
Rupala was made state BJP president when Modi was Chief Minister. Again it was believed that this was Modi's decision. Rupala has been unsuccessful in winning elections in his base Amreli district of Saurashtra region. There are not great chances that he can win Amreli again, mainly due to the fact that he belongs to Kadva Patel community and his former constituency is Leuva Patel dominated.
Rupala therefore shifted to organizational side in previous decade with entry in Rajya Sabha.
Rupala is considered good orator who can attract people to campaign meetings. In fact this is his biggest plus point over other leaders. His impression is macho and bold. Sometime he is considered arrogant due to his this style. His sense of humor is considered best in Gujarat politics after Vajubhai Vala. Unlike most BJP leaders Rupala can connect very well to literature and folk music artists and events. In fact he was once seen singing a song in Ahmedabad Municipal Corporation event at Tagore hall on request of others.
Rupala's this Rajya Sabha term will be shorter as he just has to complete the left over term of late Congress MP Pravin Rashtrapal. Party leaders in Gujarat believe he will be repeated after expiry of this term.
– DeshGujarat