Defying court ban Chinese lanterns appear in Gujarat skies again, reports of 3 deaths in kite related incidents
January 14, 2017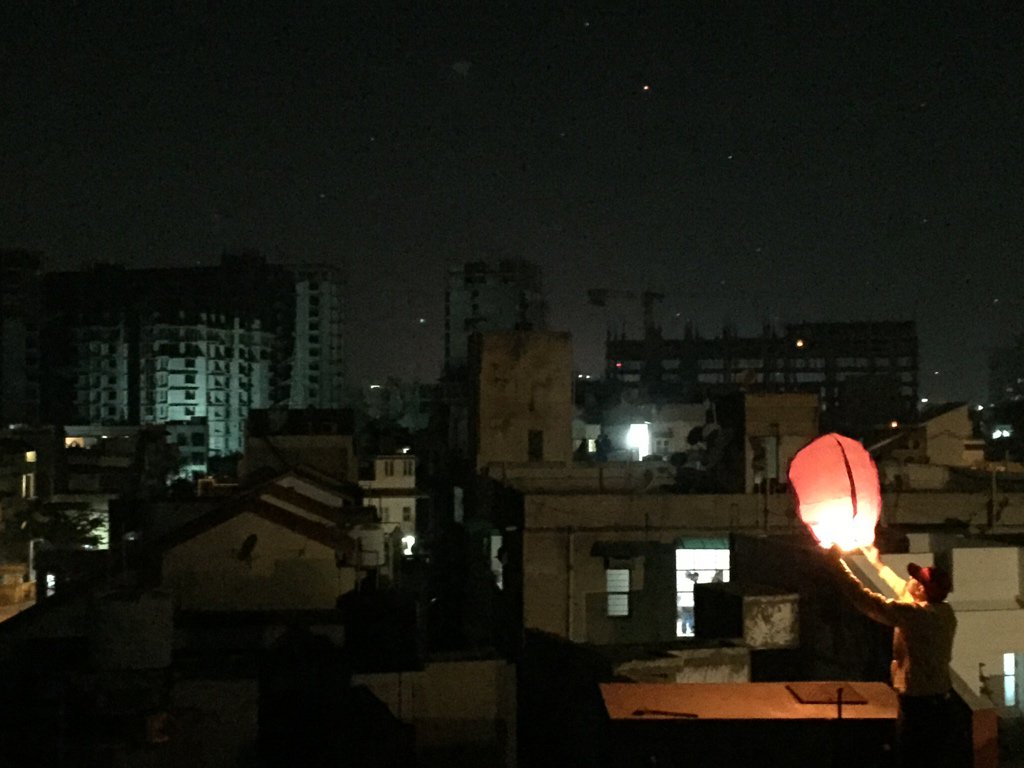 Ahmedabad: Defying the court's ban on Chinese Lanterns or Tukkals, once again a large number of such proscribed flying objects filled the skies of Ahmedabad,Surat and other cities and towns in Gujarat on this Uttarayan evening..
Though the number of Tukkals was not as great as that of two years back when these were not banned, yet it was also not so less as to be ignored.
After the day long 'roof-top' kite-flying and kite-fights across the state which was also joined by may senior politicians including Chief Minister Vijay Rupani (who flew kite in Khadiya area here in presence of his wife and son and Mayor Gautam Shah and later in his home-town of Rakot also with friends)and BJP national president Amit Shah (flew kite with commoners in his home assembly constituency of Naranpura) and many celebrities from entertainment field including actor Govinda (in Naranpura with wife Sunita), Gujarati singers Devang Patel and Arvind Vegda, all the eyes were towards sky in Ahmedabad and other cities to see whether the court ban and subsequent administrative notification was followed or not.
But to disappointment to many law-abiding people, Chinese Tukkals appeared from all corners and filled the sky in Ahmedabad, Suart and many other places.
This has also raised questions on police claims of several raids and seizures of banned Chinese Tukkal and kite-string.
Meanwhile, a large number of incidents of injuries owing to kite-string and falling from roof which has resulted in to at least two deaths across the state have so far been reported. A woman died owing to kite string injury in Ahmedabad city while crossing through Shreysh fly-over while a 12 year old boy was electrocuted in Kunkvadi village of Valsad district when when the electric wire in which his kite-string was tangled fell over him. In yet another incident related to kite-flying, a 21 year old youth was killed with sharp weapon in Nirnaynagar area following an altercation over kite-flying.
DeshGujarat