4,000 attend disabled Persons' Kite Festival at Rajkot, make Limca Book record
January 15, 2017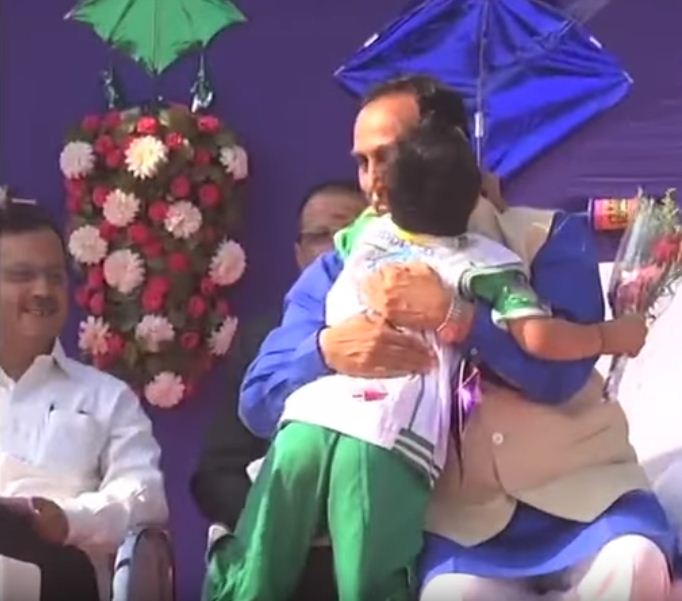 Rajkot: Chief Minister Vijay Rupani today said that it is not just the responsibility of parents and guardians to take care of the physically challenged, now called Divyang, but also of the entire society.
He said it was Prime Minister Narendra Modi who has coined the word for all forms of disabled persons. The differently disabled may be deprived one way are but endowed with some other ways with stronger faculties.
Mr. Rupani was inaugurating the first-ever unique Divyang's Kite Festival at the Racecourse ground at Rajkot, jointly organized by the District Administration, Suraksha Setu parent body, Police and voluntary organizations. It was attended by record 4,000 disabled persons from all the 11 districts of Saurastra region with éclat and enthusiasm. They nevertheless showed their skill in kite flying
He said the society which fails to take care of the disabled are in fact themselves disabled. He said that the. It is for the society to accept them in the mainstream, and more importantly let them feel that they are accepted. He listed the steps his government takes for the welfare of the disable, like free travel in State Transport buses in any state, and build ramps and lifts in even private workplaces.
The Chief Minister, who was accompanied by his wife Anjalinben, himself flied kites on the occasion to the merriment of the spectators and obliged his fan by clicking photographs with him.
The star kite fliers include an international Sonal, who took part at the home turf, and tourist Williams and his accomplices from New Zealand.
District Collector Vikrant Pandey said that arrangements were made by the administration for to and fro journey of the disabled with the help of voluntary organizations. He said the event is likely to be entered into Limca Book of Records and in World Records of India.
RTO J.V. Shah explained the need for observing traffic rules.
Prominent among those present on the occasion included MP Mohanbhai Kundaria, MLA Govindbhai Patel, Rajkot Mayor Jaimanbhai Upadhyay, GoSeva Ayog Chairman Vallabhbhai Kathiria, Deputy Mayor Darshita Shah, Police Commissioner Anupam Gehlot, Municipal Commissioner Banchhanidhi Pani, Police Superintendent Antarip Sud, State Municipal Finance Board Chairman Dhansukhbhai Bhanderi, Yatradham Vikas Board Vice-Chairman Rajubhai Dhruv and Additional Resident Collector Harshad Vora.
– Information