ISRO moving forward with efforts for low cost access to space: A.S. Kiran Kumar at GTU
January 19, 2017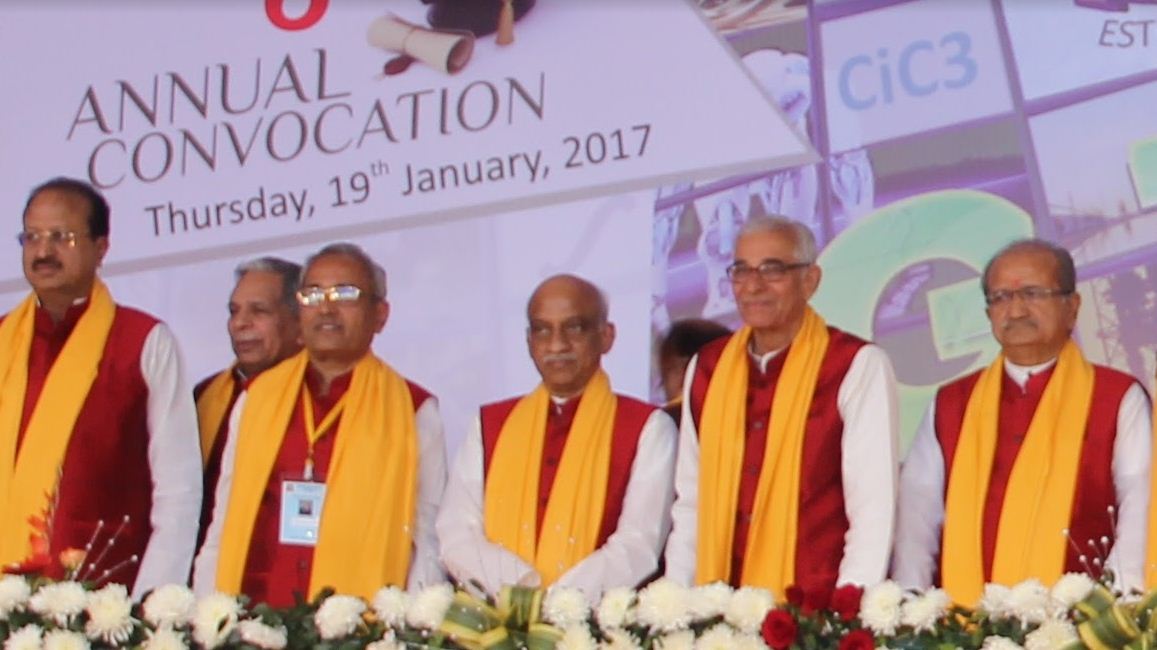 Ahmedabad: Top space scientist and Chairman of the Indian Space Research organisation (ISRO) A S Kiran Kumar today said that ISRO after its commendable Mars mission with limited resources was moving forward with its various researches and efforts for low cost access to space.
Delivering the 6th convocation lecture of the Gujarat Technical University, Kumar said, 'The success of ISRO's Mars Orbiter Mission is a result of tremendous team effort and innovative use of limited resources to achieve defined goals. ISRO is moving forward with the development of advanced earth observation satellites, navigation and communication satellites, heavy lift launchers, reusable launch vehicles, cryogenic engines, low cost access to space, development of composite materials for space applications, etc.'
Talking about Innovative Technologies for National Development the space scientist said that advanced and innovative technologies offer multitude of opportunities to address a number of challenges that impact the society in general. India has a strong focus on science and technology, realizing that it is a key element of economic growth. India has been able to effectively tap one such technology – Space Technology – for the benefit of its common citizens and for national development programmes.
'Strides in satellite remote sensing, global navigation satellite systems and geographic information systems now make it easier to integrate ecological, environmental and other information for developing predictive models that can be used in the surveillance and control of diseases such as malaria and dengue fever. Earth observation from space, complimented with other applications, is a cost-effective method for effective monitoring of environment and management of land, ocean and fresh water resources, and providing essential data to decision-makers. Once converted into practical information, these data could be used to formulate policy and implement programmes at the national, regional and international levels,' he said.
' During its initial years of development itself, ISRO could make use adaptive technologies like, Push Broom technology for early Indian Remote Sensing imaging, 3-in- 1 concept for INSAT series facilitating Meteorology, Communication and Broadcasting applications from one platform and to the latest innovative earth burns for capturing Moon and Mars orbits for non-availability of direct GTO launch vehicles, successfully and cost-effectively.,' Kumar said.
He also said that the modern means of transport, communication and production; medical, biological and genetic sciences; new materials; nuclear technology; space research and digital technology have transformed human life. Similarly, new means of production and transmission of energy have intruded into every sphere of our life from cooking to washing, shopping to entertainment, production to transportation and communication.
Talking about education, knowledge and skills, he said that acquiring knowledge plays a crucial role in the overall development and helps to progress in one's life. We gain knowledge mainly through education and from a range of mediums such as, literature, philosophy, history and most importantly from one's own experiences.
' In the last decade, the Indian education system has made considerable progress in terms of capacity creation and enrollment. By providing better higher education, the nation creates an intellectual repository of human capital to meet the country's needs and shapes its future. An educational system gets enriched when it inculcates values like sacredness of knowledge, devotion to truth blended with modern science, scientific temper, rationality of outlook, fearless and objective investigation into the nature and the physical world, technological skill, work efficiency and team work,' he said.
Kumar also stressed on the need to life long learning of skills and abilities in the fast changing world.
Governor cum Chancellor O P Kohli presided over the convocation function during which Education minister of Gujarat Bhupendrasinh Chudasma was also present.
Total 138 students were awarded Gold Medal for their most outstanding academic records while 4353 students from various faculties graduating from various colleges in Gujarat affiliated with the GTU received degree certificates on the occasion in person. Total number of passed out students for degree or diploma is around 87,258.
Prof. (Dr) Navin Sheth, Vice Chancellor of GTU and other dignitaries were also present on the occasion.
DeshGujarat