Protests against Sanjay Leela Bhansali continues, 2 outfits hold demonstration in Surat
January 31, 2017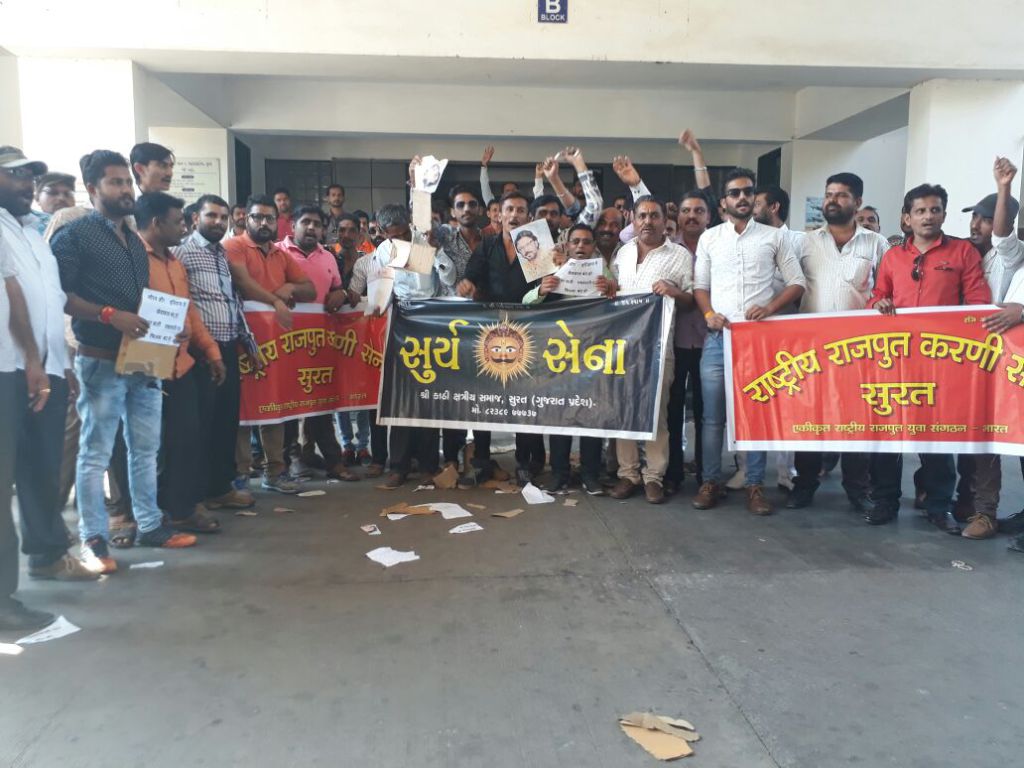 Surat: Amid continuing opposition of the upcoming movie of filmmaker Sanjay Leela Bhansali based on Rani Padmini also known as Padmavati, the members of Rashtriya Rajput Karni Sena and Surya Sena today held protest demonstrations in Varacha area of Surat city of Gujarat today.
Members of Rajput Karni Sena had attacked Bhansali during a shoot of the film at the historic Jaigarh Fort in Jaipur of neighbouring Rajasthan last week. The outfit has alleged that Bhansali was twisting historical facts by romantically linking Queen Padmini with Sultan Alauddin Khilji.
Today members of Karni Sena and Surya Sena held protests and walked over the pictures of the filmmaker after throwing it on road. They also shouted slogans and later handed over a memorandum to the district administration demanding change of the name of the movie and letting them see the movie before its release for public. The local wing of the outfits have also written letters to Rajasthan Chief Minister Vasundra Raje Scindia to not to allow the shooting of the movie in the state if its name was not changed. They have also warned the filmmaker of dire consequences if the character of Parmini is depicted wrongly in the film.
Rani Padmini is believed to be a 13th century Indian queen and is the subject Bhansali's upcoming film starring Deepika Padukone, Shahid Kapoor and Ranveer Singh. After the attack incidence he had given assurances that there are no intimate scenes in the film. The members of karni Sena have now demanded it be renamed and they must be allowed to review the film before release.
Yesterday another outfit Mahakal Sena had also held protest against the film for similar reasons in Ahmedabad.
DeshGujarat