Azaan essential for Namaz, loudspeakers aren't: Ahmed Patel suggests to try alternative ways
April 18, 2017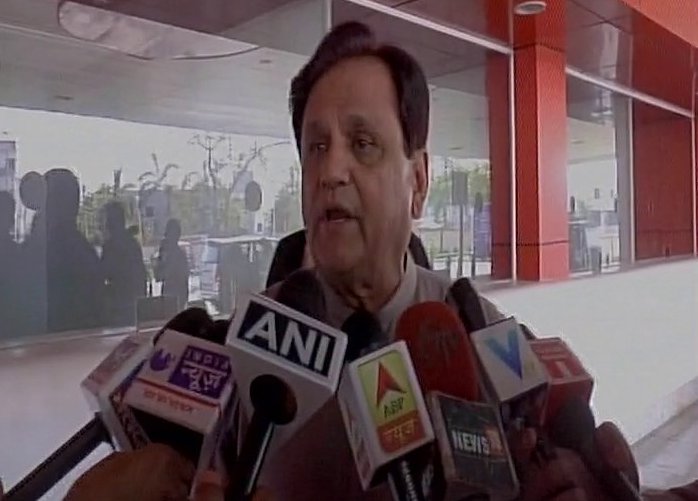 Vadodara: Congress leader Ahmad Patel who tweeted today morning that 'Azaan is an essential ingredient for Namaz. In today's day of modern technology, loudspeakers aren't' speaking to media persons at Vadodara airport in the afternoon said, 'Azaan is necessary for Namaz. I am an orthodox muslim, I offer namaz daily and keep fast. I am proud of my religion. According to me, the society and clerics must sit together and decide something or find solution regarding the use loudspeaker during namaz because people get disturbed by these.'
Ahmed Patel said that a solution must be found so that people are not disturbed by the loudspeakers.
He said, today people have Azaan on their phones even have Azaan clocks; loudspeaker is not that necessary now. Quran/Islam never said azaan has to be delivered through loudspeakers, it should be done in a way others aren't disturbed.I'm not against use of loudspeakers. But, we also need to ensure it does not cause any inconvenience to others.
Speaking to a daily Ahmed Patel further said, "I am not saying that. They should work it out in such a way that other people are not disturbed. For instance, in a 1 km radius there are five-six mosques. Ek azaan khatam nahin hoti hai, dusri ho jaati hain. Phir teesri (Before one azaan ends, another begins. Then a third)…. In Ramzan also, calls are given in the morning to remind the faithful of the time for starting roza… it is not necessary to say it three-four times. You can say it just once."
When asked how could this be ensured that others are not disturbed, the Congress leader said that there is modern technology nowadays. People who offer namaz have applications in their mobiles with azaan clocks. Timings are fixed. There are watches, the Congress leader also said.
"In remote areas, where there is only one mosque and where people live scattered and people do not have access to all that…there you use loudspeakers", Ahmed Patel added further.
Ahmed Patel's reformist thoughts were welcomed by both Hindus and good number of Muslims too on social media platforms.
The whole debate started with singer Sonu Nigam's tweet. On being woken up to the sound of azaan relayed from loud speakers, singer Sonu Nigam took to Twitter to slam the practice.Terming it as 'forced religiousness,' he tweeted, "God bless everyone. I'm not a Muslim and I have to be woken up by the Azaan in the morning. When will this forced religiousness end in India."
DeshGujarat