GST regime and new plants to boost ceramic sector by 25% in one year: AGIL Chairman
May 02, 2017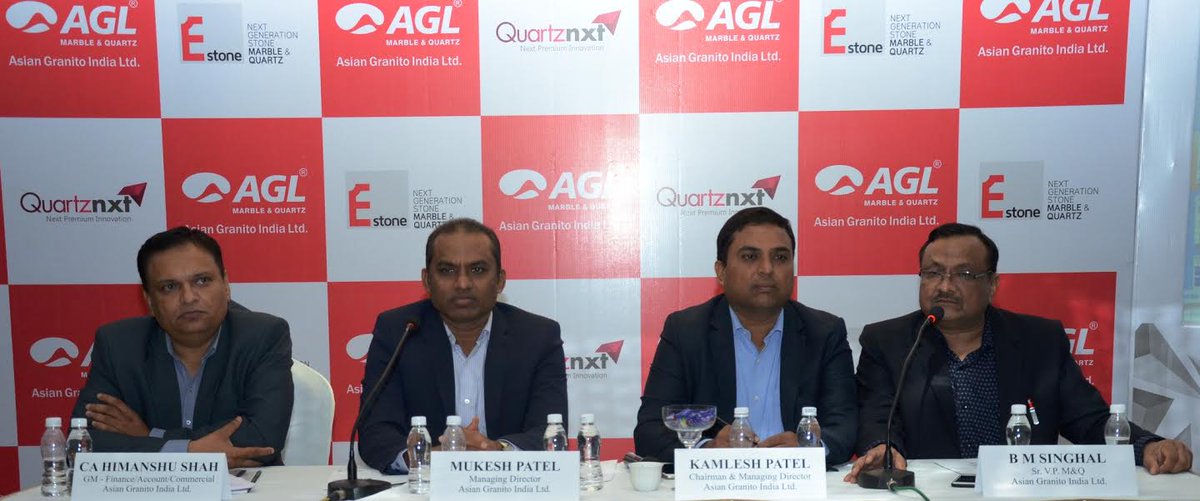 Ahmedabad: Gujarat based third largest Indian Ceramic company, Asian Granito India Limited (AGIL) today said that the size of the Indian ceramic Industry would see a big boost after the implementation of Goods and Services Tax (GST) regime.
Addressing a press conference here Chairman cum Managing Director (CMD) of Ahmedabad headquartered AGIL, Kamlesh Patel said that India was currently the second largest ceramic player in the world after China. 'Its current size was Rs 28000 crores which in one year after the implementation of the GST and opening of new plants will shot up to 35000 crore (around 25%).
Talking about AGIL, which has become the only color quartz tiles manufacturing Indian company and exports its products to over 50 countries and has seen a 40 fold increase in its capacity in 16 years (2500 sq meter per day to one lakh sq m), the CMD said, 'it was planning to double its revenues in coming 3-4 years and has set a revenue target of Rs. 2,000 crore by 2020. Company will focus on high value products including glazed vitrified tiles, digital ceramic tiles and marble & quartz going forward in addition to asset light business model for manufacturing to achieve this target.
Marble and quartz stone segment is one of the top focus areas for the company going forward. Company has recently completed expansion of the 3rd line for quartz stone at its Himmatnagar plant and started commercial production this month. Post the expansion, company has doubled its quartz stone capacity to 1,600 square meters per day investing Rs. 20 crore. Company has launched quartz in the large format of 10.5 feet X 5.25 feet at the new facility and has received orders worth Rs. 25 crore from domestic and exports market, he said.
Mr. Mukesh Patel, Managing Director of the company on the occasion said, "Market for quartz stone in India is estimated at around Rs. 200-250 crore and growing at 25-30% per annum. Quartz is a premium product and hence we expect to earn a healthy EBITDA margin in the range of 30-32%. Company also aims to expand its retail sales and aims to increase share of retail sales to 50% from 35% currently. Company will aggressively expand its dealer-distributor network and showrooms to achieve this target."
Quartz has fast emerged as the latest trend for flooring solution and its demand is growing across the world on account of aesthetics, durability, strength, variety and less wastage or damage compared to natural Marble. Quartz slabs are mostly preferred for use in the high traffic areas such as malls, airport, railway station, hospitals, commercial spaces etc. United States is the biggest market for quartz followed by Europe, Canada, Australia and New Zealand, he said adding that AGIL offers wide range of products including, ceramic floor, digital wall, vitrified, parking, porcelain, glazed vitrified, outdoor, natural marble composite & Quartz etc.
DeshGujarat