CM dedicates Swaminarayan general hospital of Vadtal Dham
July 09, 2017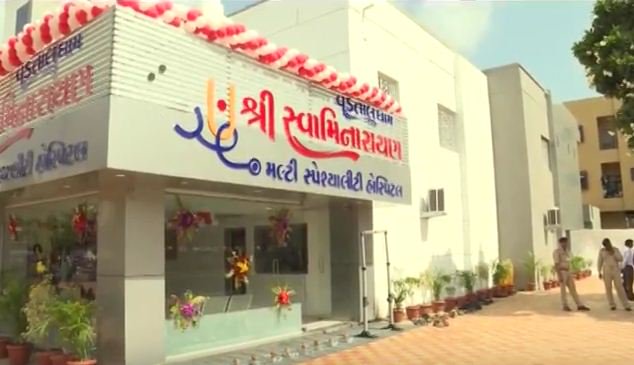 Gandhinagar: Gujarat Chief Minister Mr. Vijay Rupani today dedicated Swaminarayan general hospital providing services free of cost at Vadtal Dham in the presence of senior saints and the acharya of the LaxmiNarayn Dev Gadi Rakeshprasadji Maharaj. During the celebration of rich tradition of Guru Purnima Mr. Rupani said that the duty of state government is to perform for the people. He said that the organization shall plan for a 500-bed hospital and a collage for which State Government would provide necessary land.
During the celebration of rich tradition of Guru Purnima Mr. Rupani prayed and bowed down to the Saints of Swaminaray sect. He bowed to all the saint and monks on the occasion of Guru Purnima. He said that the Government is dedicated for the poor and needy people of the state and to provide medicines at lower rates is the only aim. To provide medicines at cheaper rates State Government has started generic medicine stores.
Welcoming the decision for price control of our Prime Minister Mr. Narendra Modi Mr. Rupani said that State Government has made a provision for free of charge treatment upto Rs.2 lakh for more than 35 lakh families having annual income less than Rs. 1.50 Lakh for the treatment of diseases of cancer, heart, kidney and liver. State Government has taken this responsibility at cost of Rs. 700 crore.
This Government is completing one year on August 8th, 2017 but took approx 450 public interest oriented decisions and made many strict laws before it. Respecting Guru's is our tradition and culture. The day holds importance since it sees people thanking their 'gurus' or teachers which show the sacred relation between Guru and their pupil.
On the occasion Minister of State for Mines and Minerals department Mr. Rohitbhai Patel, Chief Whip of Gujarat Legislative Assembly Mr. Pankajbhai Desai, MP's, Donors, Saints, Monks, Sarpanch of Vadtal Dham, Managing Truetee of Vadtal Temple Trust and Devotees at a huge were remained present.
– Information