Rs 10 lakh relief to kin of victims of terror attack in J&K: Gujarat CM
July 11, 2017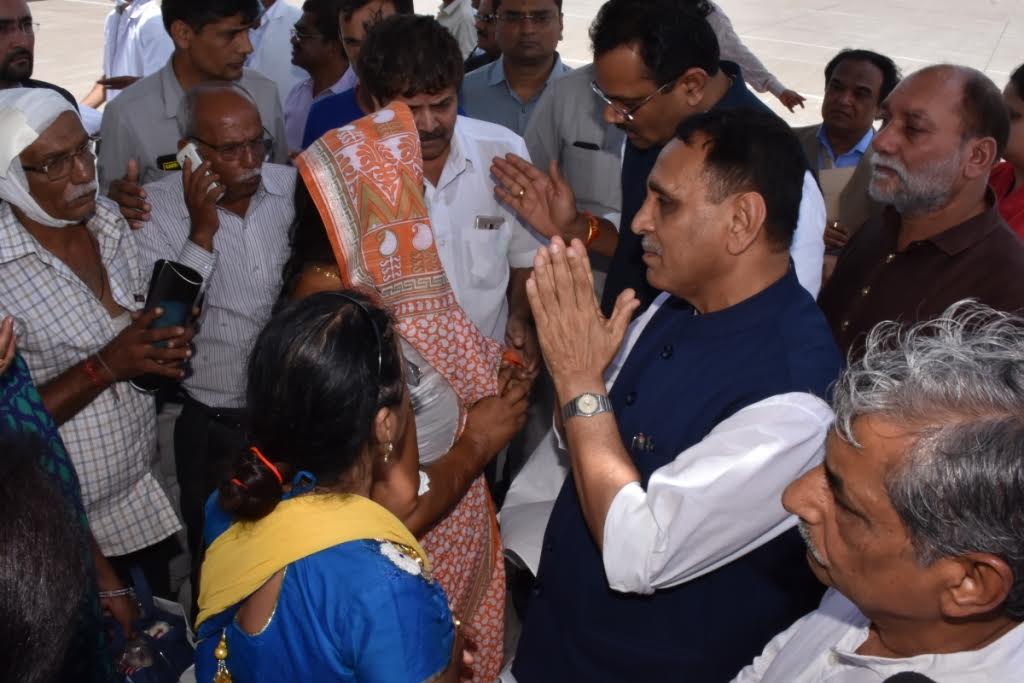 Surat: Gujarat Chief Minister Vijay Rupani today announced Rs.10-lakh government assistance to relatives of each of the seven Amarnath pilgrims from the state killed in the terrorist attack near Anantnag in Jammu & Kashmir.
He also announced Rs.2-lakh assistance to each of the 19 injured persons in the attack, besides bearing the entire cost of their medical treatment undergoing treatment at J&K hospital.
The Chief Minister, accompanied by Deputy Chief Minister Ntinbhai Patel, BJP State President Jitubahi Vaghani, Minister Ganpatsinh Vasava, MPs, Mayor and others, joined the relatives of slain pilgrims and other pilgrims to receive the bodies at the Surat airport. They consoled the bereaved families and enquired about the circumstances. The bodies were brought to Surat today by a special Air Force plane.
Mr. Rupani had a word of praise for the driver of the ill-fated bus, who drove past nonstop bullet firing by terrorists to the destination saving the lives of others. There were 51 passengers in the bus. He said he would recommend the driver's name to Government of India for bravery award.
No sooner than he learnt about the terrorist attack, he directed the state administration and police force to establish link with their counterpart in J&K and ensure in consultation with the Union Ministry of Home Affairs the return of the slain pilgrims from Gujarat to their home state.
On behalf of 6.50-crore Gujaratis, he thanked the Central Government, J&K Government, Air Force, Army and all those who came to the help of the pilgrims from Gujarat in their hour of crisis, their treatment and passage to Gujarat.
Mr. Rupani condemned the terrorist attack on pilgrims in the strongest words, saying that India would not succumb to such attacks and tackle such terror with a tough hand.
The directed the State Control Room at Gandhinagar to constantly keep abreast about all related information. The Control Room Number is 079-23251908 and Toll Free Number 1070.