MNS goons force shop keepers to remove Gujarati sign boards in Mumbai
July 29, 2017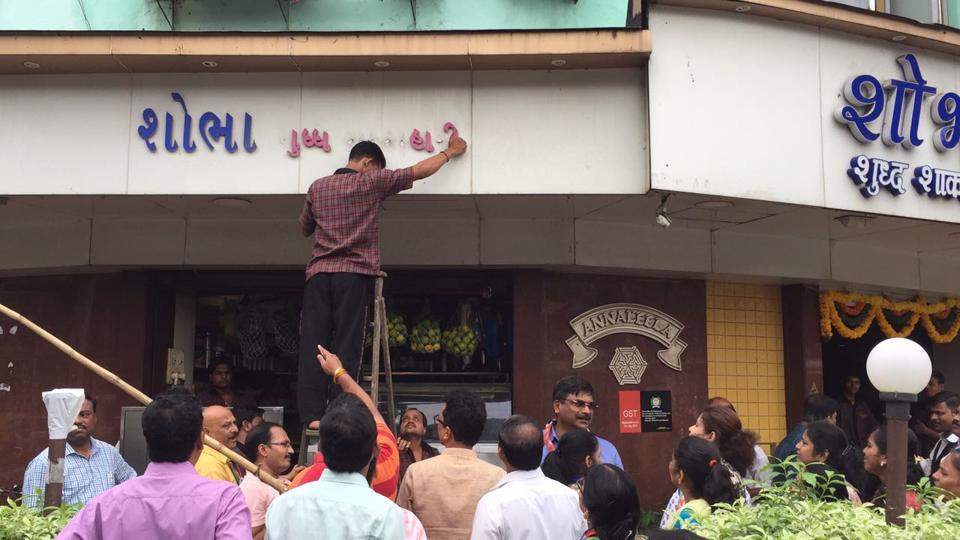 Mumbai: Goons from Raj Thackeray led Maharashtra Navnirman Sena forced the owners of jewelry shop and restaurant to remove Gujarati sign boards from their businesses in Mahim area of Mumbai city on Friday.
MNS goons gathered outside the Gadgil jewelers in Dadar area and staged protest seeking removal of Gujarati sign board. Due to their force, the jewelry shop removed Gujarati sign board. A group of MNS goons then moved to Mahim junction where they shouted slogans against Shobha restaurant over Gujarati sign board. Hotel manager asked employees to remove Gujarati sign board after forced by MNS goons.
No police complaint is filed against MNS hooligans. Police however filed complaint against illegal assembly and arrested seven MNS workers.
Author's view
It should be mentioned here that when Raj Thackeray had proposed to visit Gujarat, then Chief Minister Narendra Modi had given him state guest honor and facilitated his tour. But dog's Tail can never be straightened. His cadres time and again spit venom against Gujarati language and people. Once upon a time, on Western railway line stations, Gujarati language was used along with other language on sign boards. Later Gujarati language was erased permanently. Earlier this month a new circle was built through local Gujarati MLA Narendra Mehta's grant in Mira Bhayandar area. A sign board of 'Vandan Circle' was put here in Gujarati language. It had to be removed soon due to protest by Marathi Ekikaran Samiti.
DeshGujarat