100% polling for 3 Rajyasabha seats in Gujarat ends before schedule, at least 8 cross voting from Congress
August 08, 2017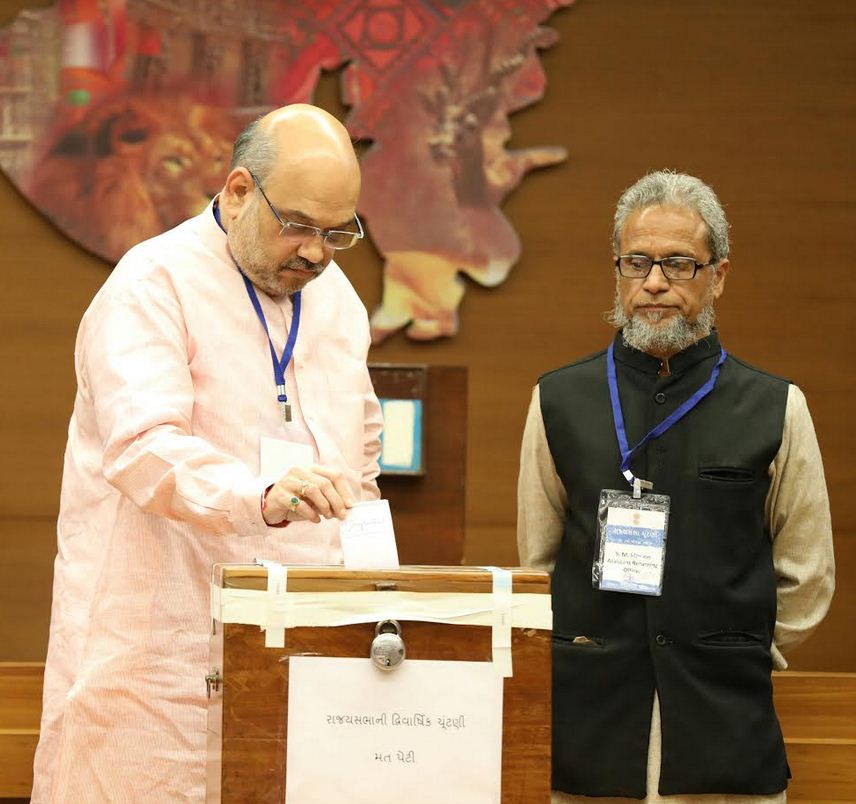 Gandhinagar:
Amid high voltage sequence of events and a roller coaster like ups and downs for the political observers and parties, the voting for the crucial Rajyasabha elections on three seats of Gujarat which began at 9 am here today amid tight security ended almost two hours before the schedule with 100% voting and at least 8 cross voting by Congress MLAs including a sensational one by Sanand MLA Karamsinh Patel, who was one of the 44 party MLA's 'flocked' since July 29 at two resorts in Bangalore and central Gujarat.
Returning officer for the polls and Gujarat Assembly Secretary D M Patel said that the voting completed almost two hours before schedule ie before 4 pm. All the 176 voters (MLA's) have cast their votes. The counting would be done and results would be declared in a few hours. The schedule time for start of counting was 5 pm.
However the likelihood of the results going in to legal tangle was also there as Congress has demanded for the cancellation of the votes of two of its cross-voting MLA's (both from Vaghela camp) for allegedly showing their ballot to BJP candidates. It is understood that if Congress looses the sole seat it was contesting, it would certainly pursue it and some other objections vigorously.
Meanwhile amid claims of easy win by various Congress leaders including its state president Bharatsinh Solanki, state in-charge of the party Ashok Gehlot admitted that 8 cross voting including 6 of Shankersinh Vaghela camp and Vaghela himself has taken place. He also said that the party would to the election commission for rejection of votes of two of its cross voters. Also those from Vaghela camp who had violated party whip would also be suspended from the party.
CM Vijay Rupani, Deputy CM Nitin Patel and Former CM Anandiben Patel after casting their votes claimed that all the three seats would be won by BJP candidates. The NCP with two MLA's has seemingly seen a divide as its state president and MLA Jayant Patel claimed to have voted for Congress while the other MLA Kandhal Jadeja who touched the feet of BJP candidate and president Amit Shah outside the polling booth, has voted for BJP.
The sole JD U MLA Chhotu Vasava whom Congress candidate Ahmed Patel went on to meet at his residence here as a gesture of gratitude for voting for him, later told newsmen that he has voted for Patel. After voting Vasava, who also comes from the home district of Patel, Bharuch, had said that he had voting for the ideology of his party and for the nation. Some observers had claimed that unpredictable Vasava, who had boycotted Presidential polls recently, might ditch Patel.
Earlier in the morning BJP Whip Pankaj Desai was the first to cast vote.
Shankersinh Vaghela who also cast his vote quite early said that he has note voted for Congress but he did not clarify to whom he has voted. He said that as all the 3 BJP candidates were winning and there was no chance for Ahmed Patel, there was no meaning of wasting his vote. It is understood that he has voted for his relative and the 3 rd BJP Candidate Balwantsinh Rajput. Some of his supporter Congress MLAs including Raghavji Patel openly said that he has voted for BJP and would soon join the party. His son Mahendrasinh Vaghela also voted but did not clarify his stand.
A dispute was created about the voting of Kankrej MLA Darshi Khanpura when BJP objected to his demand of proxy voting owing to problem in hands. Later he cast his vote himself.
Earlier after the voting of the 42 flocked Congress MLAs, BJP reportedly did some recalculations and had put the voting of its MLAs on hold for sometime. Various claims and counter-claims by voters during polling kept the mood swinging for the supporters of both the BJP and Congress camps. Congress president Solanki claimed that the likelihood of Mrs. Irani's win was bleak. Some others in BJP camp on the other hand claimed that at least 3 of the flocked 44 Congress MLA's have cross voted.
The polling station for the election, which incidentally was first such poll to take place after 1996 (not needed earlier owing to consensus), was made in Swarnim Sankul 2, the premises of the seat of the government here.
Returning officer Patel said that after the resignation of six Congress MLA's, there were a total of 176 voters (MLA's) for the polls.
The election was necessitated owing to the nearing of the completion of the tenures of three existing members union minister Smriti Irani and Dilip Pandya(both BJP) and Ahmed Patel (Congress) (August 18)
Meanwhile the win of two of the 3 BJP candidates, party president Amit Shah and Mrs Irani was almost certain while the fate of the third party candidate Balwantsinh Rajput who joined BJP after resigning from Congress was hanging in balance along with the sole Congress candidate Ahmed Patel, the political secretary of Sonia Gandhi despite Congress' claim. He needs the support of 45 MLA's for getting a fifth time entry in to the upper house. In 182 member assembly, BJP has 122 seat including dissident Kotadiya (who joined the dinner of BJP MLA's last night and has most likely voted for BJP candidate) , Congress 51 (along with 7 of Vaghela camp who cross voted for BJP) and NCP 2 (one each to BJP and Congress)and JD U 1.
All the four candidates were present in Swarnim Sankul since morning where the tight ballot battle for upper house took place.
The NOTA option had made the election scenario even more interesting with all kind of speculations and in the 'war like situation' for every single first preference vote matters. However in all likelihood this option has not been used but the actual picture would be clear only after the actual counting.
Congress and BJP both had issued whips for the election. The 42 of the 44 Congress MLA's flocked at a farmhouse in central Gujarat after their arrival to Gujarat yesterday morning from Bengaluru where they were in another resort for 9 days, had arrived here in a bus to vote. Two others Shaktisinh Gohil and whip Shailesh Parmar had arrived before the start of the polling. Gohil was the polling agent of the party and allegedly had a hot talk with Karamsinh Patel when he cross voted. He reportedly called him a 'betrayer'.
Congress candidate Ahmed Patel has also expressed confidence of his fifth consecutive entry to the upper house with a convincing win. He, however, also said that it would be better to wait till the results were out in the evening.
DeshGujarat