Bhadarvi Poonam Mela at Amabji temple to begin tomorrow, special focus on swine flu awareness
August 30, 2017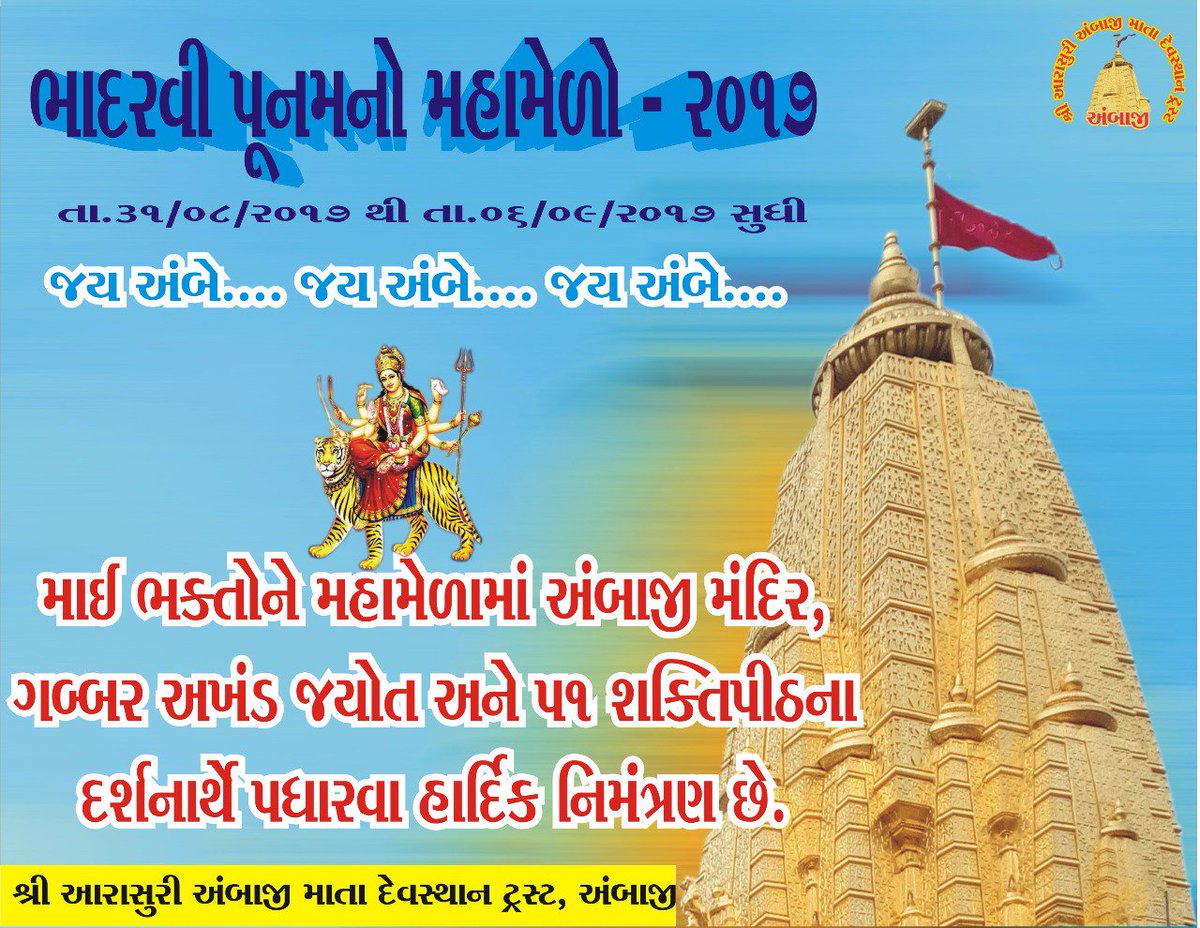 Ambaji (Gujarat): Special focus has been put on swine flu awareness during the week long Bhadarvi Poonam Mela of the world famous Ambaji temple in Banaskantha district of North Gujarat which is beginning tomorrow and during which the visitors footfall is expected to be around 30 lakhs this year.
Administrator of the Shri Arasuri Ambaji Mata Devasthan Trust (SAAMDT), the body that looks after the management of the temple, one of the 51 shaktipeeths (divine power-centres) of mother goddess where her heart is believed to have fallen according to Hindu mythology, and Deputy Collector R K Patel today said that at seven places free Ayurvedic ukala (ayurvedic drink beneficial for prevention of swine flu) distribution for visitors would be done. It was also being ensured that the visitors wash their hands before having Darshan and also if the need be do gargle too. Three points have been set up for this. Message about the vital role of cleanliness in prevention of the disease would be strongly given.
'On all the three approach roads (Khedbramha road, Danta road and Mansarovar road) to the temple through which the devotees come to the Mela, special medical camps have been set up in which complete information about the H1N1 virus caused swine flu would be given. They will be told about do's and dont's,' Patel said adding that owing to current situation and monsoon the temple administration was not willing to take any chance.
'Banners across the Mela area and approach roads about Swine flu awareness have also been set up,' the Administrator said adding that six of the ukala distribution points were close to the bus stands on the three routes and one was centrally located at Ambaji.
Notably, the Mela this year was being organized amid the scare of Swine flu which has so far claimed over 330 lives in Gujarat and still more than 1200 people were under treatment.
Meanwhile over a dozen committees have been formed by the Banaskantha district administration in co-ordination with the trust to take care of the mela management. Large number of policemen have been deployed to prevent any untoward incident during the mela which traditionally begins on the ninth day of Bhadarva month of the Gujarati calender and culminates on Poonam or full moon day of the same month (August 31 to September 6 this year). The mela area spread over a radial distance of around 3 km from the shrine is being monitored through over 100 cctv cameras.
The temple town of Ambaji is situated at a distance of approximately 65 km from Palanpur,the headquarter town of Banaskantha district, 45 km from Mount Abu and 20 km from Abu Road in neighbouring Rajasthan and 185 km from Ahmedabad.
DeshGujarat