Coast Guard air-lifts 8 crew of a fishing boat stranded in sea off Porbandar coast
September 01, 2017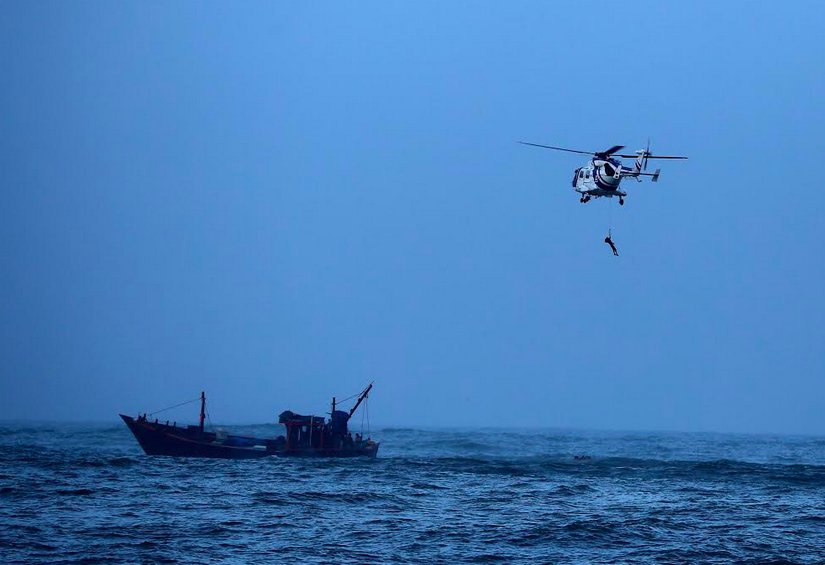 Porbandar:
The Indian Coast Guard today air-lifted and saved eight crew members of a fishing boat who were stranded off Porbandar coast in Arabian sea for last 4 days.
All the eight members have been hospitalized.
Defence spokesperson Abhishek Matiman said that owing to the severe weather conditions in the Saurashtra area, Indian Fishing Boat (IFB) Mayur Sagar with 8 crew on board was stranded approx 1.8 Nautical Mile from Porbandar since Aug 29. An Advanced Light Helicopter (ALH) was launched from Porbandar with first light today for rescue operation.
'All 8 crew were winched from the boat and touched down at the adjacent beach area. First Aid was provided to them at Medicare Centre, District Head Quarters Coast Guard. All crew members are stable and shifted to civil hospital for further medical management,' he said.
The rescued crew members have been identified as Sandeep Raviya, Ajay Shibu Hav Kodiya, Ramesh Lakhma, Jeetu Taru Naika, Vipul Madhu, Harshad Sandeep, Umesh Chotu and Nilesh Prabhu Lakha.
The Coast Guard had rescued over 40 fishermen from seven stranded boats off Gujarat coast owing to inclement weather yesterday and the day before as well.
DeshGujarat