Gujarat Summit and new beginning of Indo-Japan relationship
September 06, 2017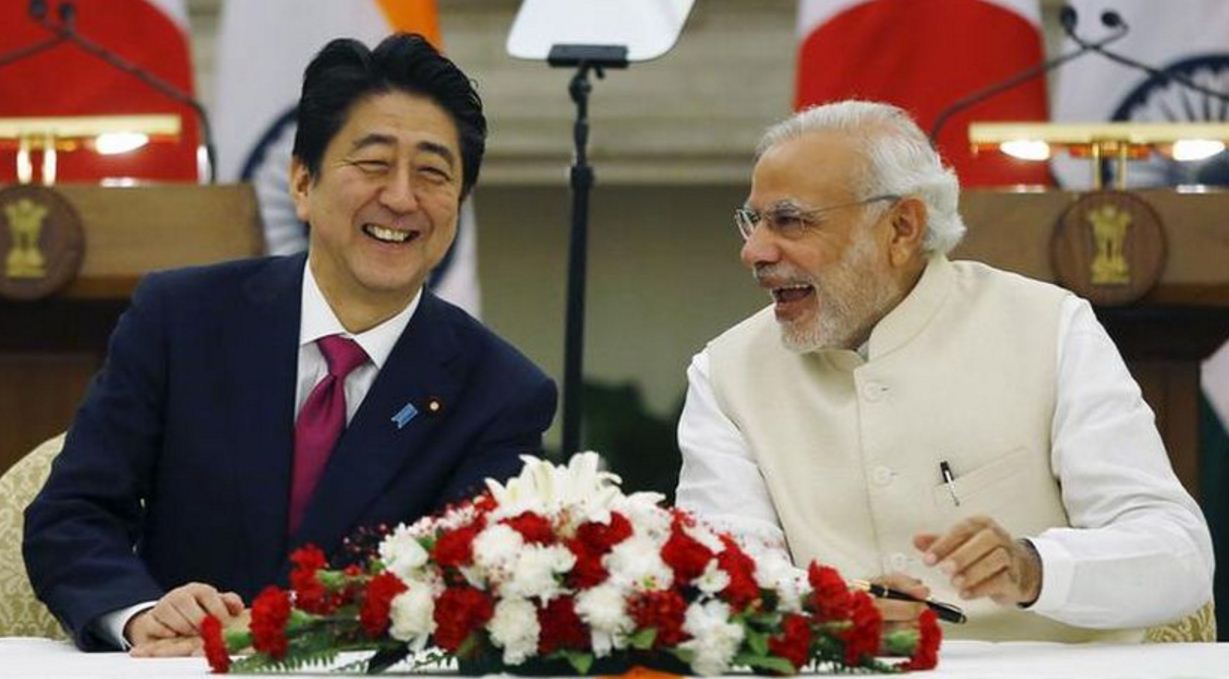 By SominduS
"No nation has contributed so much to India's modernisation and progress than Japan – cars, metros and industrial parks, for example. And, no partner is likely to play as big a role in India's transformation as Japan."
– Indian PM Narendra Modi during Singapore lectures on 25th November, 2015
The sentence above sums up beautifully the unique relationship between two nations and lauds the contribution of previous leaders from both countries. PM Abe has been on record time and again saying more of the future, "Strong India is in the best interest of Japan, and a strong Japan is in the best interest of India." In a multipolar world, both Modi and Abe share a tremendous bonhomie, chemistry, and trust that dwarf any other bilateral relationship.
As Japan's biggest Indofile PM Abe is embarking on one of the most path-breaking visits to India (The Gujarat Summit), a detailed article was required to highlight the relationship from the perspective of economic cooperation, symbiotic relationship and advent of States in forming a greater bond with Japan, with Gujarat as a case study.
Legacy and Diplomacy
The bond that Modi and Abe share was also evident when Abe's maternal grandfather Kishi was Japan's Prime Minister. He had a similar bond with our PM Nehru. But unfortunately, the Indian PM then was overly invested in the self-belief of Non-alignment movement. Indians missed the bus then. Though the mutual respect never ceded, India for Japan became a harmless country that was far from economic or global interest. 10 years ago when Kishi's grandson, Abe, was rising, India was very much on his focus. He had grown up listening to the good stories about India and how we stood with Japan post-war. He was watching with interest how India was growing. Trying to build relations with Indian leaders that would visit Japan, he met the then Chief Minister of Gujarat, Narendra Modi. They got more chances to meet as he visited India as the PM of Japan a few months later. The Japanese Ambassador to India, Saeki, was one of the close aides of PM Abe and 2012 was the year of 50 years of diplomatic relations between India and Japan. Saeki chose to celebrate it big by inviting the Gujarat Chief Minister to visit Japan again. This was the year of election, and even though the UPA Govt was in power, Japan saw a tremendous value in the then BJP Chief Minister and rolled out the red carpet. Embassy sources would sum up him and his state in three words: Proactive, Pragmatic and Path-breaking. In a country like India which prides herself in status quo, Mr. Modi was a fresh hope for Japan and even though Abe was not in the limelight of active politics, they both met again. The rest is history. Abe went on to win his party's presidency and became PM again in 2012; Modi scored a hat-trick victory as a Gujarat CM and became the natural choice for Prime Minister for masses. The great bond continued as the world watched in awe. In the Indian PM's address to the Sacred Heart School (Alma-Mater of Mrs. Abe), he answered a question on how Japan and India should tackle China. Modi in his anecdotal style replied, "Darkness cannot be fought with sword, cannot be covered in a blanket, nor can be swept out, yet a single candle is enough to remove darkness." Without saying anything, he said it all and compared a candle with democratic values. This was when the policy makers of Japan became convinced of PM Modi's capabilities. When Abe visited India next, both leaders' participation in Maha Aarti at the bank of Ganges became one of the most iconic diplomatic pictures globally. Together these two leaders are driving their agenda at high speed. The Special strategic global relationship indeed has a meaning in every adjective.
September 2017 will be Abe's fourth visit to India. A tremendous amount of progress has been achieved recently. What Japan saw in the Modi then in terms of Chief Minister proved absolutely right and to drive my point, let me run it through the prism of diplomacy.
Enter Sujan Chinoy: The Kachi Uma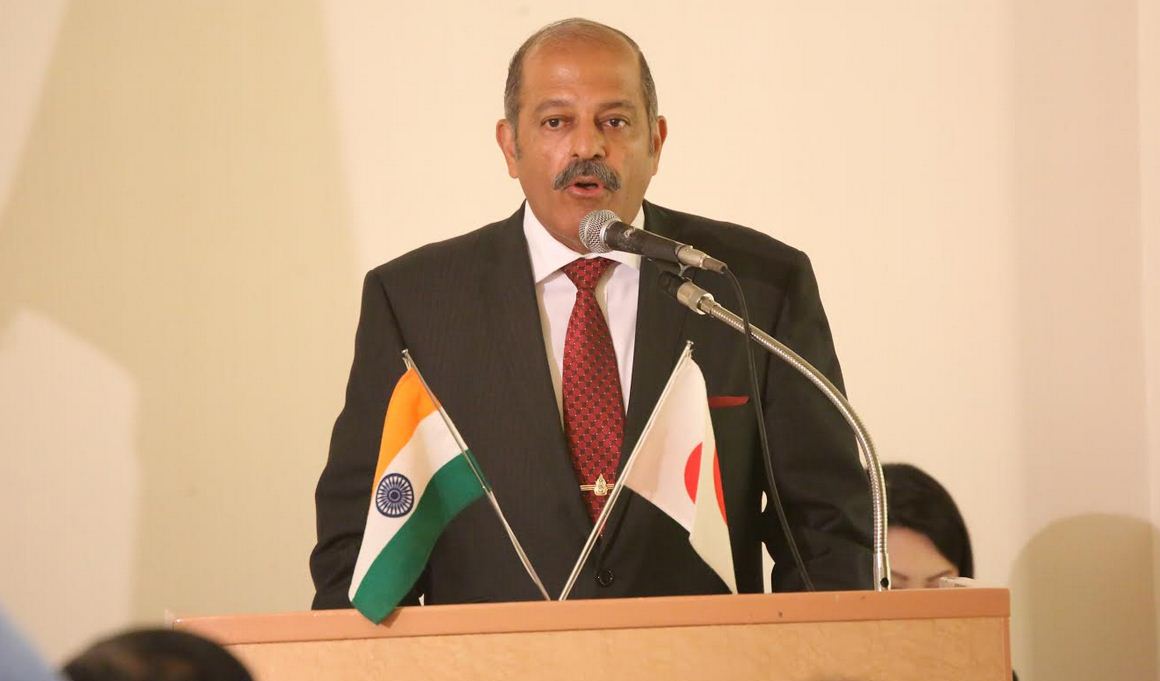 One of the biggest objective for the Modi government has been on revamping India's diplomacy. I fondly call it MoDdiplomacy. Even during the run-up to the 2014 election, PM contender Modi was very articulate in his vision for India's diplomacy. The mandate for Modi sarkar Diplomats was very clear; "Foreign policy must serve to promote India's economic interest". This was again a huge shock for the status quo happy ministry. But the PM made enough qualified changes. If you want to see what "Path-breaking, Proactive and Pragmatic," means in action, you must follow Sujan Chinoy's (@SujanChinoy) on twitter. Ambassador Extraordinary and plenipotentiary H. E. Chinoy is a combination of these three characteristics and has brought an unprecedented amount of energy into the bilateral relationship. The mission is heavily understaffed, yet he more than makes up for it by working even on weekends and enthusing each of his staff to give their best. His staff is jokingly heard saying Ambassador only remembers Dates and not days.
A rare Gujarati Diplomat, who had a unique chance to visit Japan as an exchange student in the late 70s, he knows the Japanese pulse well. His expertise on China also helps him to be pragmatic to his Japanese counterparts.
In a short span of 18 months, he has focused on building relationships with political and corporate leaders, connected to the grassroots and has seen at least 14 state delegations from India visiting Japan (probably highest for any one country). Not to mention facilitating a number of Japanese leaders' visits to India and many bilateral ministry delegations. Today, Japan is one of the very few countries that effectively contribute in almost all of Modi government's schemes: from Make in India to Skill India to Clean India. The defense cooperation is moving at unprecedented speed. While the common neighbour is helping fuel the cooperation, the presence of Ambassador Chinoy does make a lot of difference. He is quick to judge the vibe and makes it easy for top industry leaders or policy makers to connect and communicate with him candidly.
The importance of Ambassador Chinoy has to be understood from a different perspective as well. While the Indian PM has consolidated his hold and is in perfect position to steer his country to growth, same may not be true, unfortunately, for Shinzo Abe. He is gunning for the third year of the presidency of his party which may lead him to PM's post again but the odds are against him at the moment. There are many names being discussed as post-Abe, and a fragile Japanese political system may actually see a surprise. Yet all the possible contenders have one thing in common: they all feel and call Ambassador Chinoy as a friend. In the Japanese context, there is a proverb that says "Kachi Uma ni Noru": "Riding the winning horse."
Gujarat Summit
July was a shaky month in Japan and Shinzo Abe has survived a crisis back home and affected reshuffle of cabinet and is all geared to visit India. The political crisis notwithstanding, the bigger challenges of imminent North Korean crisis also make things unstable. Yet his fourth visit to India as prime minister will be considered a landmark visit from many angles. For the first time, he may not land in Delhi and may instead straight go to Gujarat, Narendra Modi's home-state. This is indeed path breaking. It speaks volumes of maturity and warmth in the relationship.
The Bullet Train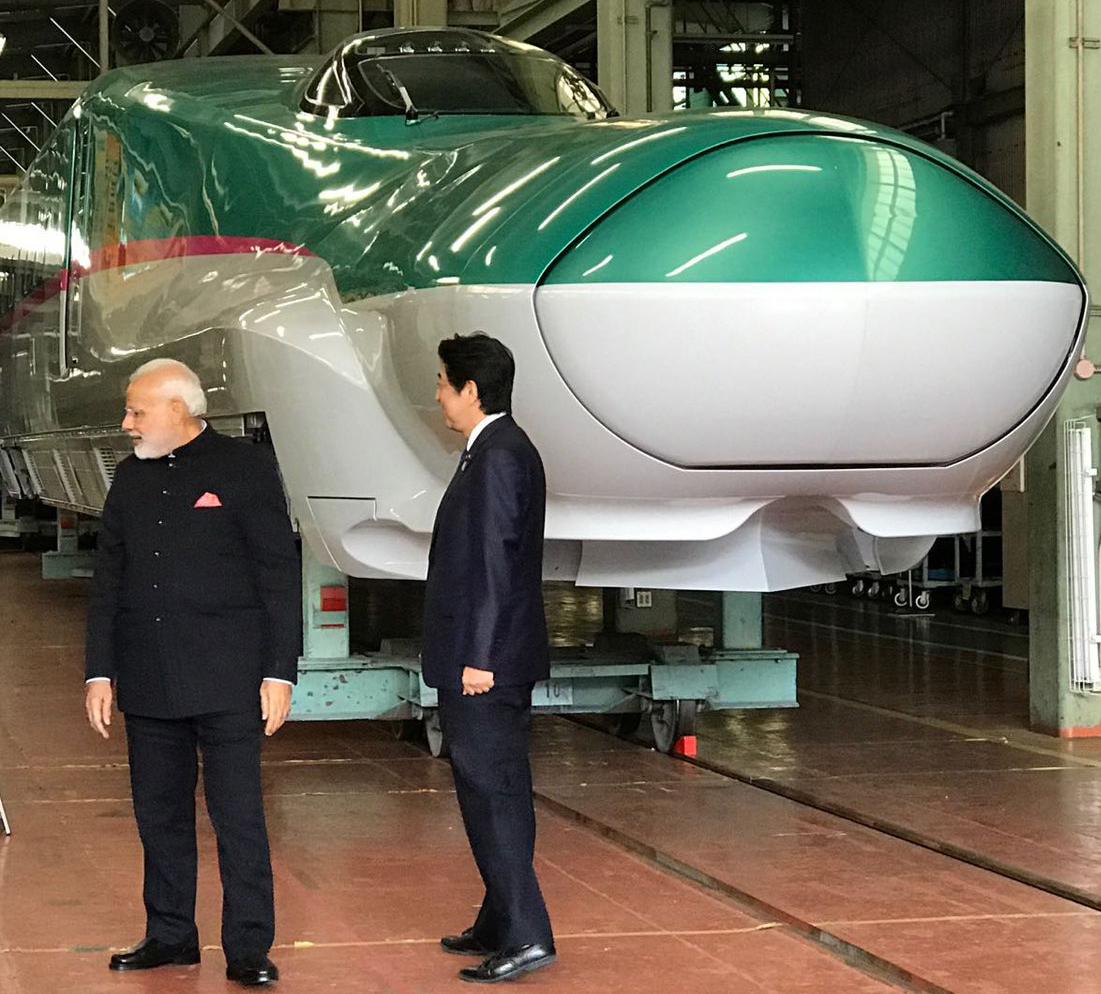 The highlight of the visit will be the inauguration of Shinkansen Training center including a long and robust training track. Infrastructure export is one of the key word for Abe in his quest to revive the Japanese economy. He could not have found a better partner than India for the Shinkansen technology. While for the Japan Railways (JR) and companies involved, this is first of its kind experience, so is true for antiquated Indian Railways. Both Premiers are pushing their respective players. Modi wants to infuse technology into anachronistic Indian Railways while Abe has made the deal very sweet by offering attractive financial terms. The Indian PM has insisted that Make in India is a fundamental norm that must be adhered to. For the people interested in Shinkansen, the design work is going on at breakneck speed as, currently, 80 experts from Japan are engaging Indian Railway experts and are chalking out the details. There would be 23 packages (project sites) that would start simultaneously post the land acquisition. I must caution, there are many firsts for both India and Japan on this, yet the partnership here creates an opportunity for future template not only for railways but even for defense cooperation. With both energetic Piyush Goel and firm Nirmal Sitharaman at the helm at the respective ministry, qualified progress is expected.
A huge boost to Gujarat as an Automotive cluster
One of the major highlights will be the inauguration of Suzuki Motor Gujarat's factory as well as stone laying for Lithium Ion Battery plant by both PMs. While three decades back, Suzuki imported the first model of Maruti 800, a lot of time has passed. Now Suzuki is rolling out the Baleno from Gujarat plant that is also exported to Japan. This resonates with the Make in India slogan while using Gujarat as an export hub. The public announcement of 750,000 cars dwarfed when Toshihiro Suzuki rose to speak on 25th July 2017 at Hamamatsu during Gujarat Investment seminar. The Gujarat team was led by Dr J N Singh Chief Secretary himself. Man of few words, CEO T Suzuki said that for the Suzuki group, Gujarat Factory is extremely strategic as it shall play a very important role of catering not just the Indian but even the global market.
He took a pause and looked at close to 350 of his suppliers who had filled the hall and continued, "We are going to make Gujarat an Automotive Industry Cluster and I invite all of you to join us and invest in Gujarat to make that happen." (will cover more of this later). Gujarat will also get a special package from Japan in terms of JICA's sweetened program loan and the experts from Japan will work closely to chalk out the blueprint of one of the biggest "Make in India Region". The plan will include optimal logistics, connecting nodes and edges from Sanand to Becharaji with a special focus on Khoraj, the region shall have more JIMs (Japanese Institutes of Manufacturing). The first and biggest JIM at Mehsana will also be inaugurated along with three more (one each from Karnataka, Tamil Nadu and Rajasthan). The focus for Japan would be to create more JIMs in Gujarat, as Suzuki's pleasant experience with current work-force is extremely satisfactory.
Mahatma Mandir and global cooperation
On 1st May 2010, prophetically then as a CM of Gujarat, Mr. Modi had announced at the ground breaking ceremony of Mahatma Mandir that one day world peace will be discussed at this very venue. While Mahatma Mandir is the venue for Vibrant Gujarat Global Summit and occasionally has hosted world leaders like John Kerry, this will be the first time a bulk of bilateral events will be held at this venue. The biggest message both the leaders will send will be that of peace and prosperity through democratic values. During the Doklam crisis, for the first time in Indo-Japan-China relations, Japan had taken a clear stance in favour of India and Bhutan. The significance of Ambassador Hiramatsu's statement was not lost on the Chinese. Besides other things, Hiramatsu is the diplomat whose resume reads Security matters as his highest credential. The message will be louder this time, and Modi will try to find a common ground through Buddhist values. Connecting Asia through Indology values; has been a perennial theme for Mr. Modi. Even during his first visit to Japan as a CM, he spoke of the same at the Otemon University, even while engaging Chinese; he kept memories of Hieun Tsang as a Buddhist monk who came to India as a template for engagement. China never respected Nehru's Panchsheel but Modi's reference to Tsang (who has inspired much folklore from Japan to Vietnam) was something China was not prepared for. With or without China a lot will happen on this front.
The global cooperation is also taking shape in west of India, as Japan and India are joining hands for development of Africa. Even though they're late starters compared to China, both countries are catching up fast on the race. India has undeniable historical connections with Africa.
Taking stock of bilateral relations
Time and again PM Abe has said India and Japan are two countries with maximum bilateral potential. Let us take snapshot from mutual indispensability perspective:
What Japan means to India
Japan invested 4.7 billion dollars in India in FY 2016-17 and stands third in the list below Mauritius and Singapore on cumulative investment for last decade and a half. However, when you consider that both Mauritius and Singapore are more of a pass through investment destination, the Japanese investment stands out distinctly. Interestingly last year, Japan alone invested 14% more than USA, Germany, and France combined together. I chose US, Germany and France, for they are top ten investors and have capabilities to provide India both investment and technology. Japan is much ahead of them on investment curve. Interestingly 70% of Japanese investment goes to the manufacturing sector, boosting Make In India with both investment and substance. JIM (Japan-India Institute of Manufacturing) is another master initiative. Today there are four institutes being established with Japanese companies as patron. Suzuki in Gujarat, Toyota in Karnataka, Daikin in Rajasthan and Yamaha in Tamil Nadu are the four Japanese patrons of the project. The race to woo Japan has been on and many states have tried. Since the advent of Modi regime, 14 state delegations have visited Japan to lure Japanese investors in their respective states. Some of the states such as Maharashtra, Haryana, Rajasthan, MP and AP, delegations were led by their respective CMs themselves. This shows the importance of Japan and more importantly, it echoes Indian PM's observation on Japan which I shared in opening lines. Recently Japan is also partnering with India in Defence cooperation. The stability of Indo-Pacific region is something on which both their interests converge. And as we speak, Arun Jaitley is in Japan in the capacity of Defence minister as his last assignment before handing over the post to Sitharaman. A deeper cooperation is expected.
What India means to Japan
Japan is suffering from stagnation in growth, negative population growth and shrinking productive population, and has been looking for growth sectors and areas. With over reliance on China and a shrinking global market, India provides all the complimentary features that Japan lacks and look forward to.
Besides, direct investment, India is also a favourite for institutional investment fraternity of Japan. "The land of Abenomics is betting on Modinomics," screamed the sub headline of this Bloomberg article.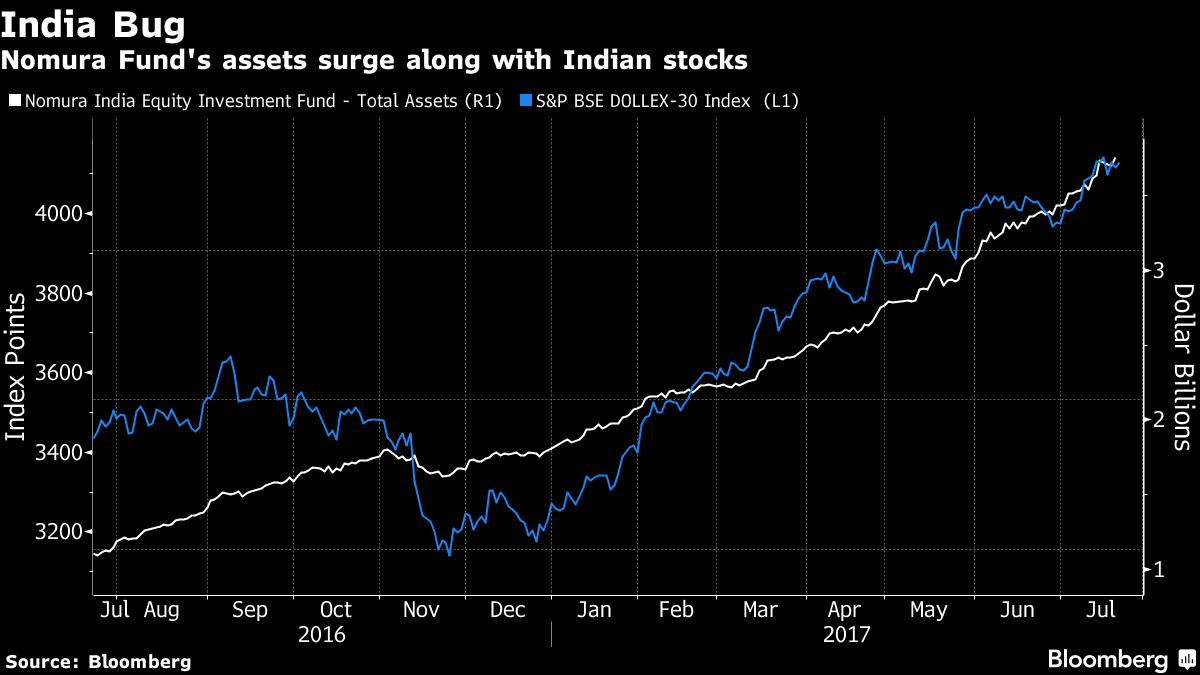 According to Go Ikeda, a senior fund manager at Mitsubishi UFJ Kokusai Asset Management Co., "India is the only country among major emerging markets that satisfy all the conditions — a sizable economy, high growth rate and yield, and political stability."
While installing their latest assembly line, Honda Motorcycle and Scooter India has reached capacity to produce 64 lakh (6.4 million) two wheelers in India. Honda's plan makes India their largest two wheelers producing location in the world, overtaking Indonesia. India still has lowest per capita bike and scooter ratio. Minoru Kato, CEO of HMSI, was bullish and added that the company wants to grab the number one spot bringing in more technology to coincide with Bharat six.
From Kasuto (Caste) to Kare (Curry) the words that used to describe India have now shifted to Kabu (Equity funds) and Keizai Seichou (Economic development), India has come a long way for Japanese common people and investors.
Beyond Economics
Not many even know but India is the only major country that supports Japan in one of the most touching ways. The Indian Parliament offers silence for decades now as a way of paying homage to the innocent civilians who died in Hiroshima and Nagasaki. The kind of warmth India has shown to Japan for many years is unparalleled in the neighbourhood of Japan. There are no negatives on diplomatic front for both countries. Since the Vajpayee Era where Mori, the then Japanese prime minister, landed in India and declared India and Japan to be strategic partners, there is no looking back. Manmohan Singh's most successful track record would surely be the relationship with Japan. The advent of rising India and the threat of China has made Japanese policy makers warm up to India all the more. Both being democracies, share values that are very important to balance the geo-politics of Asia. In terms of economics, India and Japan are highly complementary in nature. While Japan is adjusting to long term deflation and reverse population growth, India offers the benefit of high growth as well as the demographic dividend. Yet, trade and investment figures pale when you juxtapose with potentials.
What hinders Japanese companies from increasing investment in India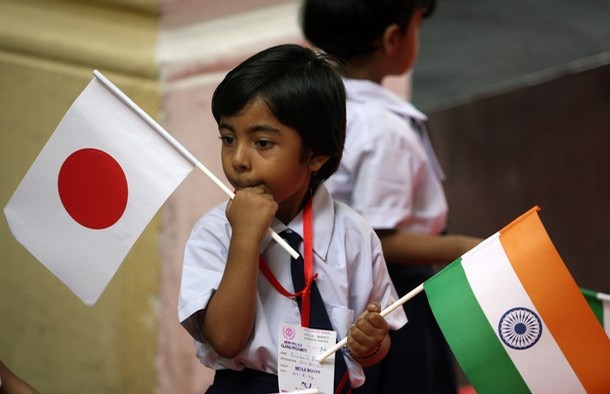 Even though there are many stellar success stories from India for Japanese companies, the numbers pale when you look at Japanese investment in South East Asia. In 1985, the Plaza accord saw the Japanese yen rising sharply. Anyone familiar with Kojima Theorem of developing economies would remember that Japan model is based on trade and investment induced growth. Simply speaking, Japan would first import a product, then localise it, improvise it, export to the world with more value and as the company moves up the value chain they will move their production base to lesser cost country in neighbourhood. The global supply chain of Japanese model helped spur many countries out of poverty; it improved their quality standards, global trade and earned valuable foreign exchange. When the plaza accord was announced, it coincided with South East Asian countries opening their doors to Japanese investors with red carpet. Today if Thailand or Indonesia is an equally important automotive hub, which is all thanks to Japanese investments. India lags behind in numbers. Thailand with same population size as Gujarat boasts 8000 Japanese companies. The whole of India numbers less than 20% of that. The simple reason being, these countries seamlessly integrated themselves into the global supply chain of Japanese companies. Their policies were adapted to help business and infrastructure was planned to spur trade and investment.
Gujarat shows the way: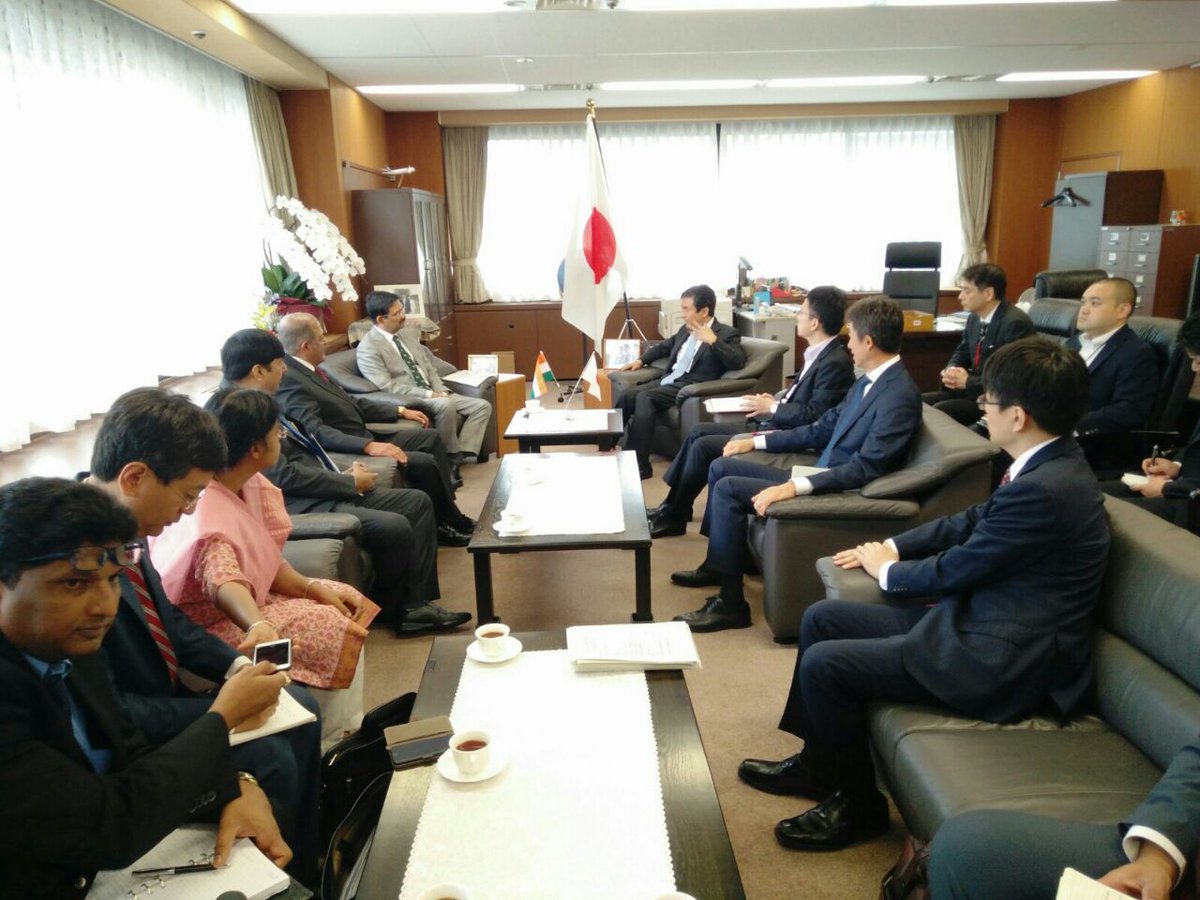 Not long ago, even after state making extra efforts in inviting Japanese investments, the state was way off investment map of Japan. The physical infrastructure was always an attraction, yet strict prohibition and non-cosmopolitan life were the biggest hurdle. The hardship incentives companies had to give to locate a person in Gujarat was almost equal to socially restrictive Middle Eastern countries, making it very expensive affair. Yet with persistence, Gujarat won over the Japanese investment and today has left, TamilNadu, Karnataka, Maharashtra, and Haryana far behind in winning most preferred Japanese investment destination tag
Today there are close to 250 Japanese nationals residing in Gujarat. If you count another 100 floating visitors, it is a sizable Japanese businessman population for a place, which never was considered a serious Japanese investment destination. Six Japanese restaurants have sprung up (big number considering even Mumbai has hardly two or three). How did it happen? Rome wasn't built in a day. Constant efforts of a decade, under the leadership of Modi, created the base. And Suzuki as well HMSI's big entry brought in critical mass for the market. But there was a big question mark on what after Modi? Will the state show a similar commitment? And there were enough indication between mid-2014 to mid-2016 that fears are not misplaced.
Yet the Japanese investors got conclusive evidence in last week of July this year on Gujarat's inherent strength. A pre-cursor to PM Abe's Gujarat visit, a high-level delegation led by Chief Secretary Dr J N Singh visited Japan. Extremely Jam packed schedule was drafted with the help of JETRO and Indian Embassy.
Total 650 investors came flocking in four cities. Every hall was jam packed. The India watchers from Japan observed that in a long time, they have seen such excitement about India. There was a meticulous planning. Senior most state officers, representatives of Suzuki Motors, Mizuho Bank (Japan's one of the biggest financial group with a branch in Ahmedabad) and head of JETRO, Ahmedabad (Japan External Trade Research Organization, a govt institute to promote trade and investment) spoke in a singular tone. Normally Japanese people are conservative and extremely guarded. Yet those speaking on behalf of State made the pitch extremely convincing. Many one on one meeting with eager investors will result in investment MoU to be signed in the presence of two prime ministers.
What is so significant about this visit? After working with many states, finally, Japan has realised that their chance of success will be higher with Gujarat than other states. While they were throwing their weight behind initiatives with Gujarat, the leadership of Gujarat was willing to walk the path with Japan. Officers had a very well laid plan before going to Japan. Three months preparations had gone into execution as well long term planning. Each existing Japanese investor of the state was met with and industries department, GIDC had a very good understanding. The presentation of State was personalised to the places they visited. Even though Japan had great hope earlier on Gujarat too, the indifference of state officers especially mid-2014 to mid-2016 was telling. Things only improved after a change in guard both as CM and CS. The team infused confidence in both internal and external stakeholders.
It was all the more evident when the actual visit took place. The last week of July, in fact, was very difficult time for the state. The state was reeling under the unprecedented rain. Any other state would have abruptly called off the trip and rushed back her Chief Secretary. However, in Gujarat, the maturity of leadership is worth mentioning. Conscientious CM Rupani was seen rolling his sleeve and was ably supported by officers, allowing Dr. J N Singh and his team to honour the commitment. JETRO and METI (Ministry of Economy Trade and Industry) had rolled out a minute plan with the active support of Indian Ambassador. The success is evident as huge delegation comprising of leaders of Japanese industry will descend along with Japanese PM to Gujarat. The host will be most benefited.
The state has recently passed Ease of Doing Business Act and is gearing up to stay ahead in the curve of preferred destination for investment. With new ministers in their place at central govt, India as a whole is also looking to shake policies to lift up the industry with a focus on lesser approval and the single window. If they succeed, Japan will be the best partner to bring in desired investments. All three key ministers (Defence, Rail, and Commerce) have a great rapport with Japan and will pursue the bilateral agenda with even more vigour. Gujarat Summit has a great potential.
I thank you for reading through such long article. It has been a while and I tried to cover all aspect in a single article. Writing on the topic since 2008, I am a perennial student of Indo-Japan cooperation and hope to continue the same. Looking forward to your kind patronage.
Author can be reached on Twitter @SominduS