American bike maker UM launches two premium models in Gujarat
September 09, 2017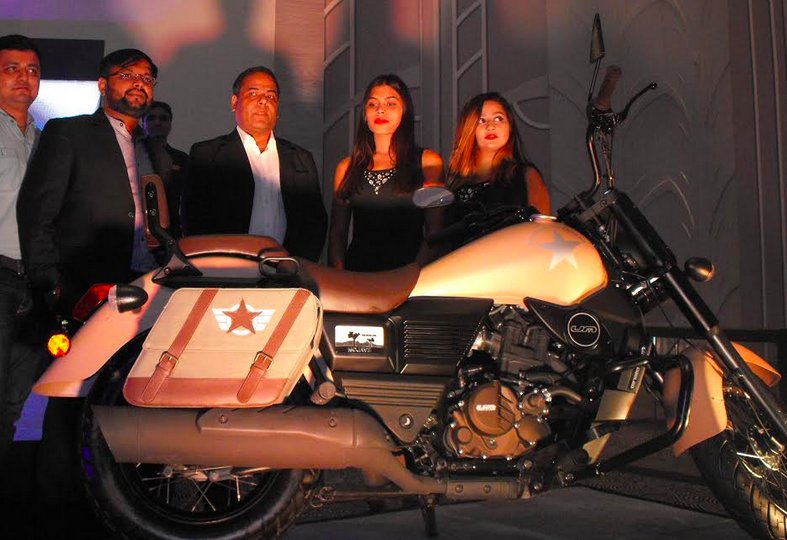 Ahmedabad: American Motorcycle maker UM International's Indian arm UM Lohia Two Wheelers today launched two of its premium models in Gujarat.
Renegade Commando Mojave (ex showroom price in Ahmedabad 1,82,355/-) and Renegade Commando Classic (Rs 1,90,814/-) are both of 25 horse power. Both are powered by the liquid cooled, Single Cylinder, 4 strokes, 4 valves and Spark Ignition making it a perfect blend of Practicality and Versatility.
Speaking at the launch, Mr. Rajeev Mishra, CEO, UM Lohia Two-Wheelers said, "There is a latent demand for such bikes with varied customer needs emerging in India. The customers are aware, ready to experiment and follow their gut. With the launch of Renegade Commando Classic and Mojave, we are looking forward to attract young leaders. We are committed in setting a new benchmark in providing excellence not only in our products but also in service experience. Renegade Commando Classic and Renegade Commando Mojave will surely capture up-country customers with a progressive mindset."
He said, "almost 85% of the world two wheeler market was in four Asian countries India, China, Indonesia and the Philippines of which India has a standalone share of 45%. The premium bike (priced between 1.5 to 3 lakhs and 300 to 500 cc engine) in India has a market share of 9% and was growing at a CAGR or 42% for the last three years. The super premium market (of bikes priced in above 5 lakhs) was a minuscule 0.2 to 0.3%. We with our products are targeting middle class customers (which was 65% of the total customer base and rising). We have entered in cruiser bike segment where there was least competition in India. Per month around 12 lakh 2 wheelers are sold in India on an average of which 8 lakh are motorcycles. 60 thousand premium and 3500 super premium ones. 85% of the normal motorcycle market was of three brands Hero, Bajaj and TVS while 90% of such scooter market was of Honda alone. And it was very difficult to break in to these segments. We deemed it fit that we must enter such a segment where there was less competition. So we have launched this bikes in cruiser category at an affordable price for middle class."
Mishra said that the Miami based company with business in around 40 countries had now presence in four biggest cities in Gujarat ie Ahmedabad, Vadodara, Surat and Rajkot. To a query he said that the two wheeler market was affected adversely owing to demonetization and GST initially but later the situation normalized.
The Renegade Commando Classic is a USA originated cruiser powered by a 279.5 cc single-cylinder Liquid-cooled EFI engine with responsive 4stroke 4 valve, spark ignition developing 25.15PS at 8500 RPM and 23 NM of torque at 7000 RPM, mated to a six-speed transmission with overdrive for vibration free rides. The motorcycle turn heads and stand out with high gloss metallic 2 tone paint job and more than 3430 square inches of sparkling chrome. It is a complete touring package which includes premium saddlebag and tank cover, polycarbonate windshield, highway engine guards and alloy back rest. It is available in two tone metallic candy paint with shades of Copper Cream & Candy Metallic Glossy Black.
Renegade Commando Mojave is inspired from the Mojave desert, North America's largest and driest desert also share the same engine as the Renegade Commando Classic but will feature new style and colour. The single colour bike with desert coloured matte paint, Mojave Desert logos and fuel tank cell phone pad. and its sibling Renegade Classic come with an electric start and have an air filter with paper element innovation. Six-speed synchronized mesh Overdrive has been added for easy cruising. The front wheel has telescopic suspension while the rear wheel has dual shock absorbers.
DeshGujarat