Shah asks youths to compare pre and post 1995 Gujarat, shares range of comparative figures
September 10, 2017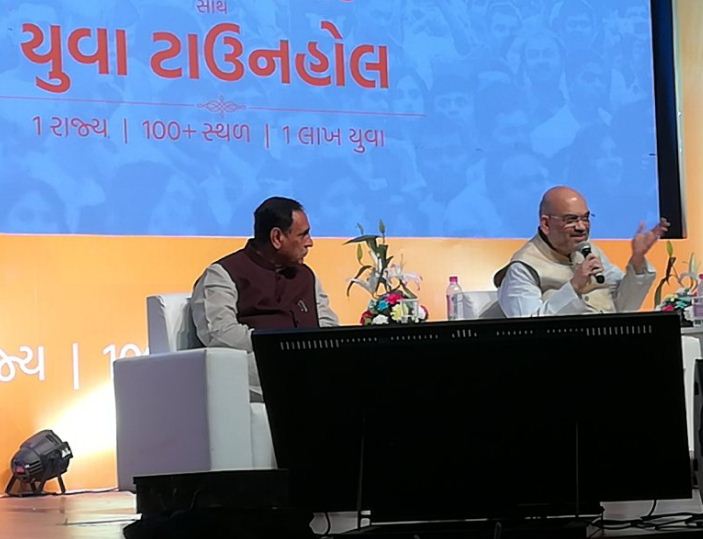 Ahmedaabd: Speaking at Townhall programme of BJYM, party president Amit Shah today said that youths decide focal point of Gujarat elections, and they only will decide it even in upcoming assembly polls.
Shah in his opening address of the function said: 'you need to divide Gujarat in two portions. Gujarat before 1995 and Gujarat after 1995. Till 1995 there were mainly Congress governments in Gujarat. BJP government was formed after 1995. It needs to be understood that what actually happened before 1995 that Congress lost Gujarat and what happened after 1995 that BJP continued to win Gujarat? Many of you were not in age group suitable for doing analysis, but you should meet some elders after this function and ask what was the state of affairs in Gujarat before 1995. Till the time you don't know how was Gujarat before 1995, you would not understand the post-1995 Gujarat.'
'Prior to 1995, Gujarat would see curfew for 225 of 365 days. Such Gujarat was created by Congress. Communal violence would occur. Rath Yatra would be attacked. If yu want to cross Sabarmati river to reach East Ahmedabad, you would need to inquire first whether it is safe to travel and whether we would get stuck or what. The person on the other side of phone would reply, come with couple of pairs of cloths, if something happens, you can stay here.
'Shahzada of Congress was questioning Gujarat's development. He should know that where he was standing(Sabarmati Riverfront) was once upon a time a filthy gutter. BJP government built riverfront there. If Rahul was in search of development in Gujarat, he would just see on his left, the river Narmada water was flowing in Sabarmati.'
'Rural youths should ask their elders, how long were power cuts. Daily 10-15 hours power cut in rural Gujarat was regular. Why power supply situation was not improving till year 2000 and why 24-hour power supply became possible as soon as Narendra Modi came to power?'
'When electricity supply is not available, it affects education, it affects employment.'
'Earlier investment summits would take place in a hall half the size of this and after various speeches, Gujarat would stay exactly at same place and would not progress. Narendrabhai displayed an example of how investment summit should be held through Vibrant Summits and attracted lakhs and crores of Rupees of investment.'
Shah shared series of figures comparing Gujarat during Congress government and BJP government.
He said: 'During the last government of Congress in Gujarat there were 41,318 schools which are 5 lakh now. There were over 2 lakh teachers, today there are 4.64 lakh teachers. Literacy rate was 66% which is now 71%. There were 7 universities that are now 57. There were 20 engineering colleges which are now 238. There are 147 polytechnics now. Degree engineering seats increased from 2295 to 77761. Congress must stop asking us questions. First they should study the figures.'
Shah further said: 'It was BJP government that built a web of roads in Gujarat – from ports to Gandhinagar, connecting pilgrim places and frontiers of border. Narendrabhai had planned road connectivity through Gujarat when IK Jadeja was his minister.'
In reference to potholes in roads due to excess rains during present monsoon Shah said: 'potholes can't be repaired at present because monsoon is underway. Suppose if there's rainfall tomorrow, the repaired roads will suffer damage again. The road repair works will kick off on 15th September and completed by 22nd October. Those who know road science would confirm that resurfacing works can't be taken up during monsoon.'
Shah raised several questions addressing the Congress party: 'Why communal riots stopped, why twenty four hour power supply could be possible, why education sector witnessed growth under BJP government, why Gujarat progressed in infrastructure sector on Indian map unlike past, why contrary to Congress government under which we witnessed corruption Air India plane purchase scam in air, 2G, 3G spectrum scam in the air, CWG scam on the ground, submarine scam in sea and coal mining scam deep inside the earth, the present Narendra Modi government is scam free for last three years. Even opponents have not been able to make one allegation of corruption against the Modi government.'
Shah went on to compare the last government of Congress in Gujarat with BJP government. He said: 'in the last Congress government in Gujarat, the size of budget was Rs 10,232 crore while in Rupani government it was Rs 1,72,000 crore. Per head income in 1995-96 was Rs 13,665 while now it is Rs 1,41,504. If Rahul thinks this is not development then what is development actually? He should tell us.'
Shah said: 'Police number was 65,000 earlier which is now 84,000. Police stations are increased from 1499 to 1899 now. Installed power capacity is up from 6563 MW in Congress rule to over 20,000 MW now. Per head power consumption which was 27,318 MU earlier is now 77,000 mu. Cargo handling has increased from 300 lakh tonne to 1,000 lakh tonne. Cereals produce is up from 47.74 mt to 63.17 lakh mt. The growth seems not huge but that is due to crop pattern change. Cotton production is up from 24 lakh bales to 91 lakh bales. Milk produce is up from 46 lakh to 122 lakh mt.'
Shah said: 'I could be sounding like a professor rather than political leader today while sharing these figures, but I am sharing them because I don't wish our youths get misled by false propaganda over Facebook, Whatsapp and mobile. Figures given here will be put on party's website and Adikham Gujarat website too.'
Shah also shared the figures of works done by Narendra Modi government in Centre for Gujarat including the contribution from Centre to Gujarat.
'Earlier during Congress rule in Gujarat and in Centre, Gujarat Chief Minister would go to Delhi to meet the Prime Minister and camp for seven days at Gujarat Bhavan there and return and say they didn't get appointment to meet the Prime Minister,' Shah told youths.
'You have asked three lakh questions to me in this programme. I don't mind. But please ask couple of questions at least to Congress. Ask them why Gujarat was getting lesser grant from the Centre during Congress governments and why Narmada dam could not be completed under Congress governments,' he said.
'A Gujarati when buys a pot, always check it properly by knocking fingers. Such pot would cost hardly Rs 25-30. Here you have to hand over Rs 1 lakh 71,000 crore annual budget to someone, and therefore you should knock it properly before taking decision. Don't be in hurry, please go in depth. Listen to everyone, ask the questions to us as well as to them(the Congress party) and then take decision as per your own wisdom,' Shah said.
DeshGujarat