Japan PM Abe's Gujarat trip day-1 starts in grand manner, wears Indian attire for spectacular road-show in open jeep with wife and PM Modi
September 13, 2017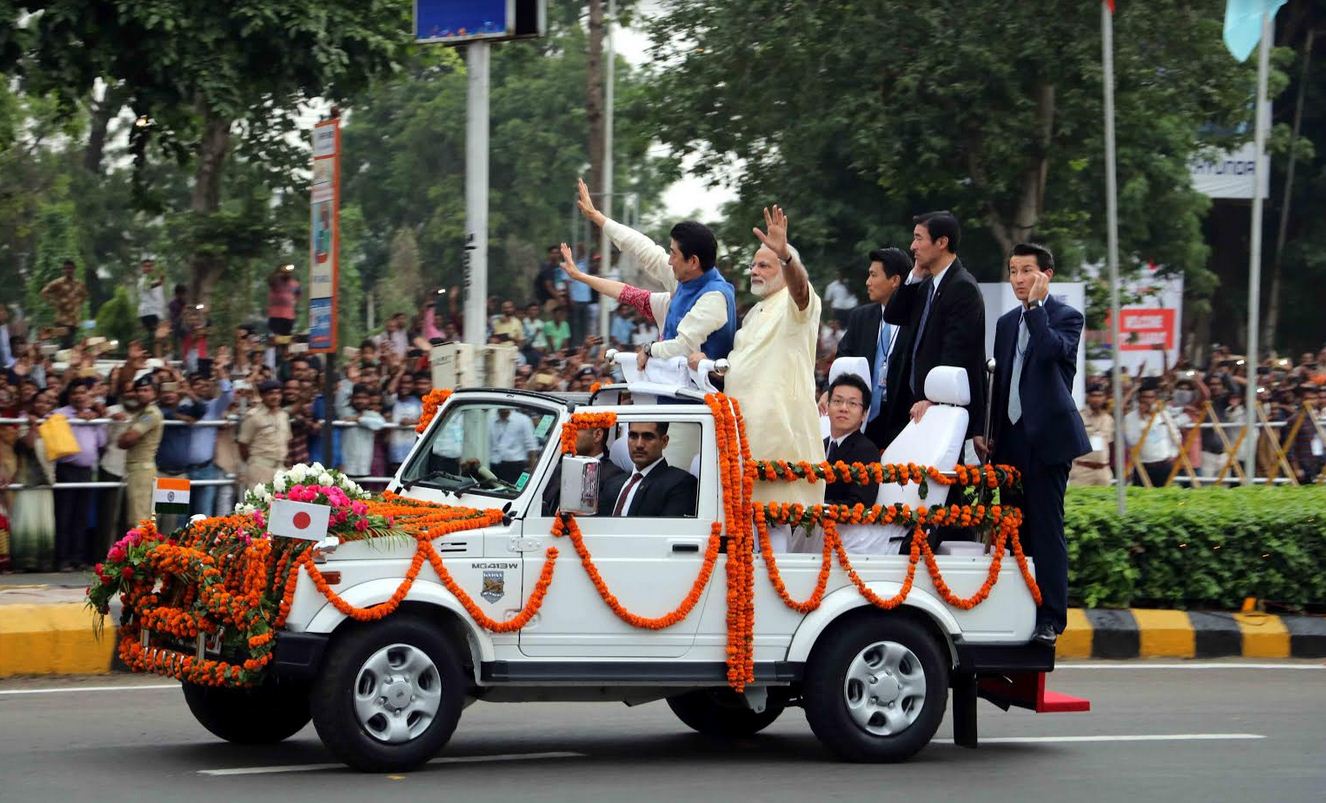 Ahmedabad: Japanese PM Shinzo Abe rode an open jeep with spouse Akie Abe, both wearing Indian dresses and his Indian counterpart Narendra Modi for an 8 km long grand road show from Sardar Vallabhbhai Patel International Airport to Sabarmati Ashram to mark the beginning of his two day India (Gujarat) visit this afternoon here which has gained special significance in the backdrop of Japan's recent firm support to India during Dokalam standoff with China.
During the around half an hour long road show thousands of people standing along the route greeted the two leaders and Mrs Abe,who looked very happy at the grand welcome. The India-Japan friendship mood was visible everywhere.
PM Abe and Mrs Abe, both were wearing, western clothing when they alighted from the aircraft here, soon changed their attire for the historic road show, the first of its kind in which any Indian PM participated with a visiting counterpart.
Abe was wearing a sky blue colour Koti (Indian sleeveless coat like wear) with an off-white Kurta Pajama while Mrs Abe wore a maroon coloured designer Indian suit with scarf over her one shoulder. The trio during road show kept waving at the crowd most of the time. At times PM Modi who was seen explaining a few things and places to PM Abe. En route artists of 28 states performed to greet the visiting PM and his better half. Kuchipudi to Bhangada to Gujarati Garba everything was performed.
After the spectacular road show via airport circle, part of riverfront, Subhash bridge, RTO circle the trio reached Sabarmati Ashram of Mahatma Gandhi where the legendary leader had spent long period of time after his return from South Africa and stayed till 1930 till Dandi March. They garlanded the oil painting of Gandhiji in Hridaykunj (main residence of Bapu in the Ashram) wit traditional cotton garland. PM Modi on the occasion also explained about a few things to PM Abe. They also gave floral tribute to the bust of Gandhiji and spent some time on the side of the Ashram adjoining the western riverfront. They sat there together for sometime after which PM Modi saw them off. In the visitor book of the Ashram the Abe couple made a brief entry and reportedly wrote love and thanks in Japanese script. They left for Hotel Hyatt in Vastrapur, where they have to do the night stay today for a brief rest before moving to 16 th century Siddi Syaed ni Jali mosque and dinner organized by PM Modi in a nearby restaurant. Abe and his wife were wearing the same Indian dress during the visit of the mosque as well. PM Modi accompanied them there as well and played a host cum guide seemingly explaining the architecture of this 444 year old monument, an excellent model of Indo-Saracenic architecture with intricately carved stone window of the mosque situated near Lal Darwaja built by the erstwhile Sultanate of Gujarat. After spending sometime there, both the PMs moved to nearby Agashiye restaurant where around 100 cuisines (both Indian and Japanese including Gujarati) were to be served.
Earlier, PM Modi who had arrived here just a little while before PM Abe's aircraft from Tokyo touched down the runway of SVBP international airport here at around 0330pm, remained present to welcome him breaking the normal protocol for this valued ally.
Giving a befitting message of friendship, on the roof of Abe's aircraft both Indian and Japanese flags emerged soon after it landed here. Though there was seemingly a small technical glitch in the aircraft ladder attaching properly with Japanese aircraft, which reportedly delayed the coming out of PM Abe for a few minutes yet the mood there was quite upbeat.
As soon as Abe came out, PM Modi shook hands and hugged him tightly. Abe smiled seeing his 'old friend' Modi with whom he had many prior meetings both as PM and as CM of Gujarat.
Abe was given traditional guard of honour by all the three wings of armed forces on the airport while he stood over a small makeshift stage. Governor O P Kohli, CM Vijay Rupani, DyCM Nitin Patel, BJP state president Jeetu Vaghani, Chief Secretary J N Singh who had welcomed PM Modi were also present to welcome Japanese PM. Foreign Secretary S Jayshankar was also present. Buddhist monks accorded a traditional welcome to Prime Minister Abe. After the red carpet welcome Buddhist monks also accorded a traditional welcome to Prime Minister Abe. With cultural troupes including ras garba dance troupe of Gujarat lined up on both sides gave scintillating performance as Mr Abe, his wife Akie Abe walked along PM Modi.
The weather in the city had also become pleasant with a few spells of light rains.
The visit of Japanese PM is likely going to further strengthen the strategic partnership and widen developmental cooperation and trade and investment between the two countries, especially in the business friendly Gujarat.
The bonhomie between both Prime Ministers is also seen in diplomatic circle as a more pronounced articulation of India's growing influence in South Asia.
Besides the political message, the roadshow also reflect robust cooperation between India and Japan.
The Japanese Prime Minister,who is on a two-day visit to the twin cities of Ahmedabad-Gandhinagar, is skipping national capital New Delhi this time, and is scheduled to depart for Tokyo tomorrow night.
Tomorrow, the visiting dignitary will join Prime Minister Modi to launch the 'Ground breaking' ceremony and lay foundation stone of the 508-km long Mumbai-Ahmadabad High Speed Rail (MAHSR) commonly referred to as Bullet train at the athletics stadium near Sabarmati railway station here. When complete, ambitious Mumbai-Ahmedabad bullet train will be a landmark for the country's advent for advanced technology and this will go a long way in "discarding" 160 year-old obsolete system. The 'Bullet train', which will have a maximum speed of 350 km per hour, will reduce travel time between country's two traders' paradise — Mumbai and Ahmedabad — to around 2 hours from the existing 7-8 hours.
PM Abe is also scheduled to visit Dandi Kutir, a museum built on the life and teachings of Mahatma Gandhi in Gandhinagar tomorrow.
There will be delegation level talks between two sides at around 1200 noon at Mahtma Mandir there. A few agreements are expected to be signed. The visit has a wide spectrum of agenda.
A senior leader of the ruling BJP said that the government was trying to give as grand a welcome to Abe, an important and reliable ally, who had recently helped India during Dokalam stand off with China, as possible.
The two leaders will review the recent progress in the multifaceted cooperation between India and Japan under the framework of their 'Special Strategic and Global Partnership' and set its future direction too, an official of the Ministry of External Affairs(MEA) said.
A few agreements are expected to be signed between the two countries after talks between the two leaders on September 14, he said adding ''The visit has a wide spectrum of agenda. Japan was already engaged in infrastructure development in India with its resources and technology to expedite its growth."
The issues pertaining to the Asia-Africa Growth Corridor, announced during Prime Minister Modi's visit to Japan last year, were also likely to come up for discussion. The AAGC, an attempt of India and Japan to reach out to Africa, is being seen as a counter to the Chinese One Belt, One Road (OBOR) initiative.
Japan is one of the few countries with which India has the mechanism of annual Summit.
Abe and Modi will hold the 12th India-Japan Annual Summit, at Mahatma Mandir in Gandhinagar on September 14. An MoU for setting up of Japan India Institute of Manufacturing near Sanand between the government of Japan and Gujarat would also be inked.
After this, 12th India-Japan Annual Summit, at Mahatma Mandir in Gandhinagar,will take place. The two leaders will deliver statements to the media. An India Japan Business Plenary is scheduled the same day. During the business session several agreements regarding investment are likely to be inked between Gujarat and Japan as well.
This will be the fourth Annual Summit between Prime Minister Modi and Prime Minister Abe. The two leaders will review the recent progress in the multifaceted cooperation between India and Japan under the framework of their 'Special Strategic and Global Partnership' and will set its future direction.
PM Abe, who had also visited Gujarat earlier during the tenure of Modi as the then CM, would later participate in the dinner given by incumbent CM Vijay Rupani. At around 0930 pm Abe will leave from Tokyo form here. PM Modi would also leave for New Delhi.
Notably, Abe is the second world leader to start his India visit from Gujarat. Earlier in September 2014 Chinese president Xi Jinping had made a similar visit.