Reiterating to double farmers income by 2022, PM Modi says govt to bring new law to encourage production of timber
September 17, 2017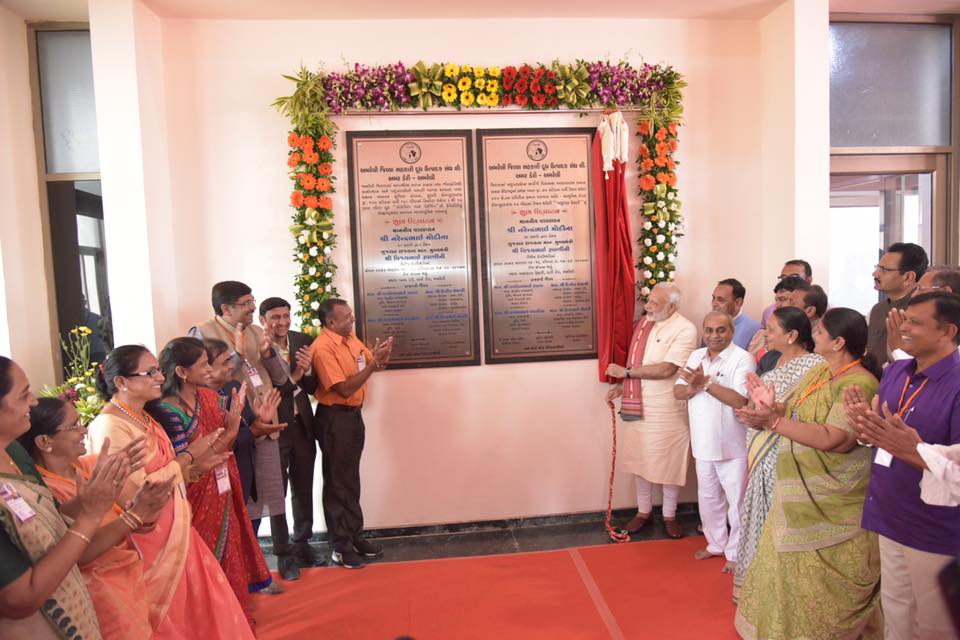 Amreli: PM Narendra Modi today said that his government was taking several measures to double the income of farmers by 2022, the 75 th year of independence, and as a part of it a new law was being made to encourage them to plant such trees in their fields which yield timber used for building construction and other such purposes.
He also appealed the farmers to adopt new ways shedding the old ones to increase their income and to assist the government in reaching the goal of doubling it.
Addressing a meeting here after inaugurating plant of Amar Dairy, a Dairy college building, APMC building and some other such initiatives Modi said, 'One way to increase the income of farmers significantly was to go for produce timber yielding plants. But they fear it currently owing to restrictions on cutting of tree and said harassment by the authorities. Now our government was making a new law to stop all this and encourage the farmers to take up such plantation which would increase their income and decrease the import of such timber from abroad.'
He said that his government has brought schemes like Pradhanmantri fasal bima yojana and Pradhanmantri kisan Samriddhi yojna to help the farmers in case of damage to the crop and produce.
PM Modi appealed the farmers to adopt drip irrigation and use of solar energy for agriculture work in more and more numbers. 'Currently 25% of the total national drip irrigation is done in Gujarat but it should be further increased. This and use of solar energy for agriculture work would reduce the cost and increase the income of farmers,' he said.
Terming the dedication of Sardar Sarovar Narmada Dam project by his hands today as a historic event for Gujarat PM Modi said that if the water of Narmada was used judiciously through means like drip irrigation there won't be any dearth of water in the state for at least the next 100 years.
He also urged the farmers and milk producers to go for using ways which increased the milk production per cattle rather than increasing the numbers of cattle for that. He appealed the farmers to start a sweet revolution by producing more and more honey which was a low cost way to increase their income and provide a nutritious item to their children.
He said that apart from Sweet revolution, Gujarat has immense potential to lead the nation in Blue revolution (pertaining to fish production) owing to its big coast line. He also said that his government was doing a lot of things to improve the lives of those living in the coastal areas including encouraging the youths in those areas to join Navy.
Earlier during his mixed address partly in Gujarati and Hindi, he said he was impressed with the performance of the new generation in cooperative sector in Amreli district. Taking a dig at Congress, he said that the earlier governments had taken such decisions which would never had allowed the dairy industry to take off in Saurashtra. But he changed the old policies and today the farmers and milk producers were getting good prices of their milk and other produces. The Amreli APMC had shown a new path to others.