Petrol is foundation of inflation, bring it under GST ambit: Rahul Gandhi in Gujarat
October 10, 2017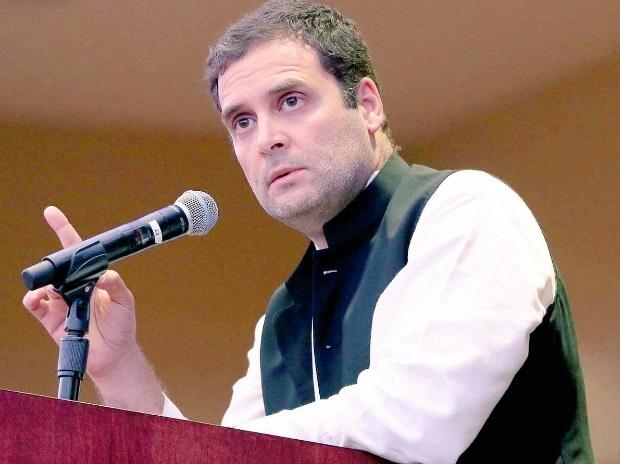 Vadodara: Terming the prices of Petrol-Diesel as the foundation of 'inflation' in India Congress vice president Rahul Gandhi has demanded to bring these petroleum products under the ambit of GST for big correction in its prices and relieving people.
He also supported one slab GST in stead of the current regime with five tax slabs.
He also questioned the BJP government's decision to keep the petroleum products out of the GST regime.
Addressing several meetings and interactions today including the one at Karjan and during an Interaction with the businessmen and other intellectuals here in Sayaji hall last night focused on GST, Rahul said, 'To ease up the inflation we must understand that its foundation is petrol price. From the shoes we wear to every other thing that we use has Petrol as a price factor. The crude prices which were $140 per barrel once have dropped down to $50 now but the people of India have not got its benefit. I don't know who is getting the benefit or rather I must say I know but am not speaking about them. This $100 difference can make a big difference. Bring petrol under the GST and its price would see a steep decline.'
To a query he said that GST was essentially one tax and should have just one uniform slab of 18%. 'The current GST is a flawed one. It is in fact not a GST in the sense that it is not in accordance with one tax for one nation. We would pressurize the government but I don't think that it would decrease the slabs from 5 to one unless there was a disaster,' Rahul said.
He said that the system in India was quite complex and even a small decision should be taken only after a feedback from people. 'The demonetization and GST moves have hurt people and destroyed the economy because Modi ji did not consult any one before there implementation. The government is not willing to hear anyone while the complexity of India demands that it must listen to the view of the one who is not of its liking.
Rahul said that the current GST would also cause inflationary impact.
'The 60% of the wealth was with 199 people and the government policies were also focused to a handful of Industrialists. The government should take decisions sensitively and the general posture should be such that it must be beneficial to common people. Some economists and media criticized our NAREGA scheme for spending Rs 35000 crores for 100 days and which boosted rural economy owing to flow of money to villages but today government has given 7 lakh crores to 15 industrialists and they are not returning it. Did the small and medium businesses of Gujarat which are the main job creators get such amount,' he said.
Admitting that Congress government had also did not do all that should have been done, Rahul said,' BJP commits extreme but congress too did not do it all the way it should have been done. I admit our mistake."
He also said that if the BJP government has written off Rs 1.30 lakh crore of a handful of big industrialists then by what logic it was not waiving the loans of farmers.
He said that he was not against private education but was of the view that the public education system should be kept strong to keep a check on the private institutions' fees.
'The best educational institute in the country is IIT and it is not a private one. If the public educational institutes were kept in good shape the fees of private ones would automatically remain under check. But the problem is that the government of the day in Gujarat was trying to destroy the public education system and completely privatize it,' he said.
DeshGujarat