BJP looking composed only from outside, the ground beneath its feet has slipped in Gujarat: Rahul
October 11, 2017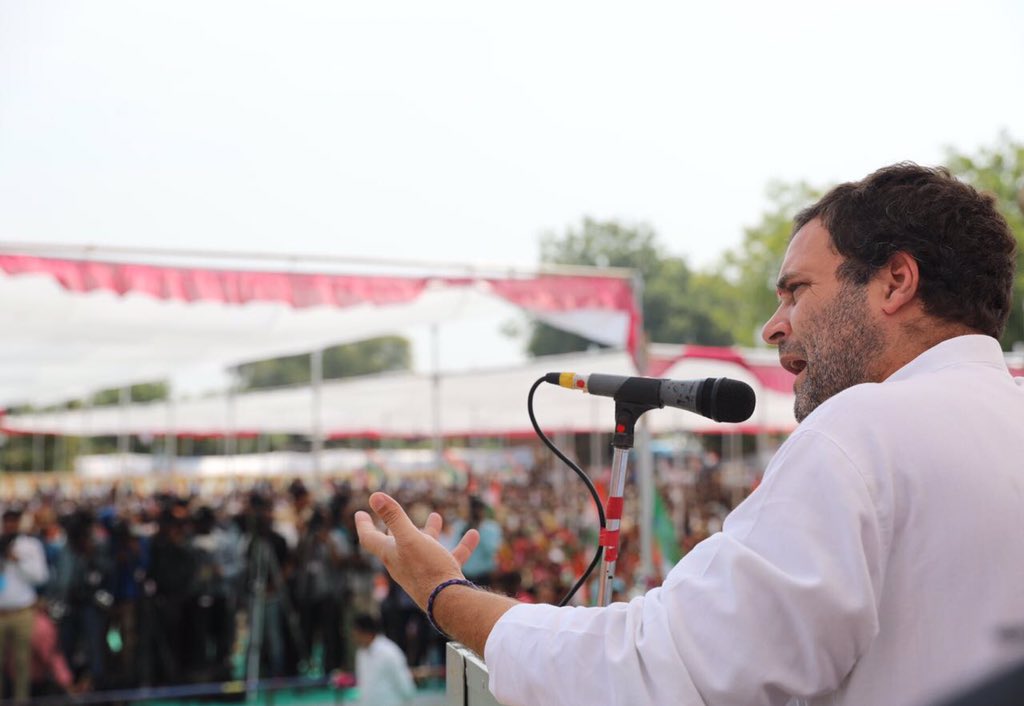 Devgadh Bariya (Gujarat): Congress Vice President Rahul Gandhi today continued his attacks on ruling BJP on the last day of the ongoing 3 day Gujarat tour claiming that the ruling party was though trying to look calm from outside yet the fact was that the ground beneath its feet has slipped.
Addressing a public meeting in this tribal dominant town of Dahod district in central Gujarat today, Rahul said,' the time for change in Gujarat has come. BJP was trying to look composed from outside but it has lost the ground beneath its feet. The image of Narendra Modi ji on which the whole of Gujarat had shown faith, has now been been exposed. In a few months there will be election after which the new government (of Congress) will be formed.'
He also alleged that the development in Gujarat has been maddened by PM Modi and BJP president Amit Shah. 'Congress after the victory in the assembly election will bring it out of the mental asylum to make it sane again,' he quipped.
Rahul, who had also participated in the folk dance of local tribals today as well, alleged that the BJP government and Modi has not fulfilled promises made for the uplift of the community.
Claiming that there were 30 lakh unemployed youths in Gujarat owing to flawed education system and government policies, Rahul said,' One has to pay a capitation fee of Rs 5 to 10 lakh out of the hard earned money of one's parents for admission in colleges alone which goes in the pockets of a few industrialists who lead a lavish life living in houses made of Rs 1000 crores and roaming around in luxurious cars. And after completion of studies, the youths don't get jobs. The government says it can't provide jobs. What was the meaning of such an education system.'
Repeating his allegations against PM Modi on demonetization and GST, he said that the demonetization move had ruined the small businesses and after that GST also gave a big blow to them. The GDP growth rate has fallen down to 4.2%. 'The decisions taken by Modi in whim and fancy without listening to anyone had put the country on fire of sorts and what is interesting is that amid all the fire and chaos one company, the company of Shah's son came out shining. Its turnover increased from a meager 50 thousand to 80 crore in a matter of months after Modi's taking over as PM in 2014. And what is more is that it was shut soon after. Modi ji used to call him the watchman but he must answer in this case what was he a watchman or a partner. In fact Modiji and Shah are the beneficiaries of this matter and their 'good days have come', he said.
He also raised the issue of price rise and reiterated that why the prices of petrol-diesel in India were rising despite constant drop in crude oil prices in the international market. He also said that apart from petrol, the prices of vegetables, cost of education and healthcare everything has gone up despite Modi's claim to contain the inflation. He had also made false promises to the tribal people in 2007 and 2012. He had made to give them various facilities including 5 lakh jobs, houses, electricity. He had claimed to give Rs 40000 crores for their development but it did not happen.
He reiterated that his party on formation of its government would waive the loans of farmers and bring back the old model of Gujarat of Mahatma Gandhi, Sardar Patel and while revolution which had led the country for long. It would not be like the one of Modi ji which is a fake and meant only to benefit a handful of Industrialists.
Later Rahul also went to Kabir temple in Silya where he participated in its Bhajan during which some praising him were also included. In Godhara a group of Patidar youths also welcomed him.
Earlier today he had interacted with the students of tribal community at Darbar hall in Chhota Udepur where he had made the second night halt of his trip. In the afternoon he also hold a meeting in Limkheda in Dahod district on tribal rights issues. He then entered Panchmahal district and hold a meeting with skilled labourers in Tawa village. His visit would end with a public meeting in Phagwel this evening. He would come back to Ahmedabad in the evening to board a flight for Delhi.
DeshGujarat