Rahul is deliberately fed wrong details on Gujarat by faction in Congress so that he may look fool, ignorant and funny: Nitin Patel
October 12, 2017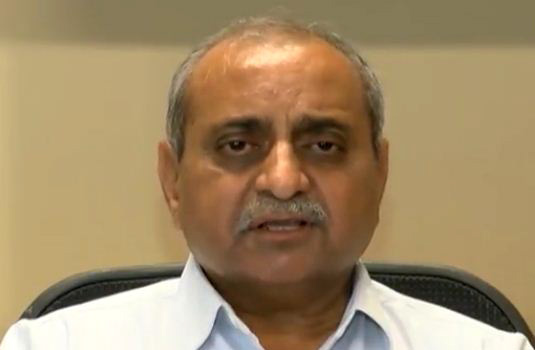 Gandhinagar: Deputy Chief Minister of Gujarat and BJP leader Nitin Patel today alleged that Rahul Gandhi is being deliberately misled by a section of his party in order to look him immature and foolish person who lacks understanding.
Patels in replies to media questions said Rahul Gandhi should know the things, study Gujarat government's literature because he is misled by some Congress leaders who want to prove him as foolish and ignorant.
Rahul should beware of such people, only then his image and prestige will stay intact, Patel said.
Nitin Patel said, 'Yesterday we saw Rahul Gandhi's immaturity in display He claimed, Narmada water was not given to tribal areas of Gujarat. The fact is, Congress government had as early as in 1978 decided distribution pattern of Narmada water. Congress leader Sanat Mehta led team had decided that which taluka and district of Gujarat will get what share of total 18 lakh hectare command area of Narmda project. Then came tribunals, Supreme Court and the process that continued for decades. Our government has not made any change to it. Narmada command area was fixed in Congress rule. By complaining about it now, Rahul Gandhi only displays that he has no knowledge and understanding of subject and nobody gives him right advise. Rahul reads out speeches as per notes given by someone else.'
Nitin Patel further said, 'Limkheda, Dahod and other areas are located at higher level where supply of water through gravity is not possible. Narendrabhai Modi led government decided to supply water to such areas, be it tribal areas, north Gujarat including Sabarkantha, Banaskantha, Kutch or Saurashtra through Sujalam Sufalam project and SAUNI project. Thousands of horse power capacity pumping stations were erected for water supply to such areas. Congress governments had not supplied water there.'
Some Congress leader from Gujarat want to prove Rahul Gandhi foolish by feeding him with wrong details. They want Rahul to look fool and want to treat him as bali ka bakra, said Nitin Patel.
Patel said, 'take another example. Rahul in his speech said that poor and tribal in Gujarat who suffer cancer, kidney, heart illness are not availed affordable treatment. He must know that as Chief Minister Narendra Modi in first phase gave Rs 2 lakh per year treatment, operation, medicine cover to 35 lakh below poverty line families under Maa Yojana. Successive government decided to add all those to this scheme who have annual family income below Rs 1.50 lakh. Last year the government spent Rs 700 crore to give such benefit to poor and middle class people. Gujarat government has availed free operation even worth Rs 10 lakh when needed. I tell with proud that none other government is as human, serving and caring like Gujarat govt. 4 crore people are benefited through Ma Yojana and School health checkup programme.'
DeshGujarat