Ghogha – Dahej Ro – Ro ferry to be extended to Hazira; only passenger service in first phase, eager to open it on Oct. 22: PM
October 16, 2017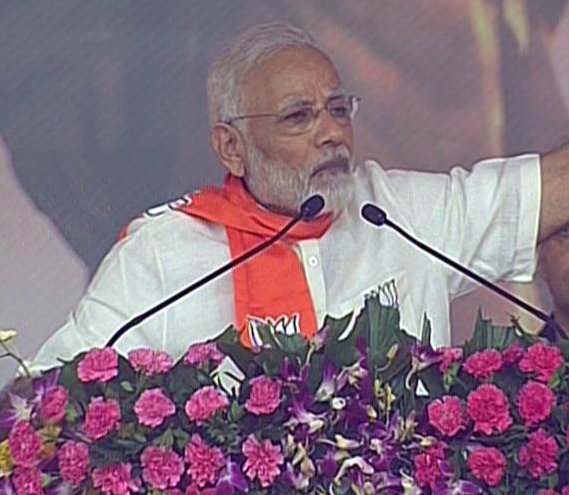 By Mahesh Lad and Snehal Chokshi, Gandhinagar: Prime Minister Narendra Modi today made announcement of launch of first phase of Ghogha – Dahej ro-ro ferry project. He said the project will be extended to Hazira(Surat) in future. He said he will be opening the first phase of ro-ro ferry project on October 22nd in which passenger ferry service will be launched. In the second phase, he said, a ro-ro ferry will be introduced on this route.
'I am coming for my dream project which has touched my heart. This will be a new year gift. When I was in school, I would read in newspapers that Congress led by then Chief Minister Balwantrai Mehta was promising Ghogha Dahej ro ro ferry. When I came to power I asked to open the files to revive the project but nothing was found. The governments were only talking about the project, but nothing was done.'
'This is miraculous project. Such service exists in the world but not here. Saurashtra origin people living in Surat and South Gujarat will be able to travel between Saurashtra and South Gujarat in one hour through a seat route compared to 8 hours time same journey would take through land route. The project will be launched on Bhaibij which is on 22nd Sunday. Ro ro project will help in saving oil, petrol, diesel, foreign money. It will be environment friendly journey, such is this amazing project.'
PM admired Anandiben Patel and Vijay Rupani to push forward this technologically challenging project.
PM said he was eager to reach the project site in order to inaugurate it. He said he will travel from Ghogha in Bhavnagar district.
He said, 'in future Ghogha Dahej service will be extended to Hazira(Surat) and that will be a regular route.
'One would be able to board ro-ro ferry with car and reach Bhavnagar. Even truck would be loaded in ferry. Though phase – 1 of this service is limited to passengers, the phase – 2 will avail facility to carry vehicles inside the ferry,' PM said.
DeshGujarat