Jet Airways flight diverted to Ahmedabad following security threat, miscreant who planted hijack letter in washroom held
October 30, 2017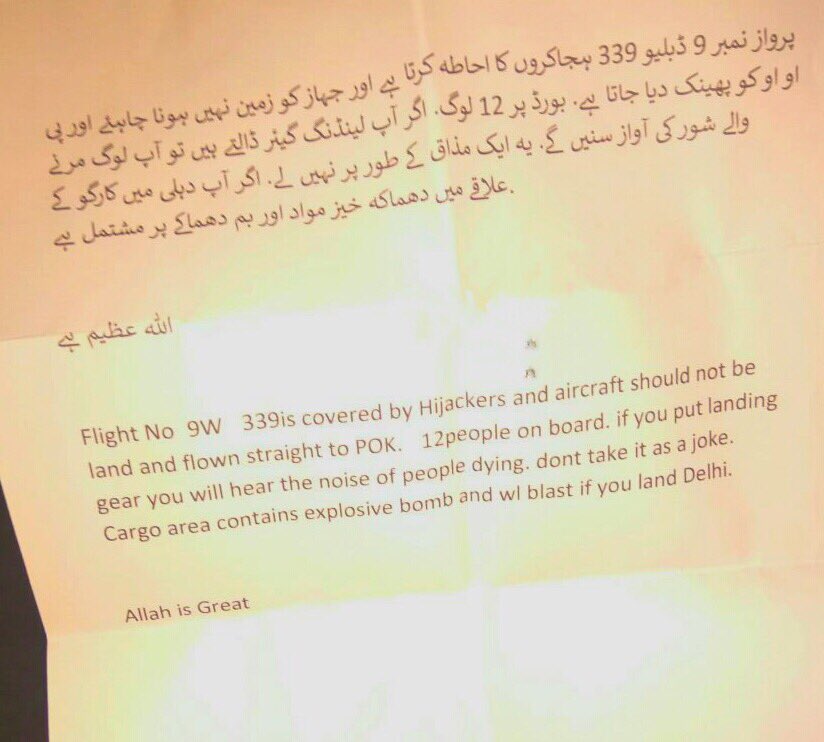 Ahmedabad: A Jet Airways flight from Mumbai to Delhi with 125 people on board had to made an emergency landing at Sardar Vallabhbhai Patel International Airport here owing to a threat message.
Airport Director Manoj Gangal said that the flight number 9W339 with 116 passengers and 9 crew members on board took off from Mumbai at 0255 hrs. Its pilot was later informed that there were hijackers on board with explosives.
'It contacted the ATC at Ahmedabad and we arranged for a priority landing. The plane touched down at 0348 hrs. All the passengers were deplaned with luggage and other cargo for search. Later the flight took off for its destination ie Delhi at 1050 hrs,' he said.
Meanwhile, PI of Sardarnagar H B Zala said that the plane was thoroughly searched with the help of bomb disposal experts, sniffer dogs and anti sabotage teams,
'We did not find any explosive or objectionable item or passenger. So after around 7 hours stay at Ahmedbad the flight resumed its journey with all the passengers on board,' he said.
More updates:
A frequent flyer Salla Birju a jeweller hailing from Rajula town in Gujarat's Amreli district, confessed to planting a threatening note in a toilet, which set off a hijack alarm, Civil Aviation Minister Ashok Gajapathi Raju said. Salla was detained by police after preliminary investigation. He was on board the flight which made an emergency landing this morning. It was revealed that Salla had put the threat letter in the plane's washroom.Salla is being questioned by the Gujarat police. It is learnt that the last time he flew, he carried a cockroach and pretended to find it in his food. It is believed he has "an old grouse" with the airline.
"A man Salla Birju has confessed that he had kept the threatening note to destabilise operations in the Jet Airways flight," said the civil aviation minister, adding that he had advised Jet Airways to "put him on the no-fly list immediately apart from other criminal action". If the airline does so, this could be the first passenger to make it to the no-fly list after new rules were enforced in September to allow airlines to ban unruly passengers for periods ranging from three months to over two years.
This morning, the Jet Airways flight 9W339 took off a little before 3 am from Mumbai and was soon diverted to Ahmedabad, where it landed 45 minutes later. The airline, in a statement, said the plane was diverted after the "declaration of an emergency as per established security procedures, due to the detection of an onboard security threat". What had set off the scare was a printed letter in the bathroom in Urdu and English, which suggested that there was a bomb in the cargo of the plane. It said that the flight "is covered by hijackers and aircraft should not be land and flown straight to POK." The pilot of the Boeing 737-900 plane reportedly pressed the hijack button, alerting the Ahmedabad airport to a threat. After the plane, with 122 passengers including seven crew members, landed in Ahmedabad, everyone was screened and their bags checked. The passengers were photographed and questioned for hours on details like their last overseas visit, according to news agency PTI. The flight took off for Delhi six hours later, with Air marshals on board.