Rahul concludes 3rd leg of Navsarjan Gujarat Yatra, shouts 'Jai Sardar, Jai Patidar' in Surat to woo Patel community
November 03, 2017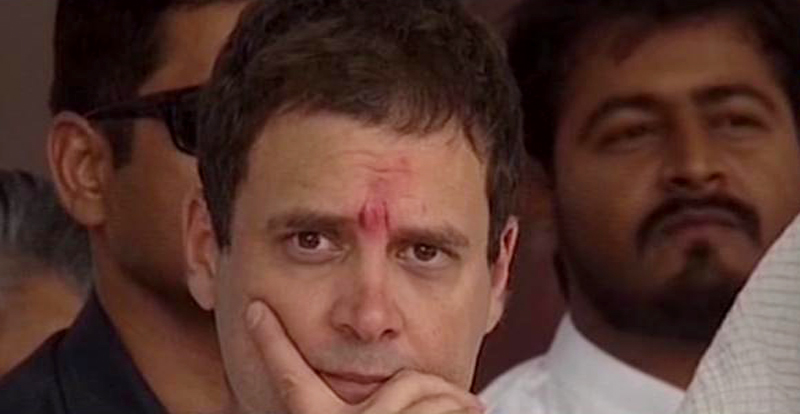 Surat:
Congress Vice President Rahul Gandhi today concluded the third leg of his three day Navsarjan Gujarat Yatra and during his last meeting in Patidar dominated Varachha area of Surat city he shouted the slogan 'Jai Sardar, Jai Patidar' in an apparent bid to woo the community which is understood to be a strong and staunch supporter of ruling BJP.
During the speech in Varachha as well as in Vapi, Pardi and other places today he repeated most of the issues that he was talking about during his current as well as past visits of Gujarat recently.
He also held road shows in Kosamba, Valsad and Chikhali. He also held talks with Dalit activist Jignesh Mewani in a party plot in Italva of Navsari. In an apparent image-makeover attempt he also made a school-boy ride his open vehicle in Valsad and also called small children on stage during his meetings elsewhere.
He also visited Ranchhodrai temple in Kosamba and held a meeting with fishermen community.
In his last meeting in Surat in the Jankranti ground, he said the truth of Gujarat was different from that of BJP government which was only concerned about a few big industrialists who have taken hold of every thing from education system to health-care services to other things. He also questioned the move of the ruling party to celebrate the anniversary of demonetization saying that this move has made the GDP growth plunge by 2%.
Rahul said that he wanted to see a day when cellphones and other items in China would bear made in India tag.
He also hit out at PM Narendra Modi on the issue of the rapid increase in the business of BJP president Amit Shah's son Jay Shah's company's .
Rahul said that India did not need a certificate on ease of doing business form America based world bank.
He said that to improve the employment generation in India the doors of PM office and FM office as well as that of banks should also remain equally open for the small and medium businesses as these were opened for a few big Industrialists.
He also claimed that if Congress returns to power at center it would change the current structure of GST.
Rahul also said that he will come back to Surat on November 8 again to meet the local businessmen to understand their issues.
He claimed that despite all the power of BJP and its government at center and in various states Congress would emerge victorious in Gujarat with people's support.
Earlier in the meeting in Pardi he had compared BJP with the army of Kauravas and Congress with Pandavas claiming that ultimately the truth of Pandavas would win.
He also said that Sardar Patel and Mahatma Gandhi as the two sons of Gujarat had ousted the then superpower of England from India.
Later Rahul departed for New Delhi from Surat airport