Smriti joins door-to-door campaign of BJP, gets overwhelming response
November 09, 2017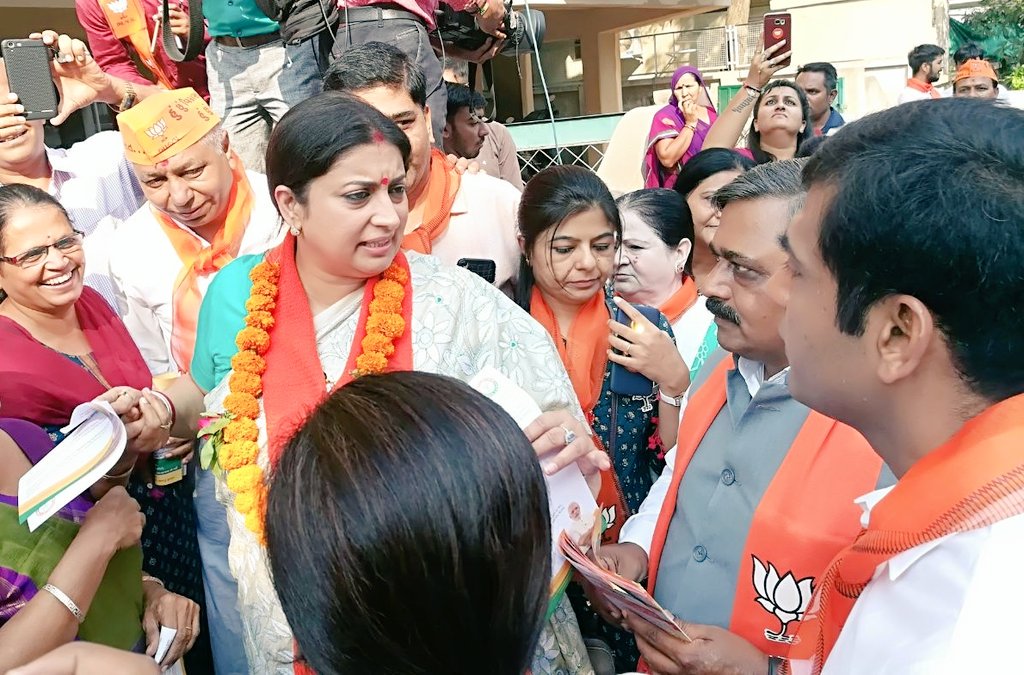 Ahmedabad:
Union Minister and tv actor turned politician Smriti Irani got an overwhelming response during her door-to-door campaign in the city as part of Gujarat Gaurav Mahasampark Abhiyan by the ruling BJP in the poll bound state.
Irani visited several societies and met people directly and handed them over the party leaflet and PM Narendra Modi's message the people.
She also met commoners including auto-rickshaw drivers and talked to them. She went to several houses and was welcomed by all including the women folk which was especially happy to see the one time TV super-star and a fire-brand nationalist leader who was a Rajyasaha MP from Gujarat.
She was also accompanied by former Delhi BJP president Satish Upadhyay, MLA Kishor Chauhan, BJP state secretary Amitbhai, former Mayor Meenaxiben Patel. A woman MLA from Rajasthan was also present.
Meenaxiben said that the campaign started at around 930am and ended at around 1130am. 'Smritiji visited around 15 to 20 societies in Satellite and Jodhpur area. She also held a small meeting in the Shetrunji tower with the locals. She got a very good response,' She said.
Notably, Party president Amit Shah had kick start the Gujarat Gaurav Mahasampark Abhiyan, a six day long extensive door-to-door people contact campaign, across the poll bound state by offering prayer in Ambaji temple in his erstwhile assembly constituency of Naranpura here two days back.
During the campaign to be continued till November 12, BJP leaders and cadres will go to streets with message of development. Union ministers and state ministers are also participating in it.
Leaflets featuring development works by BJP government and its comparison with erstwhile congress government and a message from Prime Minister Narendra Modi to the voters were also being distributed during the campaign.
Speculations about PM Modi himself joining it as a surprise were also on though it has not been confirmed by the party as yet.