Fourth leg of Rahul's Navsarjan Gujarat Yatra in 6 Northern districts to begin from Chiloda tomorrow
November 10, 2017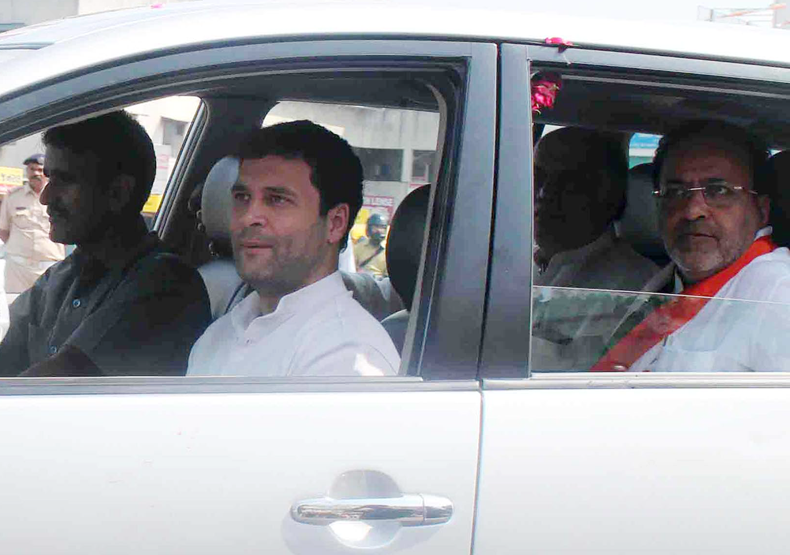 Ahmedabad:
Congress Vice President Rahul Gandhi would start the fourth leg of his Navsarjan Gujarat Yatra tomorrow from Chiloda in Gandhinagar district in Northern region of the poll bound state.
He would participate in various meetings, interactions, corner meetings and rallies during the 3 day trip which would cover 6 districts of Gandhinagar, Sabarkantha, Banaskantha, Aravalli, Patan and Mahesana.
Interestingly, North Gujarat is deemed a stronghold of Congress with 17 of its 32 seats going to the party in last assembly elections. However, in the wake of attack over Rahul's vehicle in Dhanera of flood-hit Banaskantha district on August 4 this year, special security arrangements have been made for his trip through the district this time around. Banaskantha SP Neeraj Badgujar said that a large deployment of police would be done for the Congress leader's trip.
Rahul would continue his temple visits in Gujarat this time as well and would visit several well-known temples including Ambaji, Becharaji etc. Interestingly his trip would end at Visnagar in Mahesana on November 13 where the spark of violent Patidar quota agitaion had started in July 2015.
Rahul had started the first leg of the Yatra with Puja in Dwarka temple on September 25 and covered 5 district of Saurashtra region till September 27. In the second leg from October 9 to 11 he had covered 6 districts in Central Gujarat. Later from November 1 to 3 in the third leg he had toured 6 districts in South Gujarat.
State spokesperson of the party Manish Doshi today said that Rahul would land at Ahmedabad airport tomorrow morning and then would move to Chiloda from where he would start his yatra.by addressing the welcome meeting. He would organize a farmer's rights rally in Himmatnagar. and a public meeting on Tribal rights issues in Khedbrahma. In the evening he would have darshan at Ambaji temple and make a night stay there. On day 2 he would have an interaction with the social media and IT team of the party at Ambaji, address a public meeting at Palanpur, Yuva Rozgar Sabha at Deesa, visit Thara temple, address public meetings at Thara. and Patan. He would make his second night halt at circuit house Patan.
On the third and final day of his trip he would held an interaction with Dalit leaders in Patan and a Chopal at Harij and visit Shankheswar and Becharaji temple. In Becharaji he would also address a Rozgar Adhikar meeting. and a Mahila Adhikar Sabha in Mahesana. His trip would conclude with a corner meeting in Visnagar.
DeshGujarat