3 more Pakistani boats with as many people nabbed by BSF from Haraminala in Gujarat
November 11, 2017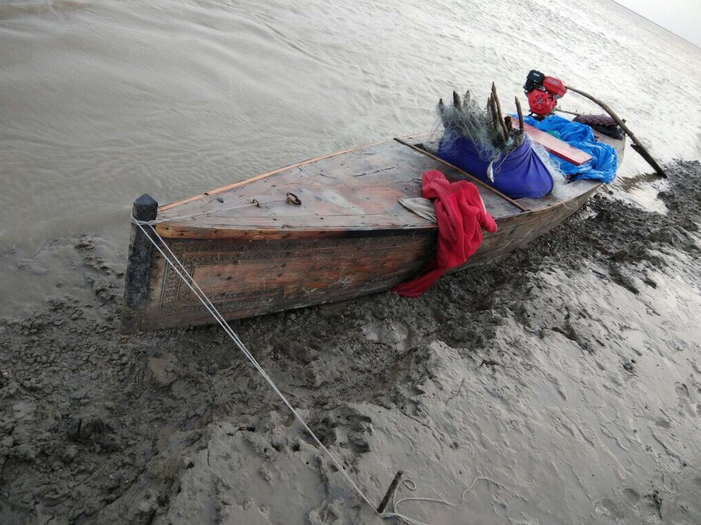 Bhuj:
The Border Security Force (BSF) has nabbed 3 more Pakistani boats with 3 person aboard from marshy water body of Haraminala near Pakistani border connected with Arabian sea adjoining Kutch district in Gujarat, a senior official of the force said today.
Yesterday 6 such boats with 5 people were nabbed in the same area during an extensive search operation in the wake of heightened coastal security for Gujarat polls.
This was in last 24 hours a total of 9 Pakistani boats and 8 fishermen have been nabbed in the same locality.
A DIG rank official of the BSF today said that those nabbed today have been identified as Faizal s/o Mohammed Mussa – age – 27 yrs, Ali Asgar s/o Lal Khan- 23yrs and Faiz Mohammed S/o Mohammed Kassim, age 28yrs (All are R/o – Vill – Zero Point, PS – Jaati, Teh- Jaati, Distt. – Sujawal, State – Sindh, Pakistan).
The DIG rank official said that the boats have been nabbed during a special search operation in the wake of the assembly polls of Gujarat.
'The 3 boats of 25 ft X4 ft dimension fitted with Chinese fan made propelling motor had entered the India waters in the night and were caught by the patrol teams of the 79 th battalion of the BSF.
All those nabbed looked like fishermen and nothing objectionable from the boats have been seized. Fishes, fishing equipment, diesel etc have been found in the boats. However as a precautionary measure he is being interrogated deeply,' the DIG rank official informed.
Notably, since August this year a total of 31 such Pakistani boats and 12 fishermen from the neighbouring country have been nabbed from the same area. One Pakistani and one boat was caught on October 30 while on September 6 and 7, BSF patrol teams had nabbed altogether 21 such boats with 5 Pakistani fishermen in similar manner from Haraminala. On August 18 also a boat was nabbed.
The official said that the possibility of nabbing of more such boats was not ruled out as the operation was still on.
DeshGujarat