BJP splurging to distort my image, Rahul alleges in Gujarat
November 12, 2017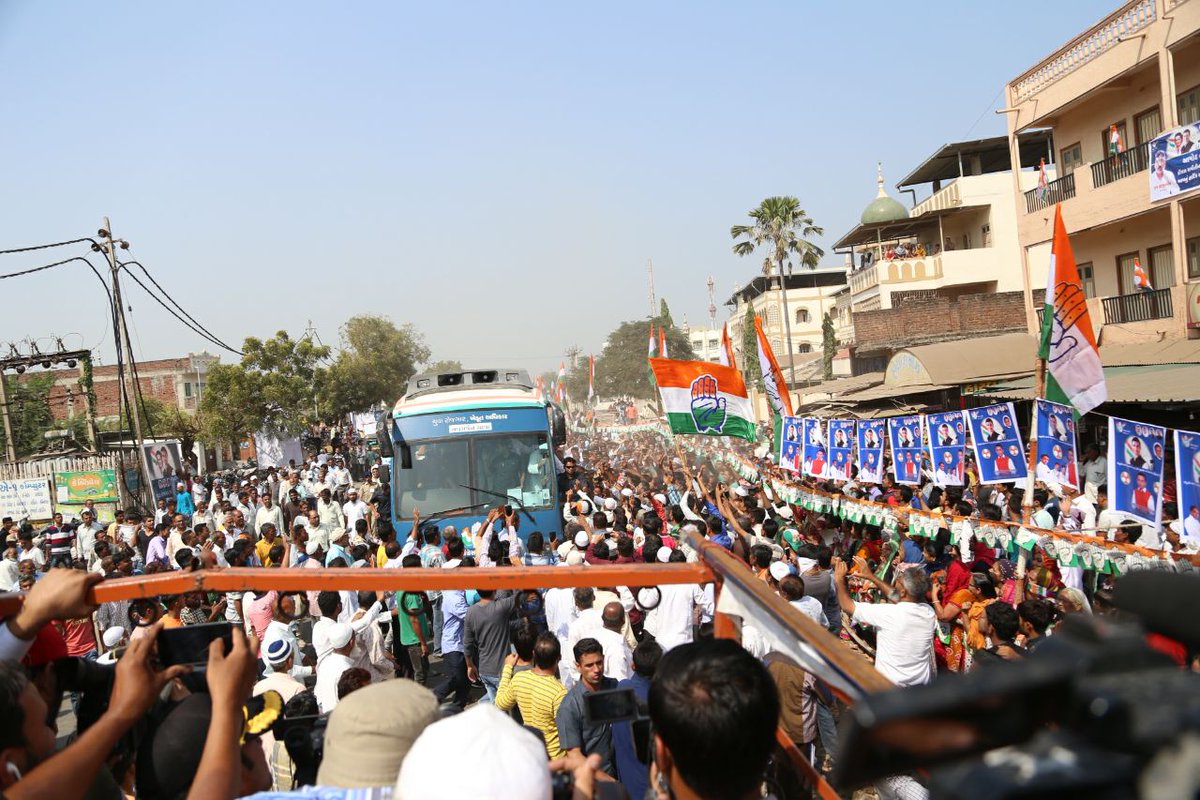 Ambaji/Danta/Palanpur:
Congress Vice President Rahul Gandhi on the second day of his Navsarjan Gujarat Yatra in North Gujarat continued attacks on BJP and PM Narendra Modi and alleged that the ruling party of splurging to distort his image.
Rahul while interacting with the workers of his social media and IT cell at Ambaji in Banaskantha district said his party will continue to speak the truth and expose the fallacies of Prime Minister Narendra Modi.
"But we will not cross beyond a point in our statements which could lower the dignity of Prime Minister's post which is also an expression of representation for the people and India as a whole ," he added saying that he had written to the party leaders about it. He claimed that Modi, was taking resort to lies and was bound to lose the Gujarat polls in December.
He said he gets strength from the philosophy of Lord Shiva to counter the negative propaganda of the BJP to distort his image.
"I know my image and truth. Public will see the truth no matter how much the BJP spends to sully my image.But the BJP will not succeed in its efforts," he said.," he told party workers.
Rahul said Congress goes for introspection while BJP and Modi never even accept their mistakes. Being solely responsible for failure of demonetisation and GST, Modiji never accepts it, he said.
The Congress Vice-President also charged Modi and Amit Shah with controlling the media from behind and said all their efforts will fail as 'truth cannot be fine tuned'.
Rahul admitted that he personally did not do all tweets at his official twitter account. He revealed this while talking with his social media and IT Cell workers at Ambaji. He however asserted that all tweets on political issues are handled by him personally.
On politics related issues he shared suggestions with a team of three-four members and after fine tuning the text the issue is tweeted. He said BJP's social media campaign is fake while Congress' is based on truth.
He said the social media cell of the Congress would continue showing the truth to the public. The Gujarat polls results will expose everything, he added.
He also alleged that despite the tall claims of PM Modi, the businessmen in Surat recently told him that the highest level of corruption among all the states was in Gujarat. They had to face extortion from policemen. The people of Gujarat would reply to the carpet bombing of Modi by taking away the ground below the feet of BJP in polls. He also said that the BJP leaders under the terror of Modi were not even able to laugh freely .
Later Rahul also addressed people from his luxury bus in Danta and a meeting in Palanpur and Deesa.
He said that Modi ji must speak up about the corruption of the Amit Shah's son's company and that of CM Vijay Rupani.
Rahul also alleged that the Rs 500 relief announced by PM Modi during floods in Banaskantha in July this year have not yet reached the needy one. 'Whatever little money has come has gone to the BJP workers. The BJP government in Gujarat was working only for a handful of industrialist for the past 22 years. Modi ji gave Rs 35 thousand for failed Nano project but was not paying Rs 500 for the flood victims. Neither the government was waiving the loan of farmers who toil hard to feed the nation. FM Arun Jaitley ji says that farmers loan waiver was not in the programme or policy of the government. Modi ji gives crores to his five to 10 Industrialist friends who in turn do marketing for him,' he alleged.
Rahul addressed a meeting on employment issue in Deesa where incidentally BJP president Amit Shah had participated in a party programme earlier at a different place.
Rahul would visit Thara temple in the evening and would make the second night halt of his 3 day trip at Patan circuit house tonight.
During his meetings, corner meeting and interactions today also most of the Rahul's speeches were a repeat of his earlier ones.
DeshGujarat