Luxurious life of Hardik was already evident now his Pap-leela and Kaam-leela also coming to fore: Chirag
November 16, 2017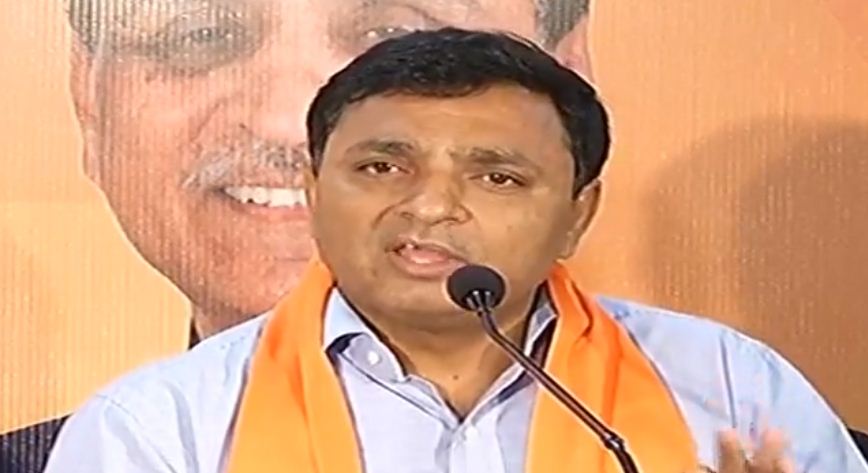 Ahmedabad:
Former aide of Hardik Patel and a prominent face of Patidar quota stir Chirag Patel who had spent 7 months in Sabarmati central jail here in connection with a related sedition case, today said that the PAAS leader should make it clear whether the person visible in the sex videos made viral on social media in his name was himself or not.
Chirag who joined BJP this evening said that Hardik was misusing the fund collected in the name of martyrs of the agitation for his personal luxury and debauchery.
'He should clarify whether it was him in the sex videos or not. He is misusing the fund of the quota stir collected in the name of shahids for personal luxury and aiyashi (Debauchery). His luxurious life was already evident and now his Paap leela and Kaam leela (acts of sin and sex) are also coming to fore,' he said.
Chirag said that the quota stir was not a personal property of Hardik. Many people including him had gone to jail for it.
He said that the agitation was started with the aim to unite the Patidar community but it has now become a personal thing for Hardik.
"He was misusing it.We had supported him not to make him a big leader but for the cause of the community and now the stir has become a personal ambition of him and a matter of ego. He has now leaned towards congress which was anti Patidar and anti Sardar Patel,' Chirag said.
He also said that so far as the sedition case in which he was a co-accused with Hardik was concerned the law would take its own course.
He had chosen BJP as there were two options in Gujarat of which Congress was a clear no for him because it was trying to misuse Patidar community as vote-bank and has always insulted Sardar Patel.
Notably Chirag, who was a trusted deputy of Hardik during the peak of the agitation had earlier also questioned the luxurious life style of Hardik, who came from a lower middle class family. He had asked how Hardik was using luxurious cars for personal use after the stir. He had also written a hard-hitting letter to him about this.
DeshGujarat