BJP announces first list of 70 candidates for Gujarat assembly elections 2017
November 17, 2017
New Delhi:Ruling BJP has today announced first list of 70 candidates for upcoming Gujarat assembly polls scheduled to take place on 9 and 14 December.  Some of the eye-catching details in this list.
-There are total 182 seats. Today's list has names of 70 candidates.
– The list announced today has names from both rounds of election.  Earlier it was believed that candidates for first phase of polling will be out in fist list.
– 31 names of first phase 89 seats are yet to be announced. 45 candidates of first phase and 25 candidates of second phase of polls are announced in today's list.
– Raghavji Patel, Dharmendrasinh Jadeja(Hakubha), Ramsinh Parmar, Mansinh Chauhan, CK Raulji total five who left Congress to join BJP are given tickets.
– PC Baranda, who resigned as Superintendent of Police(SP) Chhota Udepur just two days ago has been given ticket to contest from Bhiloda seat.
– Patidar strong man Bavku Udhad has been shifted to Amreli as BJP candidate to give fight to probable Congress candidate and sitting MLA Paresh Dhanani.
– Dileep Sanghani who conventionally contests from Amreli has been shifted to Dhari as party candidate. Dhari is represented at present by Nalin Kotadiya who contested as GPP candidate in previous election, then joined BJP, left it and again joined BJP.
– 49 sitting MLAs are repeated. One independent Ketan Inamdar who won from Savli in last election has been announced as BJP candidate.
– Today's list has names of 16 new candidates.
-There are 4 women candidates in today's list. They are Ramilaben Bara, Manisha Vakil, Sangita Patil and Vibhavariben Patel. Of them Ramilaben had lost previous election.
– Existing MLA has been changed in Wadhwan seat. Existing MLA Varshaben Doshi has been replaced with industrialist Dhanjibhai Patel who owns Makson group. Deputy Chief Minister Nitin Patel called Dhanjibhai as social worker and leading person from Patidar community. Nitin Patel said Varshaben had worked well.
-Overall there are 49 repeat candidates, 15 new candidates, 4 women candidates and 1 previously independent candidate.
– BJP today said there are 30 graduate, 4 post graduate, 14 have law degree while 5 are engineers, 1 doctor in today's list. 38 are involved in farming, 15 are into cooperative sector, 12 are associated with public. religious field, 12 are into commerce and trade, 2 are former government officials.
1) Rajkot west : Vijay Rupani
2) Mahesana : Nitin Patel
3) Bhavnagar West : Jitu Vaghani
4) Anjar : Vasan Ahir
5) Vav : Shankar Chaudhry
6) Tharad : Prabatbhai Patel
7) Diyodar : Keshaji Chauhan
8)Chansma : Dilip Thakor
9) Kheralu : Bharatsinh Dabhi
10) Himmatnagar : Rajendra Chavda
11) Kehdbrahma : Ramilaben Bara
12) Bhiloda : P.C.Baranda
13) Modasa : Bhikhisinh Parmar
14) Daskroi : Babubhai Patel
15) Dholka : Bhupendra Chudasma
16) Limdi : Kiritsinh Rana
17) Vadhwan : Dhanjibhai Patel
18) Jasadn : Bharat Boghra
19) Jetpur : Jayesh Radadiya
20) Jamnagar rural : Raghavji Patel
21) Jamnagar North : Dharmendrasinh jadeja
22) Jamjodhpur : Chimanbhai Sapariya
23) Khambhaliya : Kalubhai Chavda
24) Dwarka : Pabubha Manek
25) Mangrol : Bhagwanbhai Kargatiya
26) Junagadh : Mahendrabhai Mashru
27) Somnath : Jashabhai Barad
28) Talala : Govindbhai Parmar
29) Dhari : Dilip Sanghani
30) Amreli : Bavku Udhad
31) Rajula : Hirabhai Solanki
32) Mahuva : Raghavji Makwana
33) Bhavnagar Rural : Parshottam Solanki
34) Bhavnagar East : Vibhavari Dave
35) Gadhda : Atmaram Parmar
36) Umreth : Govindbhai Parmar
37) Sojitra : Vipulbhai Patel
38) Mahemdavad : Arjunsinh Chauhan
39) Thasra : Ramsinh Parmar
40) Balasinor : Mansinh Chauhan
41) Godhra : C.K. Rulji
42) Shehra : Jetha Ahir
43) Halol : Jaydrathsinh Parmar
44) Devgadhbariya : Bhachubhai Khabad
45) Savli : Ketanbhai Inamdar
46) Jetpur : Jatantibhai Rathwa
47) Vadodara City : Manishaben Vakil
48) Ravpura : Rajendra Trivedi
49) Manjalpur : Yogsh Patel
50) Padra : Dineshbhai Patel
51) Karjan : Satish Patel
52) Nandod : Shabdasharan Tadvi
53) Dediyapada : Moti Vasava
54) Vagra : Arunsinh Rana
55) Jhagadiya : Ravjibhai Vasava
56) Ankleshwar : Ishwar Patel
57) Olpad : Mukesh Patel
58) Mangrol : Ganpatbhai Vasava
59) Varachha : Kumarbhai Kanani
60) Limbayat : Sangitaben Patel
61) Majura : Harsh Sanghvi
62) Surat West : Purnesh Modi
63) Bardoli : Ishwarbhai Parmar
64) Nizar : Kantibhai Gamit
65) Dang : Vijay Patel
66) Jalalpore :Rameshbhai patel
67) Vansada : Ganpatbhai Mahla
68) Valsad : Bharatbhai patel
69) Pardi : Kanu Desai
70) Umargaam : Ramanbhai Patkar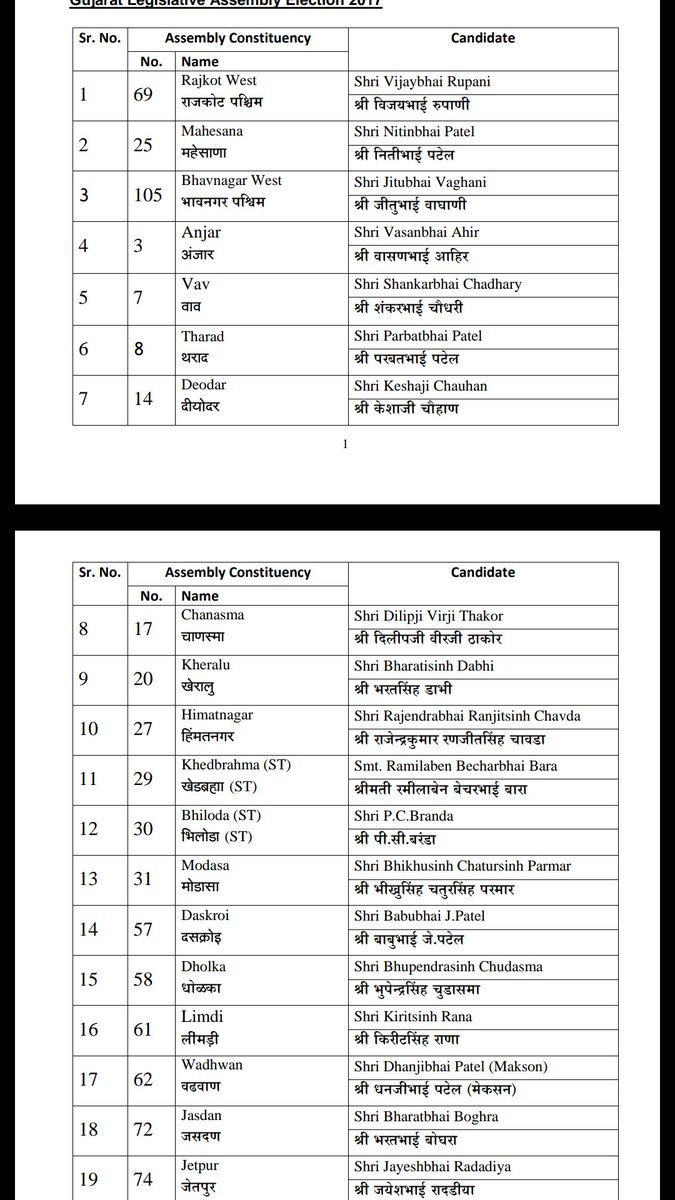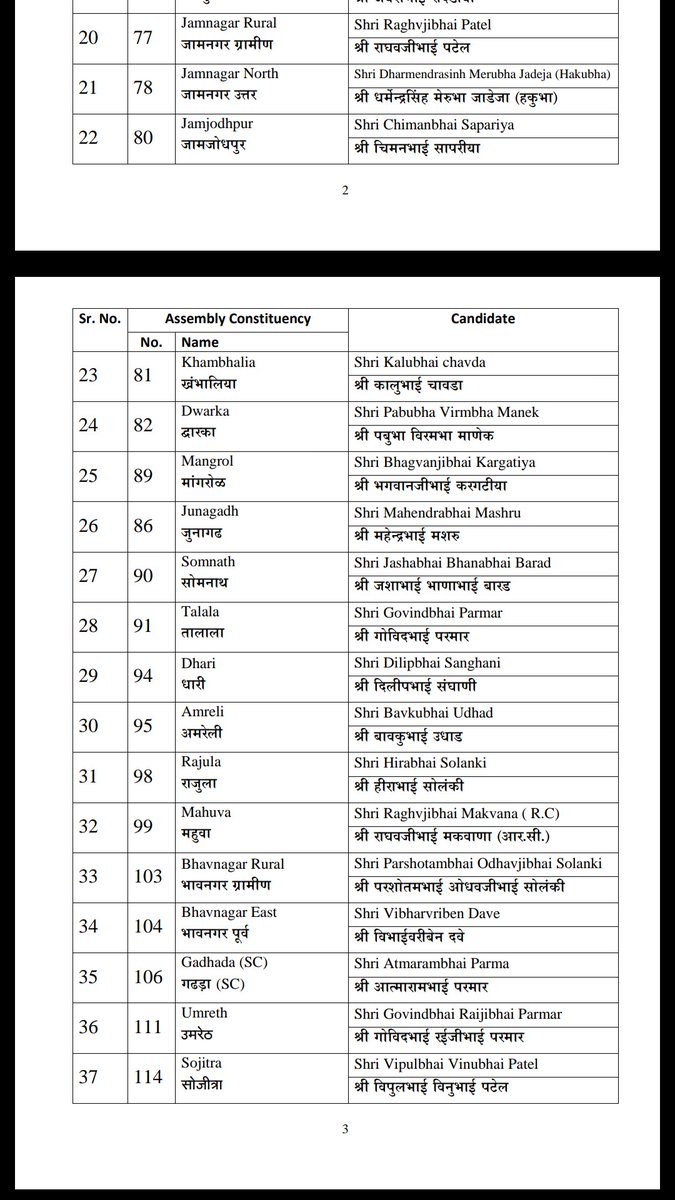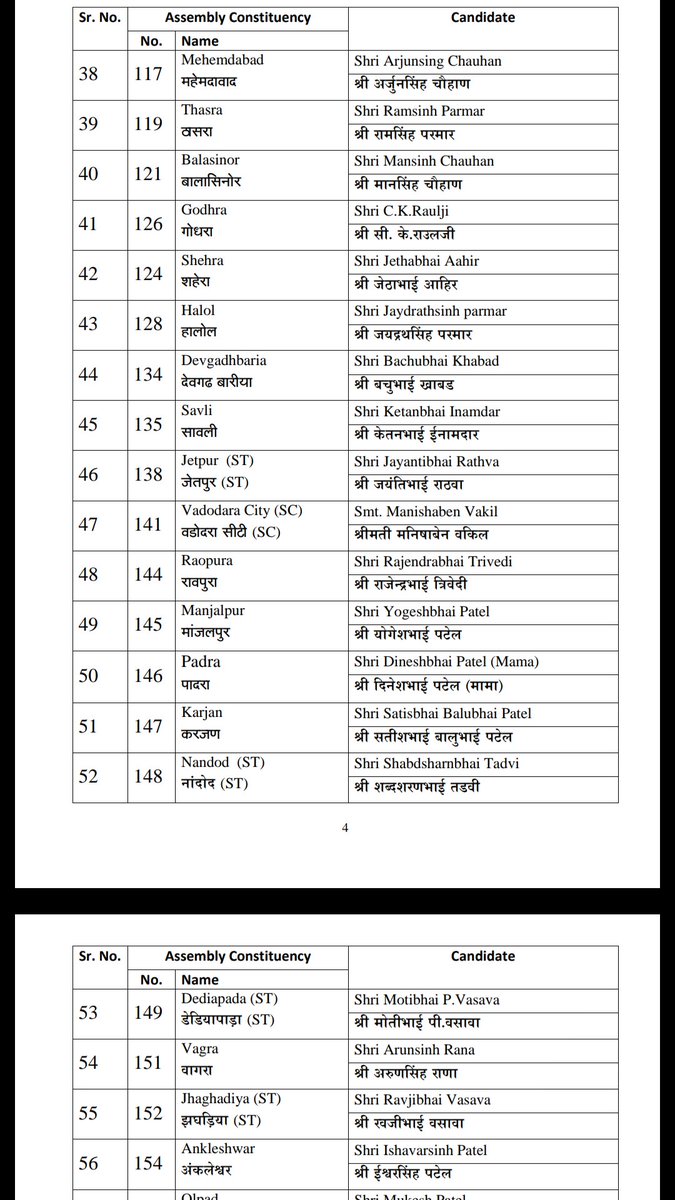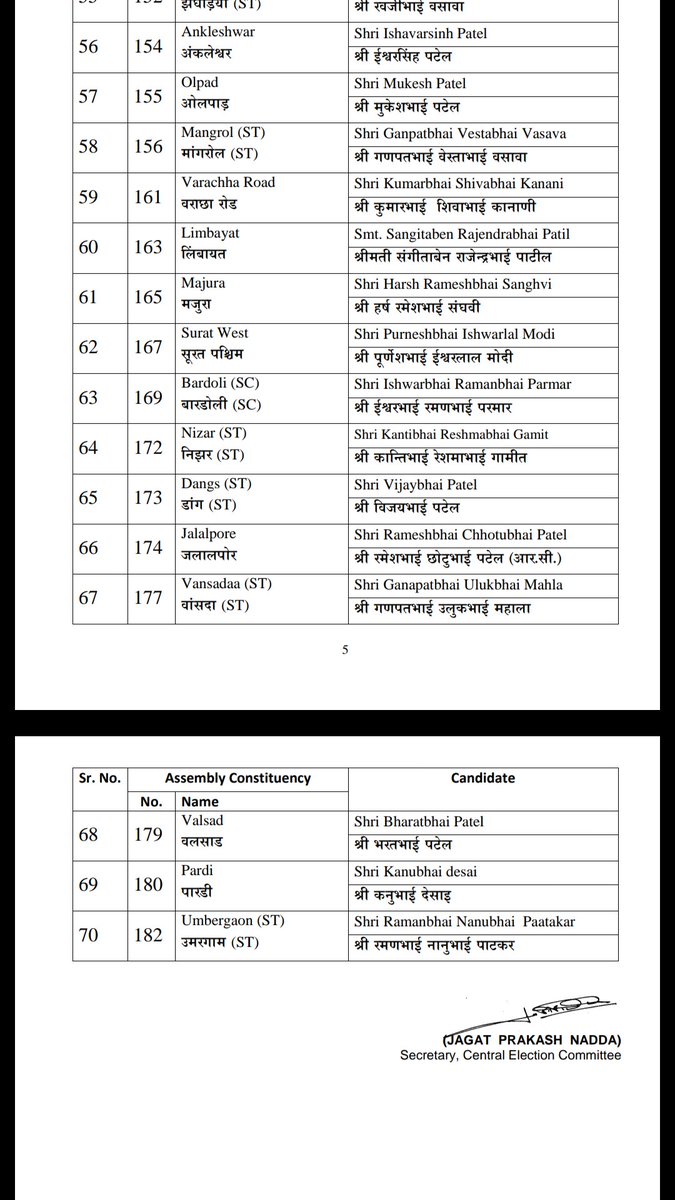 DeshGujarat