A new family is buying Activa scooter every 9th second, 20 lac sold in 7 months
November 23, 2017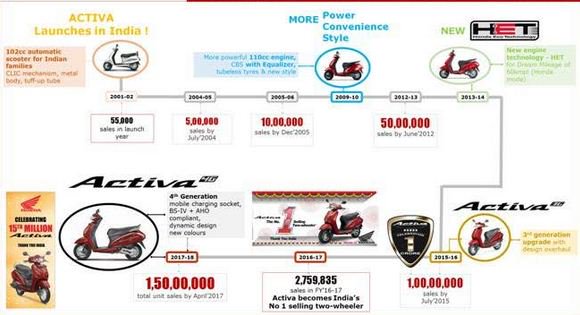 Ahmedabad: Honda Motorcycle & Scooter India Pvt. Ltd. (HMSI)  has today set a new record by becoming the only brand in Indian two-wheeler industry to cross 20 lac unit sales in just 7 months. Today, a new family is buying their favorite Activa every 9th second!
The company said, it took 7 years since its launch (2001 to 2008) for Activa to get 20 lac Indian families, but the latest 20 lac customers (2,040,134 unit sales) have joined in just 7 months from April to October 2017. In just half a decade, two-wheeler industry has seen sales grow by a phenomenal 52%.
The company said, in comparison with sales growing 180%, Activa has become India's highest selling two-wheeler and has broken all past records of popularity of any brand in the history of Indian two-wheeler industry. Activa sales have nearly tripled in this period from 7.3 lac units in 2012-13 to over 20 lac units in 2017-18.
Activating India, Honda's Activa does the impossible: crosses 20 lac sales in just 7 months!
Sales

(April-Oct)

        2,012
2013
2014
2015
2016
2017
5 year Growth
Activa sales
   7,29,469
   8,85,428
 12,23,280
 14,68,295
    17,87,111
    20,40,134
180%
Domestic 2W industry sales
80,64,260
 85,33,262
 96,09,962
 97,74,903
 1,13,40,397
 1,22,58,274
52%
Activa contribution to domestic  2W sales
9%
10%
13%
15%
16%
17%
 
Data source: Society of Indian Automobile Manufacturers (SIAM) reports for the period April – October.
Yadvinder Singh Guleria, Senior Vice President – Sales and Marketing, Honda Motorcycle & Scooter India Pvt. Ltd said, "'Activa's unprecedented popularity as the most preferred two-wheeler brand is due to its continued evolution ahead of times in terms of advanced features, unisex styling, mileage and convenience. Now, as scooterization has started making rapid inroads in semi-urban and rural areas, Honda is confident that Activa will continue to grow."
The company said: Honda launched its revolutionary 102cc automatic scooter Activa in 2001. Sales touched 55,000 units in its debut yearand in the next 3 years Activa grew to become the leader in scooter segment. By Dec'2005 Activa's cumulative sales touched the 10 lac units mark. By June 2012, Activa had breached the 50th lac cumulative sale milestone. In the next 3 years, Activa  become the first scooter to sell over 1 crore units.One year later in 2016, Honda's  Activa dethroned the 17 year legacy of motorcycles to become India's and World's No. 1 selling two-wheeler brand for the first time. Activa is now the first automatic scooter to cross 1.5 crore customer mark. A new family is buying  Activa scooter every 9th second today!