Gujarat Church in letter written in political tone urges people to save India from "nationalist forces"
November 23, 2017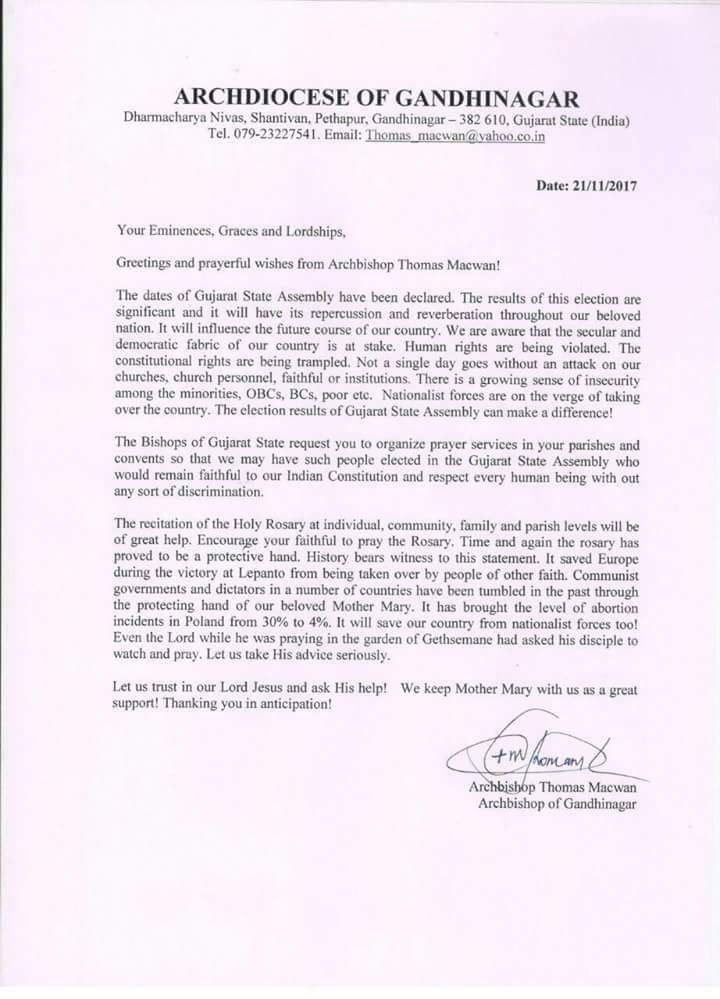 Ahmedabad: Church entering into politics directly or indirectly is not new story. It has happened at several places in the past during and before elections.
The latest is Gujarat election, and attempt of Church to direct and influence the voters which is criticized across sections.
The Gandhinagar Archbishop Thomas Macwan associated with the Archdiocese of Gandhinaga has sent out an official communique urging Christians to save the country from "Nationalist forces". The Archbishop sent out an official letter dated 21st November terming the upcoming Gujarat assembly election as significant for the future course of the country.
The letter addressed to the 'Eminences, Graces and Lordships' starts with announcement of dates of the Gujarat assembly elections. It later narrates possible fear mongering exercise by alleging that human rights are being violated and the secular, democratic fabric of the country is at stake. It further alleged that:
Not a single day goes without an attack on our churches, faithful or institutions. There is a growing sense of insecurity among the minorities, OBCs, BCs, poor and so on. Nationalist forces are on the verge of taking over the country. The election results of Gujarat State Assembly can make a difference
It then urged the Gujarat churches to hold prayers and seek divine intervention so that people faithful to the Indian constitution are elected to the Gujarat assembly. This letter incidentally used subtlety to get its message across and didn't mention any political party and nor did it make any direct vote appeal.
Archbishop has in his later compared Gujarat election with 16th century fight between Christians and Muslims in Europe.
DeshGujarat