Ockhi to make landfall at Gujarat coast tonight, state machinery at alert, CM Rupani postpones Rajkot campaign, rush to Surat, PMO in touch
December 05, 2017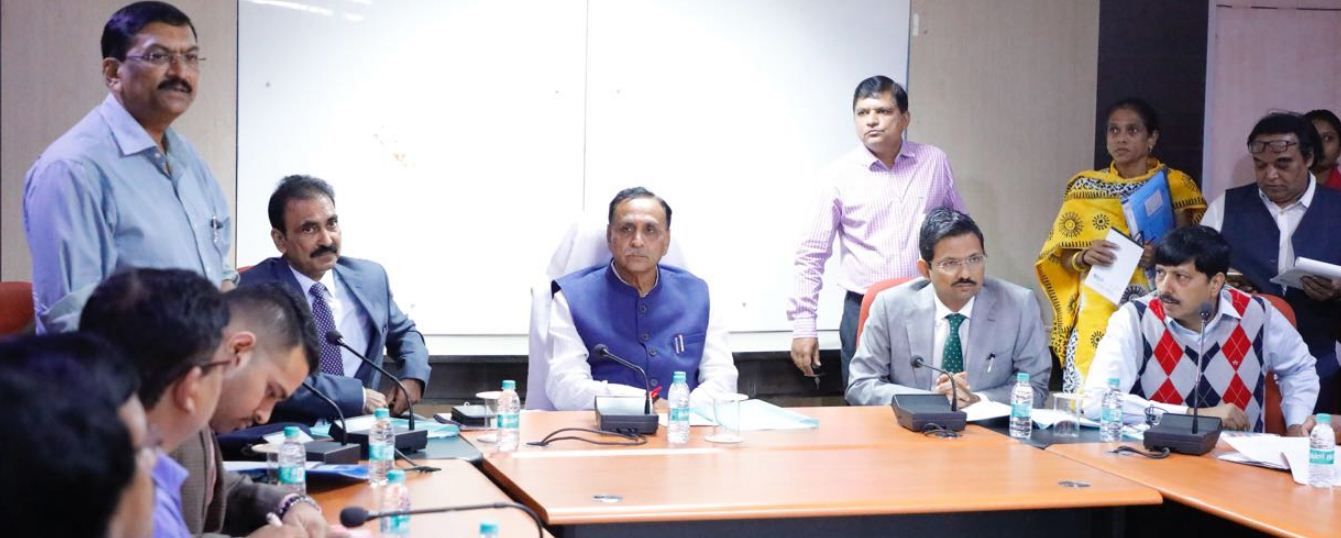 Gandhinagar/Surat:
Cyclone Ockhi will convert in to a 'deep or normal depression' before its likely landfall somewhere at South Gujarat coast near Surat late tonight but the state machinery has been put on alert as a precautionary measure with deployment of around half a dozen teams of NDRF and some of SDRF in five coastal districts and putting Army, Navy, Air Force, BSF and state police in state of high preparedness.
Director of IMD center Ahmedabad Jayanta Sarkar said that till this afternoon Ockhi was situated at 350 South South West of Surat coast and moving towards Gujarat at a speed of 21 km per hour.
'It has turned in to a cyclonic storm from a extremely severe storm. By the time it would make a landfall at Gujarat coast it would be a deep depression or merely a depression with a wind speed of 60 to 65 kmph. It is likely to make the landfall at Surat coast late tonight,' he informed adding that heavy rainfall in coastal districts of Surat, Valsad, Navsari, Bhavnagar, Bharuch, Amreli etc would be just one day affair for today and it may last up to tomorrow afternoon,' he said.
Meanwhile CM Vijay Rupani along with other officials has reached Surat to be there during the crucial time. He was also holding meetings with the Collector and other officials.
Earlier CS J N Singh had held a meeting in the SEOC in capital Gandhinagar after which Principal Secretary Pankaj Kumar said that a total of 6 NDRF teams have been deployed in five coastal districts of which two were in Surat and one each in Valsad, Navsaari, Bhavnagar and Amreli. He said that police has been deployed in all the 145 coastal villages of Surat. Several evacuation measures have been readied to be used in case of need. 13000 boats have returned safely to the coasts and a few remaining were also coming back. 13 lakh SMS alerts have been sent in Suart alone. Seven thousand people have been shifted in Bharuch. Army, Navy, Air force, BSF, Coastguard, Police and SDRF were all in the state of preparedness. The storm however was loosing intensity as it was nearing Gujarat coast.
Meanwhile all the nine to and fro flight from Surat Airport have reportedly been canceled in the wake of the inclement weather. Schools in Surat and several other places in the coastal areas have also been shut.
Instruction has been issued to 11 major Oil, Gas and Chemical companies situated in coastal belt of Surat district including the public sector ONGC at Hazira to take special precaution to ensure maximum safety for non-leakage of gas owing to the storm. Collector Surat Mahendra Patel today said that these companies have been asked to take measures to ensure that any kind of gas leak did not take place or incident of fire did not happen.
'We have not asked them to close operations but the off shore operations including that of ONGC would certainly be closed as precautionary measure,' he said. Though It was not possible for many of them which work 24×7 to shut down the operation completely yet all the safety measures were being taken by them, he added. The collector said that survey has been conducted in the coastal areas and though no shifting of residents have taken place yet preparedness for the same in case of need was there.
Meanwhile control room has been made in all the coastal districts and talukas and the central government was also in touch with the state machinery. Gujarat Maritime board has suspended the Ghogha Dahej Ro Ro ferry as well as the ferry service between Okha and bet Dwarka temporarily.
Meanwhile owing to inclement weather the election rallies of Amit Shah, Rahul Gandhi, Vasundra Raje Scindia, Yogi Adiyanath, Rajbabbar, Praful Patel, Purushottam Rupala were cancelled today owing to the inclement weather while that of PM Narendra Modi slated for tomorrow in Limbayat of Surat was also cancelled.
DeshGujarat