Rupani to break 'Vijay-Muhurta' myth during his oath tomorrow, Modi, Shah and many dignitaries to remain present
December 25, 2017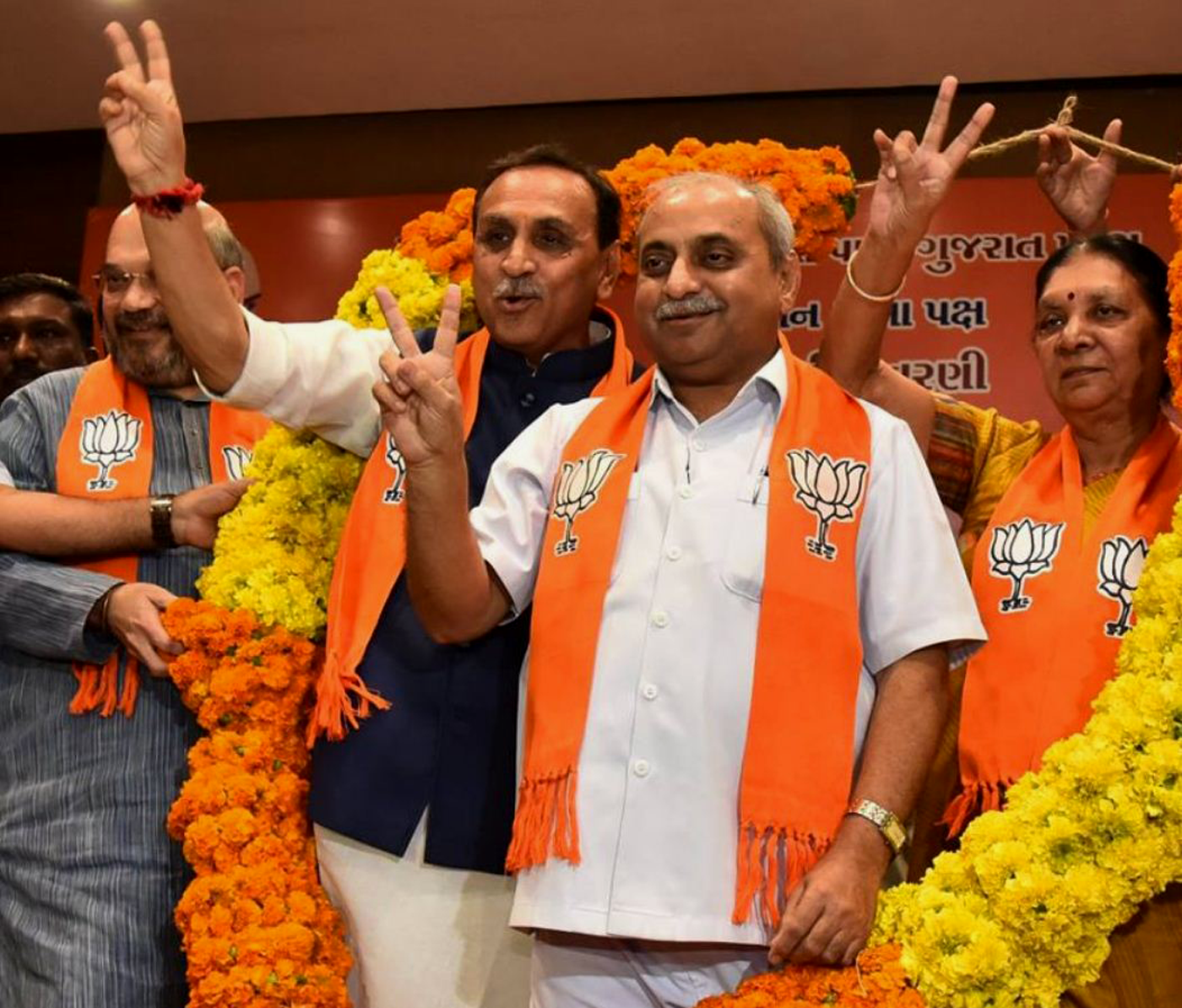 Gandhinagar:
PM Narendra Modi, BJP president Amit Shah and many other dignitaries will participate in the swearing-in ceremony of the sixth consecutive BJP government in Gujarat at Sachivalya ground in capital Gandhinagar tomorrow where Vijay Rupani will take oath as the CM for second term breaking a long-time 'myth' or sorts.
Rupani this time around will not take oath at so-called 'Vijay Muhurta' of 1239 hrs, a time being used for the same by CMs since the regime of the then CM Narendra Modi. Rupani himself had taken oath at this particular time last time around on August 7, 2016 while his predecessor and Modi's successor Anandiben Patel had also followed suit in this regard.
BJP spokesperson Harshad Patel today confirmed that the Oath taking of CM Rupani will not be held at 1239 hrs like last time.
'It is likely to start at around 1120 hrs. The presence of PM Modi and BJP president has been confirmed,' he said.
Meanwhile, Governor O P Kohli will also administer oath of office and secrecy to Nitin Patel as Deputy CM. Around half a dozen cabinet rank and over a dozen state level ministers were also likely to take oath. Last time 8 Cabinet rank ministers and 16 MoS had taken oath with Rupani. As around half a dozen of these have lost assembly polls this time, several new faces would certainly be inducted in the government.
It is learnt that state BJP president Jeetu Vaghani, former president R C Faldu might be inducted as cabinet ministers. Pradipsinh Jadeja, Rajendra Trivedi and some other MoS were well poised to be promoted as cabinet rank ministers from last time's MoS status. The name of Kaushik J Patel, who won from Shah's former seat Naranpura and Bhuj MLA Nimaben Acharya were also doing the rounds as possible new faces in the Rupani's council of ministers.
Meanwhile, Chief Secretary J N Singh today reviewed the preparations for the swearing in ceremony for which a giant dome has been erected at the sachivalay ground aka helipad ground. Apart from CM/DyCM/Ministers (not all has confirmed participation as yet) from the 18 BJP ruled states, union ministers including Gujarat election in-charge Arun Jaitley and a large number of Saints and religious community leaders, dignitaries from various fields would remain present on the occasion.
A separate stage for saints has also been erected near the main stage. Multi-layered security arrangement has been made in and around the venue in the wake of the presence of a large number of VVIPs apart from the PM. Around a dozen giant LED screens have also been erected at the venue for live streaming of the event.
Meanwhile, PM Modi, who is to arrive at Ahmedabad Airport at around 1000 am tomorrow, will have a luncheon meeting with the distinguished guests including attending CMs, union ministers etc at Mahatma Mandir here. BJP President Shah will arrive Ahmedabad this evening to fine tune the selection of ministers.
Notably, BJP, which was in power in Gujarat since 1995, has registered sixth consecutive victory in assembly polls that held in two phases on December 9 and 14 this time around. It has got 99 seats in the 182 member house where 92 was the number for simple majority. One independent has also announced unconditional support the upcoming BJP government.
DeshGujarat